Rishi Sunak: No magic wand to solve global supply problems
Chancellor Rishi Sunak has said there is no "magic wand" to make global supply problems disappear overnight.
He told the BBC ministers were doing everything they could within their control to mitigate disruption to fuel and food supplies.
"Pragmatic controlled immigration" could be part of the short-term solution, he said.
He was speaking ahead of addressing the Conservative party conference amid concerns over living standards.
The Chancellor's first in-person speech to Tory members comes against a backdrop of rising food and energy prices, alongside cuts to universal credit benefits and tax rises to fund the NHS and social care.
Supply chain issues are continuing to affecting several sectors, with the military due to begin driving fuel to petrol stations.
Speaking on Radio 4's Today programme, Mr Sunak said "challenges" to supply chains are not unique to the UK but were a problem across the world as a result of lockdowns and the rapid re-opening of economies.
But he said the government was doing "everything we can to mitigate the bits of that that we can".
"There are things that we can do and should do and it is reasonable that people expect us to do what we can," he said.
"Whether it's short-term visas, speeding up testing capacity for HGV drivers, of course we should do all those things and we are doing all those things, but we can't wave a magic wand and make global supply chain challenges disappear overnight."
But he said the problems "we are seeing at the moment will be transitory and will pass through the system".
The prime minister tried on Sunday to present this as short-term pain as part of what he believes will be very significant long-term gains because of Brexit.
Now, the prime minister and other ministers would not say, 'oh, suck it up, enjoy the fact that you have to queue for petrol'.
But they have, in the last few days, woven this narrative: to take some of the things that we see happening, acutely, whether in agriculture, whether in fuel supply – and to turn them into this story of short-term pain for a long-term gain.
That was not Rishi Sunak's language.
He talked rather soberly about global supply shortages, things that the government can mitigate, clearly he believes the government does have a role.
But he was very different in tone, which was something on the day of a big chancellor's speech at this conference, very well worth noting.

In his speech later, Mr Sunak will say the best protection against cost of living challenges is to give people the skills and opportunities to get better paid work.
The Chancellor will commit £500m to renew job support programmes and promise to "double down" on help for the jobs market after Covid.
He will also promise to reshape the economy around technology and scientific innovation.
Ahead of his speech, Mr Sunak praised the UK's economic recovery but warned the "job is not done yet".
"At the start of this crisis I made a promise to do whatever it takes, and I'm ready to double down on that promise now as we come out of this crisis," he said.
He will also promise to make the UK the "the most exciting place on the planet" through better infrastructure and improved skills.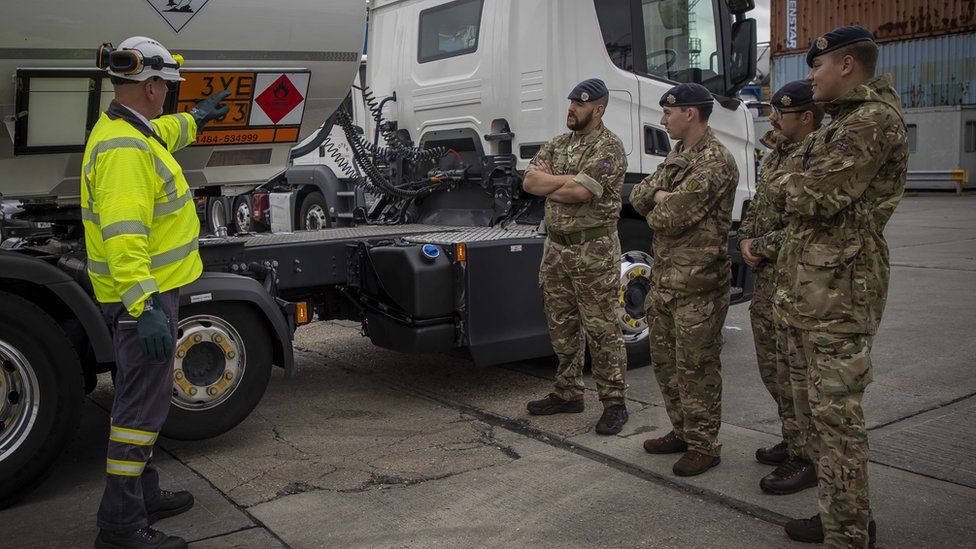 His speech will come on the second day of conference, known as Business Day, when the party seeks to showcase its commercial credentials and boost ties with industry.
Mr Sunak will say the Kickstart Scheme – which subsidises eligible jobs for young people on universal credit – will be extended by three months to March 2022.
The scheme, launched in September last year, was allocated £2bn in funding to create 250,000 jobs by the end of 2021.
However, only 76,900 have actually started Kickstart roles, according to latest figures, with 196,300 roles in total made available for youngsters to apply for.
The Federation of Small Businesses had been calling for the scheme to be extended, amid reports that firms had encountered delays and found the scheme slow.
Spending review to come
Mr Sunak will also announce the extension of the JETS scheme to help long-term unemployed people on universal credit until September 2022.
A separate scheme paying employers £3,000 per apprentice they take on will also be prolonged by four months until the end of January.
And the government is promising more help finding work for those coming off the furlough scheme, which closed last week, having paid the wages of 11.6 million workers during the pandemic.
The various extensions will be paid for with £500m of funding, with the Treasury saying that details will be confirmed at the Spending Review on 27 October.
Labour's shadow work and pensions secretary Jonathan Reynolds said the government's plan to support jobs was "struggling" and had "failed to hit its original targets".
"An extended deadline will do nothing to compensate for the chancellor's tax rises, cost of living crisis and cuts to universal credit," he added.
Source: BBC