Armed forces personnel will begin delivering petrol to garages across the UK from Monday, the government says.
Almost 200 servicemen and women, 100 of them drivers, will provide "temporary" support to ease pressure on stations.
Ministers have also announced that up to 300 overseas fuel tanker drivers will be able to work in the UK immediately until the end of March.
There have been long queues at petrol stations this week after a shortage of drivers disrupted fuel deliveries.
Ministers – who have maintained there is enough fuel if people buy at their normal rates – say the situation at petrol station forecourts is improving, with more fuel now being delivered than sold.
But they acknowledge some parts of the country are worse affected than others.
On Friday, the RAC motoring group also said the disruption in deliveries was continuing to ease, though many areas were still experiencing supply issues.
Smaller fuel stations were facing major supply problems as drivers filled up for the weekend, it said.
The Petrol Retailers Association, which represents nearly 5,500 of the UK's 8,300 petrol stations, said on Friday there had been little change for its members who are independent fuel retailers.
Its survey of 1,100 sites across the UK found that 26% had neither petrol nor diesel in stock, down slightly from 27% on Thursday.
'No shortage of fuel'
Military personnel are currently training at haulier sites and will be on the road delivering fuel supplies across the country to "help fuel stocks further improve" from Monday, the government said.
Defence Secretary Ben Wallace said personnel would be seen working alongside drivers this weekend following training this week.
In addition to the 300 fuel tanker drivers being allowed to work temporarily in the UK, temporary visas are also being offered to 4,700 food haulage drivers who are able to arrive from late October and leave by 28 February 2022.
Visas are being offered to a further 5,500 poultry workers who can come from late October and stay until 31 December.
Previously, the government said these temporary visas would last until Christmas Eve.
Business Secretary Kwasi Kwarteng said: "Thanks to the immense efforts of industry over the past week, we are seeing continued signs that the situation at the pumps is slowly improving. UK forecourt stock levels are trending up, deliveries of fuel to forecourts are above normal levels, and fuel demand is stabilising.
"It's important to stress there is no national shortage of fuel in the UK, and people should continue to buy fuel as normal. The sooner we return to our normal buying habits, the sooner we can return to normal."
Mr Wallace said: "While the situation is stabilising, our armed forces are there to fill in any critical vacancies and help keep the country on the move by supporting the industry to deliver fuel to forecourts."

Analysis
By political correspondent Pete Saull
More than a week after queues started appearing on petrol station forecourts, just under 200 military personnel will take to the roads.
Ministers say it takes time to train up servicemen and women to drive large tankers carrying highly flammable substances into built-up areas.
While they will help with getting supplies to garages, there's been a concern inside government that falling back on the armed forces could be counter-productive.
What message does it send to worried motorists to see soldiers driving petrol tankers? Could it lead to more panic buying?
Ministers are confident the situation will continue to stabilise, but they've been under pressure to take more urgent action.
It's notable that alongside the decision to deploy the military, up to 300 tanker drivers will be allowed into the UK from overseas immediately – several weeks before the wider visa scheme comes into effect.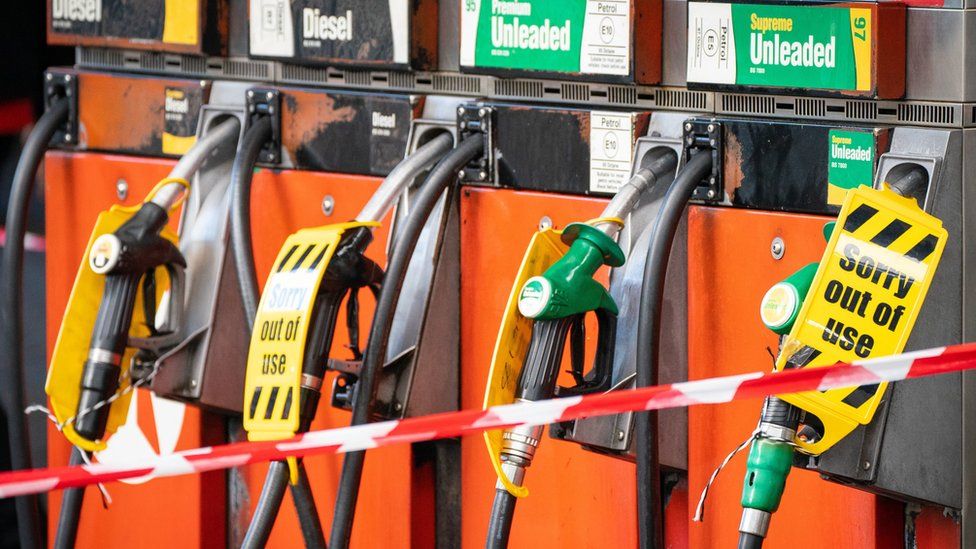 The UK has been grappling with a fuel crisis that has caused huge queues outside some petrol stations, and forced customers to drive to multiple sites in search of supplies.
While the government and retailers say there is enough fuel at UK refineries, a shortage of drivers has slowed the transport of fuel to petrol stations.
The haulage industry says the shortage was already existing and has been made worse by factors including the pandemic, Brexit, an ageing workforce, low wages and poor working conditions.
'Failures of the past'
Labour leader Sir Keir Starmer called on the PM to recall Parliament from party conference recess, saying "emergency action" was needed to speed up the visas.
But Prime Minister Boris Johnson accused the haulage industry of being too reliant on low-paid migrant workers.
He added that he would not allow the UK to repeat the "failures" of the past, by allowing mass immigration to create a "low-wage, low-skill economy" for British workers.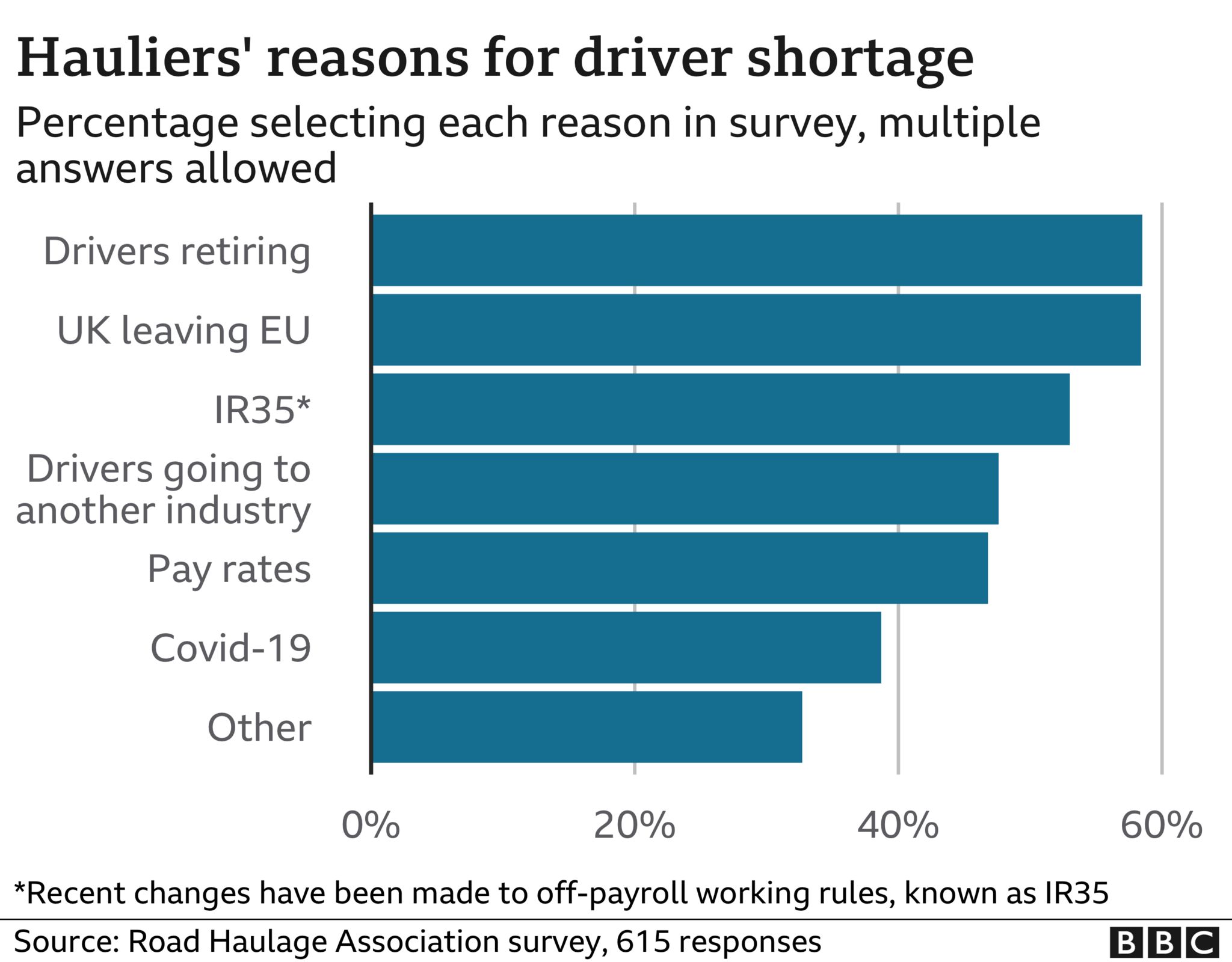 In addition to offering temporary visas, the government last week set out a number of other measures aimed at limiting disruption in the run-up to Christmas and beyond.
These include increasing HGV (heavy goods vehicle) testing capacity, sending nearly one million letters to drivers who hold an HGV licence, encouraging them back into the industry, and offering training courses for HGV drivers.
Source: BBC