People should carry on buying petrol as normal, despite supply problems that have closed some stations, the government has said.
A "handful" of BP stations, and a small number of Esso-owned Tesco Alliance stations, were closed on Thursday because of a lack of delivery drivers.
But Transport Secretary Grant Shapps said refineries had "plenty of petrol".
He told the BBC that the government could bring in the army to drive fuel tankers if it would help.
It is estimated that the UK is short of about 100,000 HGV drivers – with gaps made worse by the pandemic and Brexit.
Reports in several newspapers have suggested that the government is considering getting soldiers to drive fuel tankers under emergency plans.
When questioned about this on BBC Breakfast, Mr Shapps said: "If it can actually help, we will bring them in."
However, he said there would be "technicalities" as to whether military personnel could switch to driving civilian vehicles.
The Road Haulage Association (RHA) has urged the government to relax visa restrictions for foreign workers in the short term to ease the driver shortage.
But Mr Shapps told the BBC he did not want UK lorry drivers to "drop out" because of being "undercut" by cheaper EU labour.
He said there were "systemic problems" in the haulage industry that needed to be resolved, pointing out that the profession was "99% white male" with an average age of 55, facing poor conditions and wages.
Now, he said, pay was rising and there was "a gradual increase" in new drivers.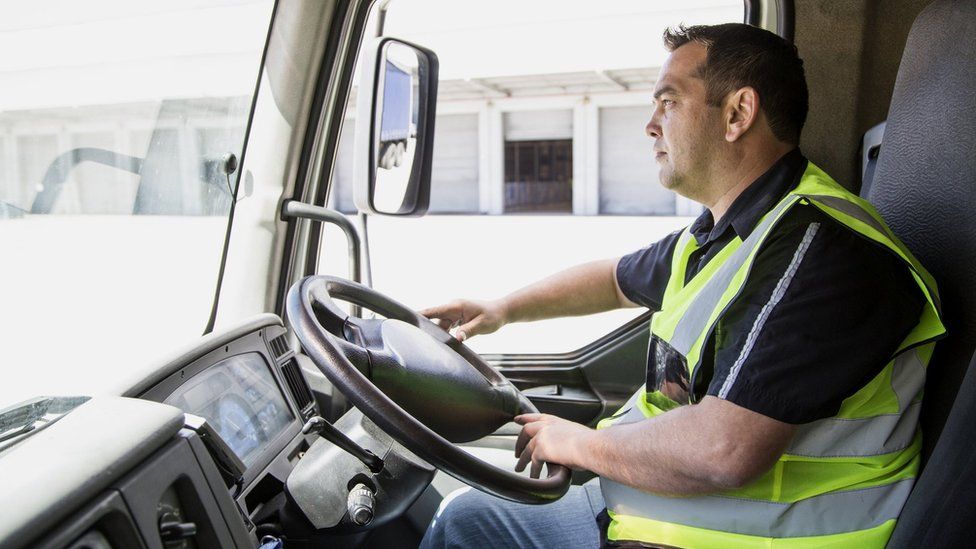 While the UK does not lack petrol and diesel at refineries, getting it to forecourts has been difficult in some areas.
It is the latest problem caused by driver shortages, which have already led to supply squeezes in other industries, including supermarkets.
The RHA's Rod McKenzie told BBC Breakfast more drivers were leaving the profession each week than joining it.
He said: "It's as simple as this: everything we get in Britain comes on the back of a truck.
"So if there is a shortage of HGV drivers – and there is by 100,000 – then it is inevitable that we are not going to get all the things we want when we want them."
"It is not a case of running out – and people should not panic buy," he added.
He warned there would be glitches "because the supply chain on which we all depend is creaking. Let's get HGV drivers on to the skilled worker list" – Iceland's managing director, Richard Walker, on BBC Question Time
Supermarket Iceland – which is about 100 drivers short – joined Morrisons and Ocado in calling for the government to add HGV drivers to the list of shortage occupations.
That would allow foreign workers to apply for skilled worker visas to fill the current gaps.
"I think the solution – even if it's temporary – is very, very simple," said Iceland managing director Richard Walker. "Let's get HGV drivers on to the skilled worker list."
The RHA's Mr McKenzie said that on top of a historic shortage of drivers, the industry had lost 20,000 European drivers because of Brexit, while the pandemic had forced 40,000 driver training tests to be cancelled.
In a recent RHA survey of 616 hauliers, retiring colleagues and Brexit topped the list of reasons behind the driver shortages.
Respondents also cited tax changes to rules known as IR35, which have made it more expensive for hauliers from elsewhere in Europe to work or be employed in the UK.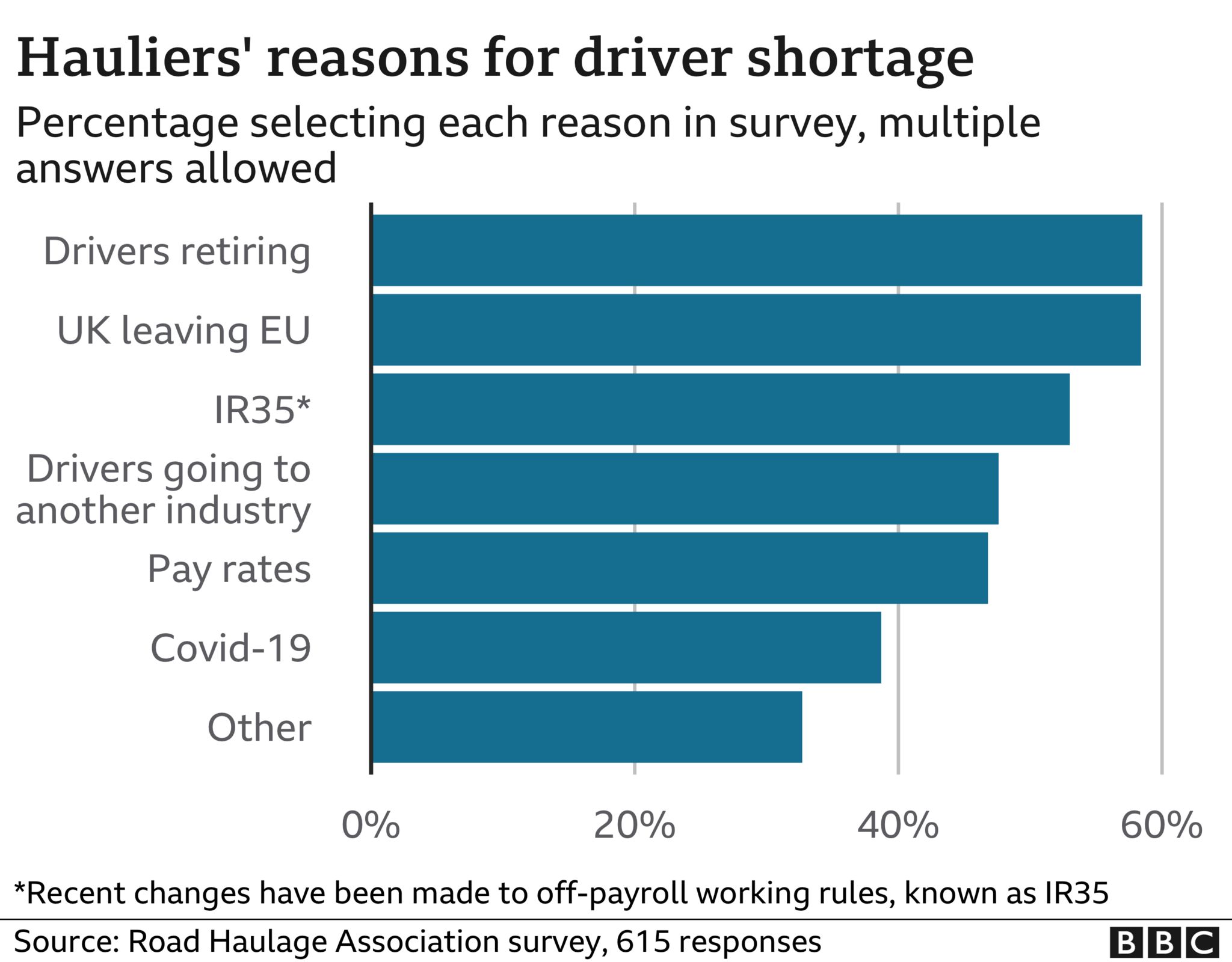 Businesses across the food, fuel and construction sectors have been warning about driver shortages for months.
BP temporarily closed a number of petrol stations earlier in summer, when driver shortages also caused short-term supply problems for McDonald's, Nandos, and the pub chain Wetherspoons.
Some councils have also been forced to cancel bin collections.
On Thursday, BP – which has 1,200 petrol stations in the UK – said it was working hard to address the latest issues and was prioritising getting fuel to the busiest service stations such as those on motorways.
Esso said that a "small number" of its 200 Tesco Alliance retail sites were affected on Thursday, and apologised to customers for any inconvenience.
The Petrol Retailers Association, which represents independent forecourts across the UK, recommended motorists keep enough fuel in the tank to reach alternative filling stations in the "rare instance" that fuel is not available at the first one they visit.
Speaking on BBC Question Time on Thursday evening, Mr Shapps suggested visa changes would not solve the problem, but said nothing had been ruled out.
But shadow justice secretary David Lammy said visas were needed in various sectors, telling Mr Shapps: "You promised that immigration would come down and you know that it will need to go up if we are to deal with these problems."
Conservative MP Andrew Bridgen said there was "an endemic problem with retention and recruitment" in the industry.
"We're actually not short of HGV drivers per se – we've got 600,000 people who are qualified to drive those big trucks, but only 300,000 people chose to work in the industry," he told BBC Newsnight.
Mr Bridgen suggested the industry needed to modernise and improve working conditions to retain young drivers.
In recent weeks, the Department for Transport has made it quicker for HGV drivers to get their licences, but the RHA criticised the changes as a risk to road safety.
Source: BBC