Climate change protesters have blocked some M25 junctions demanding government action on home insulation.
There have been protests at junctions 20 for Kings Langley, Herts, 14 for Heathrow terminal four, three for Swanley in Kent, six for Godstone, Surrey and 31 for Lakeside, Essex.
Essex Police said 12 people had been arrested for highways obstruction.
Protest group Insulate Britain said action would go on until a "meaningful commitment" was made.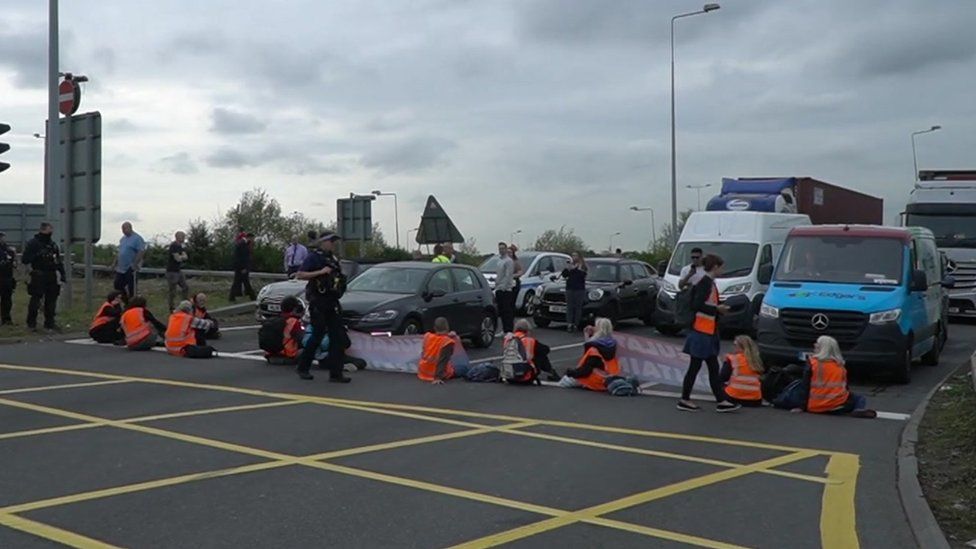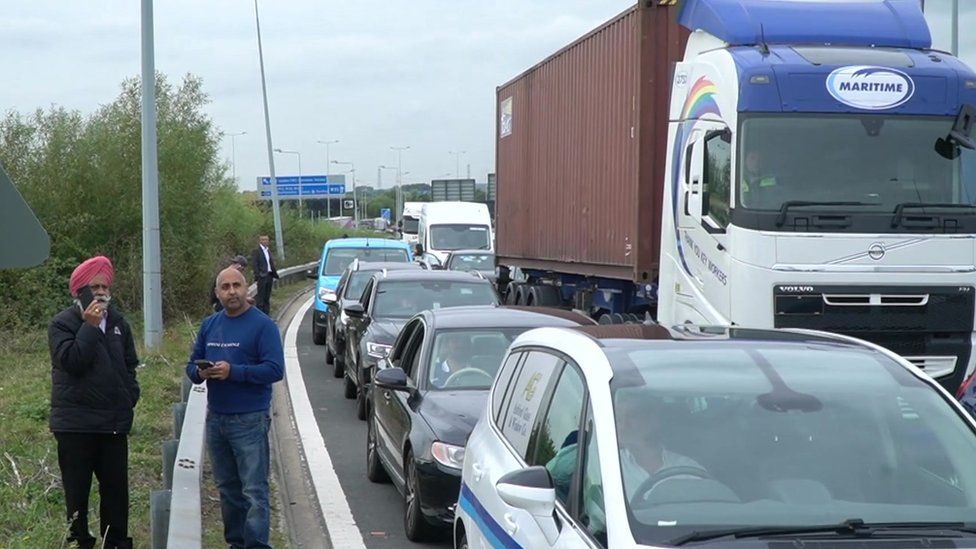 It tweeted it was "disrupting the M25" to "demand the government insulate Britain".
Essex Police said it was called to reports that a number of people were blocking the road near junction 31 just before 08:15 BST.
It said officers worked to resolve the situation "quickly and safely", which included shutting the slip road.
Ch Insp Paul Austin said the action caused "significant disruption" and thanked drivers for their "patience and understanding."
National Highways said the exit slip road to Heathrow terminal four had been closed and Surrey Police said it was called just before 08:00 BST to a protest at junction six, where the slip road had been closed with a diversion set up.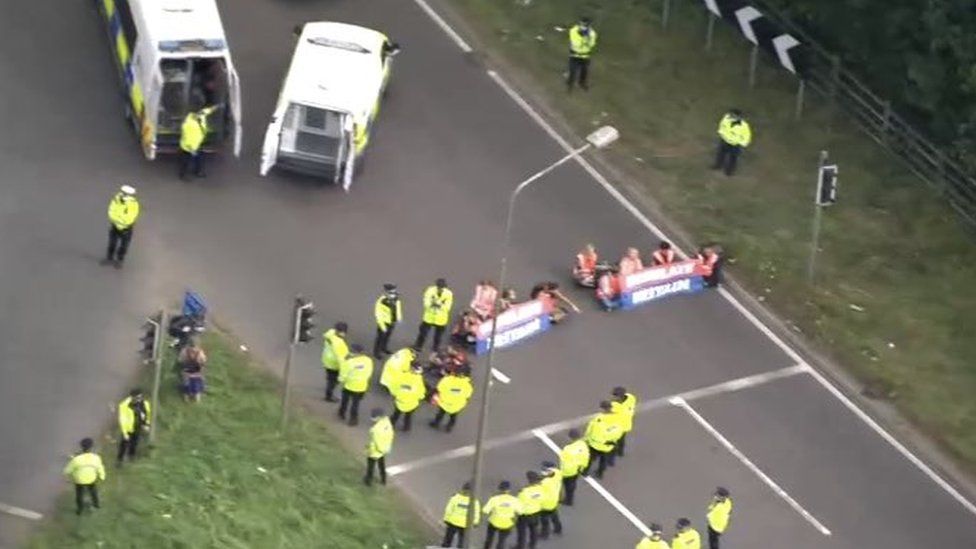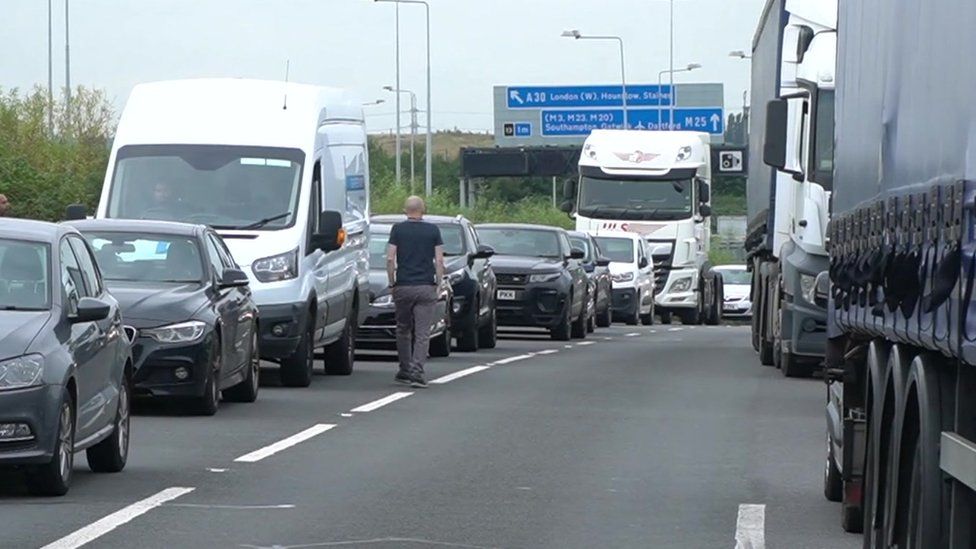 Surry Police tweeted that a number of people had been arrested following protests at junctions six and 14.
Kent Police said it was called at 08:10 BST to a group of people obstructing the roundabout at junction three where the B1273 and the M25 meet.
It said officers were "engaging with the individuals involved".
Hertfordshire Police closed the slip roads in both directions at junction 20 while it dealt with an incident involving a small number of protesters. It led to heavy traffic on the A41 but the roads have now reopened.
No arrests have been made in Kent and Hertfordshire.
Police forces have advised motorists to use alternative routes.
Highways England said police forces were taking the lead at each location but it was likely to tweet details to road users as it got more information."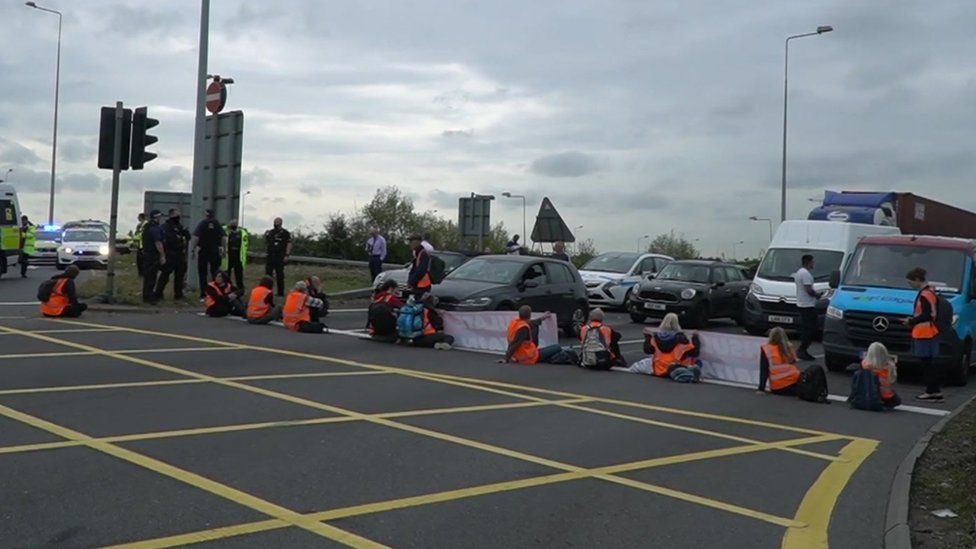 In a statement on its website, Insulate Britain said that Monday's disruption was "just the start".
"Actions will continue until the government makes a meaningful commitment to insulate Britain's 29 million leaky homes, some of the oldest and most energy inefficient in Europe," it said.
It added that its demands were delivered by hand to 10 Downing Street on 21 August, but so far no-one in government had responded.
Supporter Liam Norton, 36, from London, said he was "shocked at the lack of significant action" from the government.
"It's a no-brainer. Insulating Britain will reduce emissions, provide hundreds of thousands of jobs and stop our elderly dying in cold homes each winter," he said.
"So stop messing about, Boris, and get on with the job.
"As soon as a statement is made that we can trust and is meaningful, we will get off the roads."
The BBC has approached the Department for Business, Energy and Industrial Strategy for comment.
Source: BBC