Boris Johnson will vow to end "catastrophic costs" for social care users in England when he sets out long-awaited reform proposals later.
The prime minister will announce the plans to MPs, alongside money to help the NHS respond to the Covid pandemic.
He is expected to breach election promises and raise National Insurance (NI) by about 1.25%.
And the plan has prompted a backlash from some of his own Tory MPs.
It is widely accepted that major changes are needed to the social care system, which helps older and working-age disabled people with day-to-day tasks, such as washing, dressing, eating and medication.
Labour said it agreed with the need of reform, but criticised the proposed rise in NI, saying it would unfairly target young people and lower earners.
A 1.25% increase to NI would mean someone on a £30,000 salary would pay an additional £255 per year.
But the BBC's political editor Laura Kuenssberg understands that after late night talks, ministers agreed pensioners in work would also have to pay the new "health and social care levy" – despite people being exempt from NI payments after reaching state pension age.
Vaccines Minister Nadhim Zahawi told BBC Breakfast the plans to "deal with a broken social care system" represented "truly historic and ambitious reform".
"One-in-seven people pay £100,000 or more for their social care, so in my view that nettle has to be grasped," he said.
The BBC also understands Chancellor Rishi Sunak is expected to suspend the so-called "triple lock" on pensions – designed so rises in state pensions were not overtaken by the rising cost of living.
The promise made by the Tories is that the state pension increases each year in line with the rising cost of living seen in the Consumer Prices Index (CPI) measure of inflation, increasing average wages, or 2.5%, whichever is highest.
Cabinet members have begun arriving at Downing Street where the PM will present his plans to them, before setting out the details in a statement to the Commons.
Transport Secretary Grants Shapps told reporters when he arrived: "We are going to fix social care."
Mr Johnson will later join the chancellor and Health Secretary Sajid Javid for a press conference.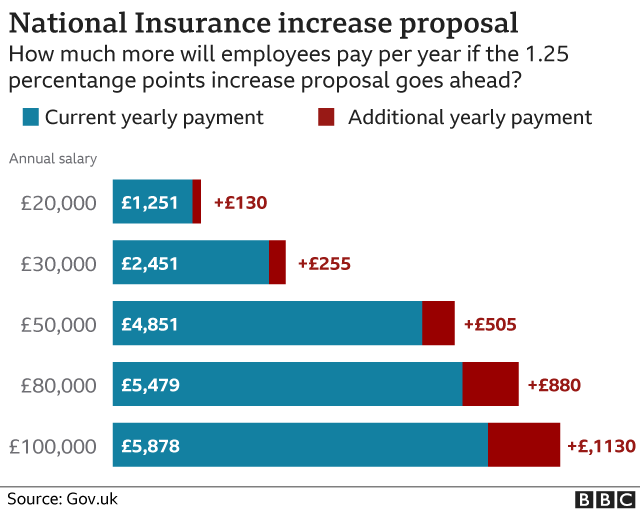 On Monday an extra £5.4bn over the next six months was announced to help the NHS in England tackle backlogs worsened by the pandemic.
But it is thought Tuesday's announcement will also allocate cash for the long-term, to increase hospital capacity in England to 110% of its current level.
Mr Johnson will tell MPs the NHS has been "put under enormous strain by the pandemic" and cannot be expected "to recover alone".
He is also expected to say the government will not "duck the tough decisions needed" to help the service and fix England's "broken" social care system, again with longer term funding.
But Laura Kuenssberg said the "biggest unknown" would be how much cash social care gets upfront, having been told support will be "phased in", while the NHS would be "main beneficiary of the NI hike for the first three years".
Joyce Pinfield from the National Care Association said the sector was hoping there would be funding for the short and long term.
She told the BBC: "We do need something immediately… because most care providers are at breaking point."
What can we expect?
The government is expected to announce an increase in National Insurance, likely of 1.25 percentage points, to raise billions of pounds to pay for helping the NHS catch up with lost time and treatment after the pandemic, and to help improve and pay for social care in England.
I'm told the cash raised – potentially more than £12 billion – will be ring-fenced somehow, targeted initially at the health service itself then will switch to social care after three years.
Expect also promises of changes to how the system works, including limiting the amount that families have to pay for care if need it.

Reports the prime minister will raise NI, a tax paid by workers and employers, to cover costs for the plans has received a terse response from Conservatives.
The party made a manifesto commitment not to raise NI, income tax or VAT during the 2019 general election.
One cabinet minister has told the BBC a National Insurance hike was "the wrong thing to do, and the wrong way to go about it".
Tory former chancellors Lord Hammond, Lord Clarke and Lord Lamont have all criticised the plan, while former Tory PM Sir John Major has called it "regressive".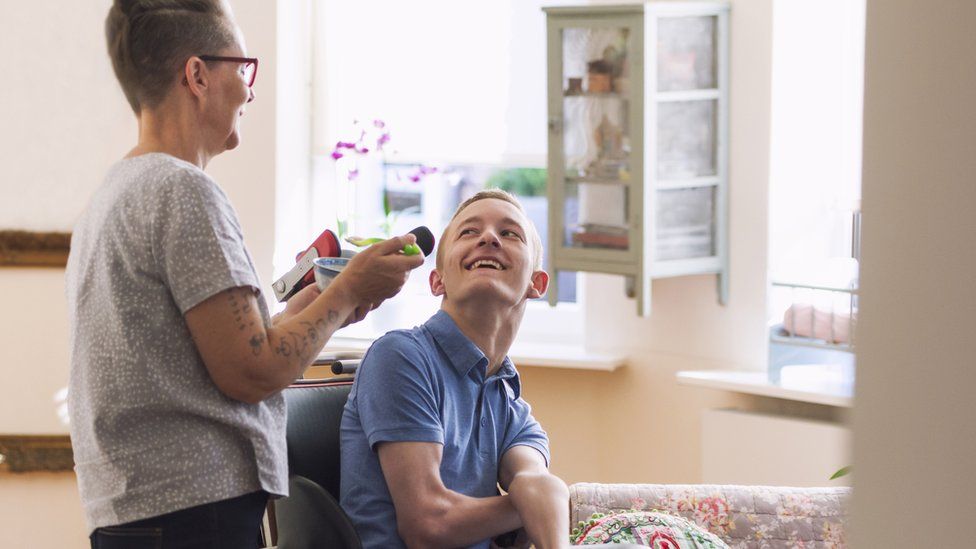 Mr Johnson announced after taking office in 2019 that he had a "clear plan" to fix the "crisis" facing the sector.
Reports suggested the overhaul will place a limit – or "cap" – on the lifetime contributions made by individuals, with the taxpayer funding costs on top of this.
This would be a version of a plan suggested by Sir Andrew Dilnot, who advocated a £35,000 lifetime cap in 2011.
It was put into law in 2014 under the Conservative-Liberal Democrat coalition, but delayed and then eventually ditched under David Cameron.
His successor, Theresa May, later suggested and then abandoned a form of the proposals in 2017.
'Overdue'
Former Labour health secretary and Mayor of Greater Manchester Andy Burnham said an NI rise was "flawed" and "unfair" – and suggested ministers should instead ask all pensioners to make a contribution of 10% of their estate, topped up by rises in other taxes, such as capital gains tax.
He told BBC Radio 4's Today programme he wanted "to introduce the NHS principle to social care – everyone would be required to contribute, but everyone would benefit".
Mr Burnham said "for the vast majority of people they'd have peace of mind at a lower cost" and "I don't see how you can do this without asking pensioners to make a contribution".
Meanwhile, Wayne Fitzgerald, Conservative leader of Peterborough City Council, has said he does not think people would mind a tax if they had confidence that it was going to be used for social care.

What are the challenges facing social care?
In 2019/20, local authorities received 1.9 million requests for support, according to the Kings Fund – up by more than 100,000 in five years
While 1.4 million were from older people, 560,00 came from working age adults
In total, 839,000 people received long-term care – 548,000 older people and 290,000 working-age adults
But despite the rise in demand, the total expenditure on adult social care was only £99m more than in 2010/11, with council spending in England about 3% lower than in 2010
An ageing population also means growing demand, and Age UK estimates 1.5 million people in England don't get the help they need
The fees local authorities pay for care – in a person's own home or a care home – vary hugely
People who don't qualify for free care are often charged more, with no maximum limit on costs
There are huge staff shortages – Age UK estimates there are about 45,000 vacancies

The social care system is devolved across the four UK nations, meaning governments need to develop separate solutions.
In England, social care is generally not provided for free. Typically, only those with savings and assets worth less than £23,250 can get help from their council and there is no overall limit on costs.
Personal care, such as help with washing and dressing, is free in Scotland for those assessed by their local authority as needing it. Those in a home still have to contribute towards accommodation costs.
Some care costs are capped in Wales, and home care is free for the over-75s in Northern Ireland.
Source: BBC