Alice Bromage was at home on Saturday night when she got the message. She had just arrived back from a work trip when it flashed up on WhatsApp: I'm stuck here, please help me get out.
The message was from an Afghan man who Alice knew from her days as a major in the British army having served two tours of Afghanistan. She trained and looked after him when he visited the UK.
"If they had a weekend off, we would go shopping for presents for his children," says Alice, 44. "He would show me videos of his daughters, and what they liked, so that I could help him buy for them gifts to take home. They were very proud of their families."
She replied to him and asked for more details. "We're in a very hard time," he said. He has the paperwork needed to get out, but no money. "I have in bank and banks are locked now. Even I was trying to find milk for my baby and couldn't."
Alice says she's not alone in receiving pleas for help. In fact, most of the veterans she knows have.
"I haven't heard of a single person so far who hasn't been contacted by someone. I'm not special," she says. "People there are desperate and are trying to contact all those who served alongside them. They trust us, that's why."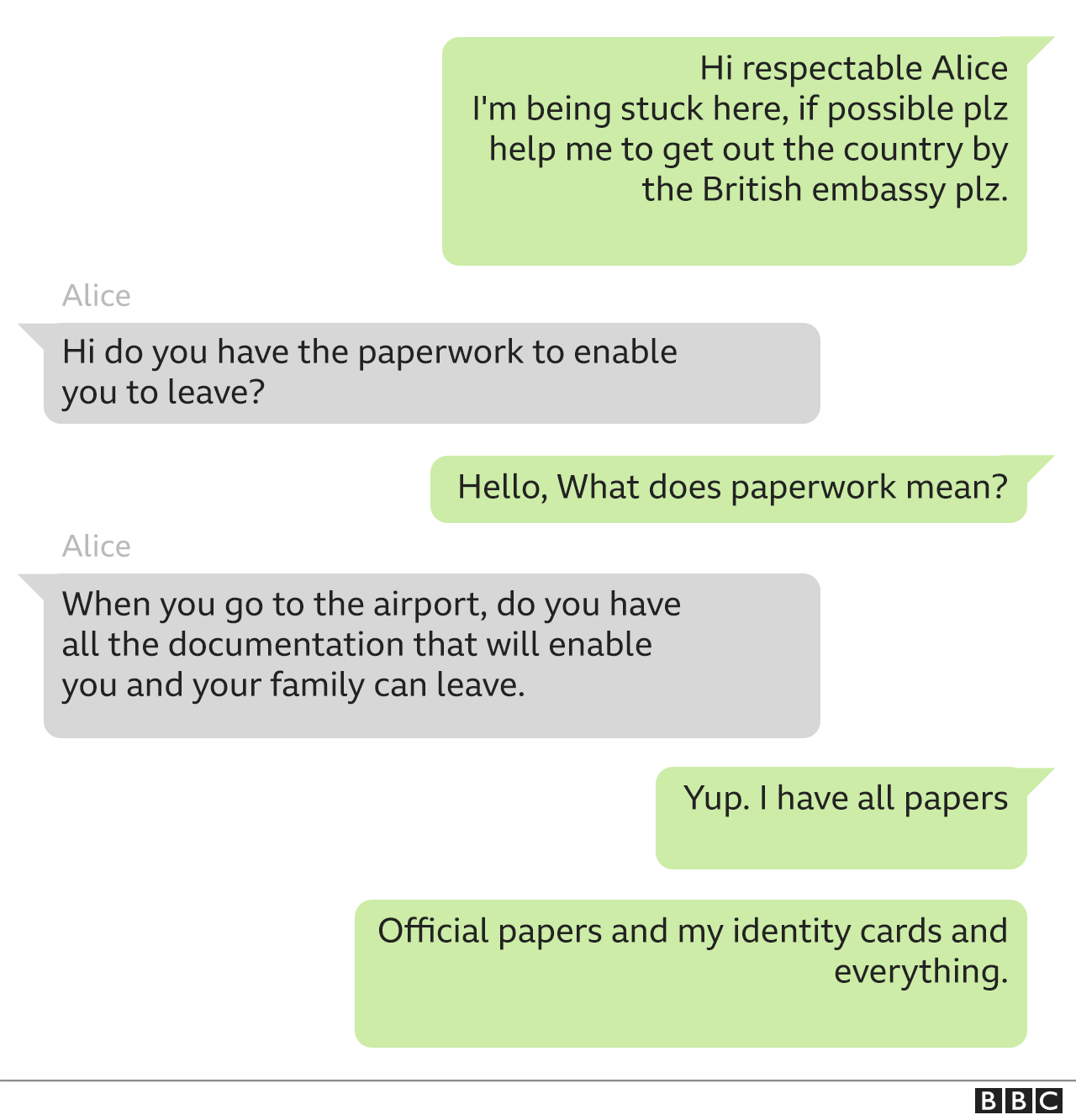 She and her peers have jumped into action, using their military network to try and help. Alice's officer training was at the Royal Military Academy Sandhurst and she is part of a group of 2,500 female veterans nicknamed the Sandhurst Sisterhood, who have been inundated with messages. "One of the ladies had 30 people messaging her," Alice says.
Those in the sisterhood are doing everything they can, she says. One veteran, named Jude, is helping to run safe houses, and putting on secure trips to and from the airport.
"It's been a tough week," Jude tells BBC's Woman's Hour. "I'm getting messages throughout the night from individual families: 'Here's my wife, here's my kids, passport photos, visas. I worked with so and so, can you help me'. "Major Alice Bromage says a female military network is helping Afghan women soldiers get out
Another woman – a British officer – stayed on the phone to two female Afghan soldiers as they hid in a sewer waiting for help from the British army.
When the British soldier arrived, the sisterhood member explained to him that the two Afghan women had served alongside her and should be evacuated.
"You almost shut your emotions down and go into action mode," says Alice, from London. "At the end of the day, we lean on our training. We are trained to deal with crisis response. Something needs doing, what can I do."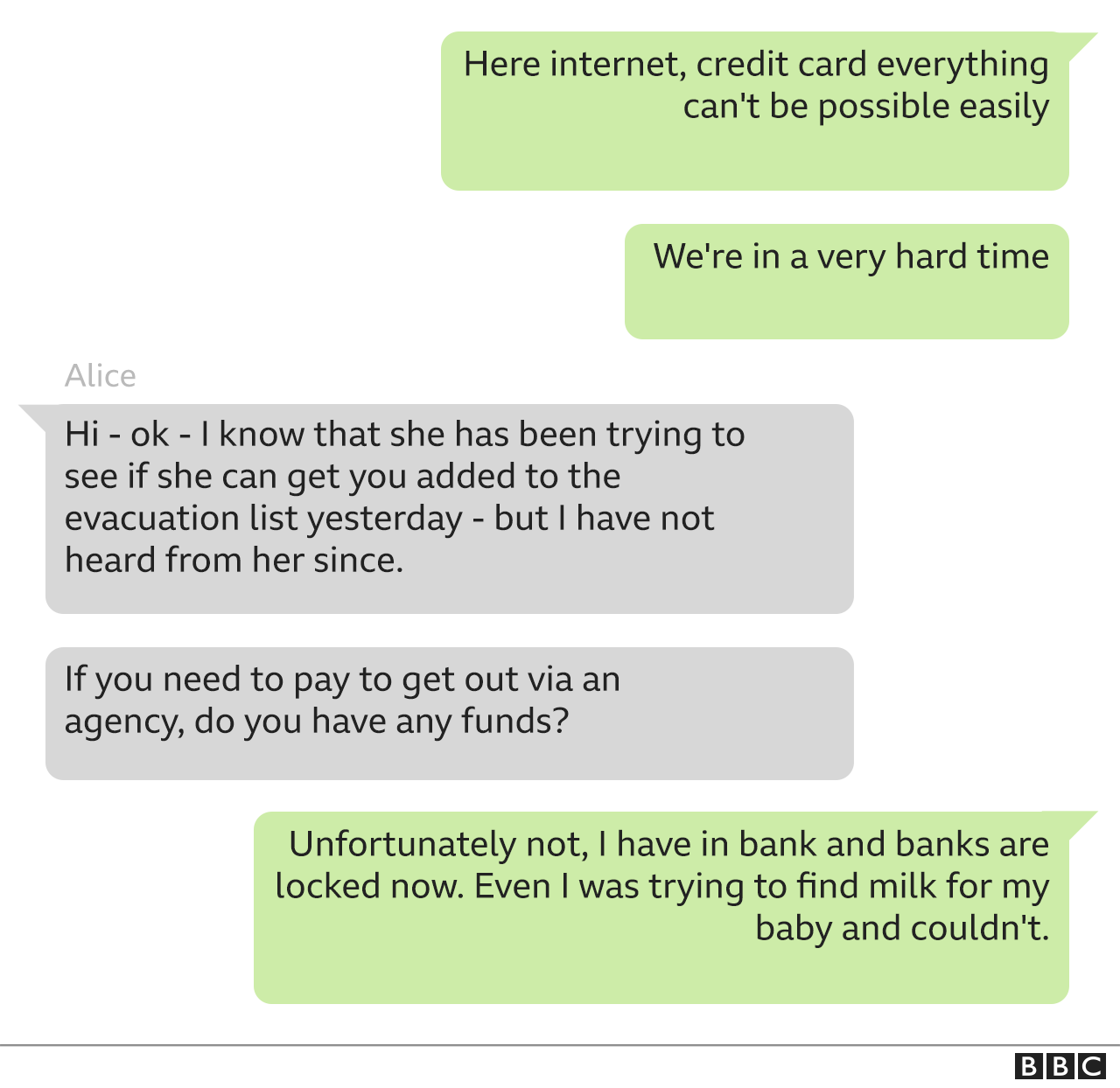 After she received the WhatsApp message on Saturday, she says she found it straightforward to help. She rang her former boss – another person in the sisterhood – who has been helping with evacuations to try and get her contact added to the list.
But she says: "The emotions come later, when I have done everything I can do and have to wait. It does cause a rollercoaster, from that perspective it's challenging. And also, it's very, very disempowering. You are used to being the ones who can solve things. You have to lean on others and wait. But there's strength in numbers, everyone's doing their best."
Despite leaving the Army five years ago, Alice – who is now a leadership specialist – says that she will never forget her time in the military.
"Those of us in the veterans community, we all still live with our first life. We still live with the people who we worked with."
And what about the Afghan man she has been speaking to, does she think he will make it out?
"We just don't know," she says. "We do all of this just to get them on a list. That doesn't mean they are out, the lists are huge, we have trained hundreds of people. We have done the first tiny bit, the chaos is just beginning."
Alice says she heard from him the night before last. "I said, 'are you safe?'. He said: 'Yes, I'm just keeping my head down'."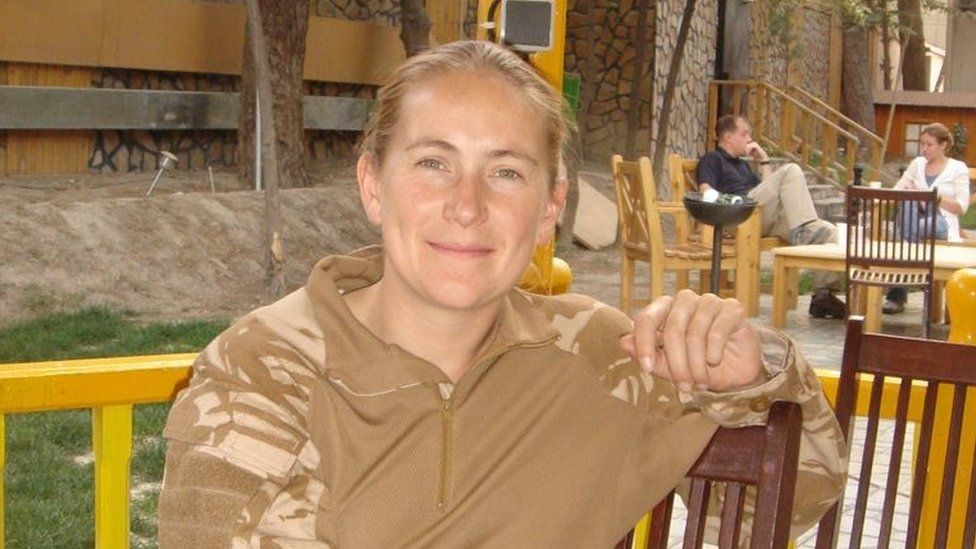 Since she has spoken publicly about the messages, Alice says she has been contacted by various charities, individuals and groups all looking for help to flee – including musicians, vets and entrepreneurs.
But she ends with her own plea to the people of the UK, asking them to welcome Afghan refugees with love and kindness.
"We need to be, as a nation, just very cognisant in what they have been through, that everybody coming here has really looked after us," she says.
"These people have really looked after us for the last 20 years. This is us offering a little bit of sanctuary back.
"It is daunting having a large extra community arriving in the UK. But it's just thinking: 'Love thy neighbour as thyself', and looking after those who looked after us."https://emp.bbc.co.uk/emp/SMPj/2.43.7/iframe.htmlmedia captionThe BBC's Lyse Doucet reports from Kabul airport, where many Afghans are fleeing the Taliban regime
The evacuations from Kabul airport are continuing, although the Taliban has now said people should stop going to the airport.
According to the Ministry of Defence on Tuesday, the UK has evacuated 8,458 people from Afghanistan since 13 August. Of these 5,171 are Afghans eligible for relocation due to their association with the UK government, or who are at risk from the Taliban.
But the government has said UK troops in Kabul cannot stay after the US has left, on 31 August. The US is being pressed by other countries, including the UK, to delay its withdrawal of troops.
In a statement, the government said nobody's life should be put at risk because they supported the UK in Afghanistan.
They said UK personnel are quickly processing hundreds of applications under the Afghan relocation scheme each day, "and will continue to work round the clock to relocate as many eligible people as possible in the coming days".
"We have significantly expanded and accelerated the relocation scheme and carefully assess each applicant for eligibility and security," the spokeswoman added.
Source: BBC