Lorry controls that were brought in for Brexit on the M20 and around the Port of Dover could become permanent, the Department for Transport has said.
Controls were due to end on 31 October under "sunset clauses" that could be lifted in parliament next month.
Operation Brock was introduced amid fears withdrawal from the EU could lead to disruption for cross-Channel trade.
It means concrete barriers could be used to reconfigure the Kent M20 during any type of disruption.
Operation Brock consists of a series of concrete barriers allowing lorries to be held on one side of the motorway to access the port, while other traffic continues to flow in both directions via a restricted narrow lane contraflow system on the other side of the road.
The measures also included the Kent Access Permit, which lorry drivers needed before entering the county, but which has since been scrapped.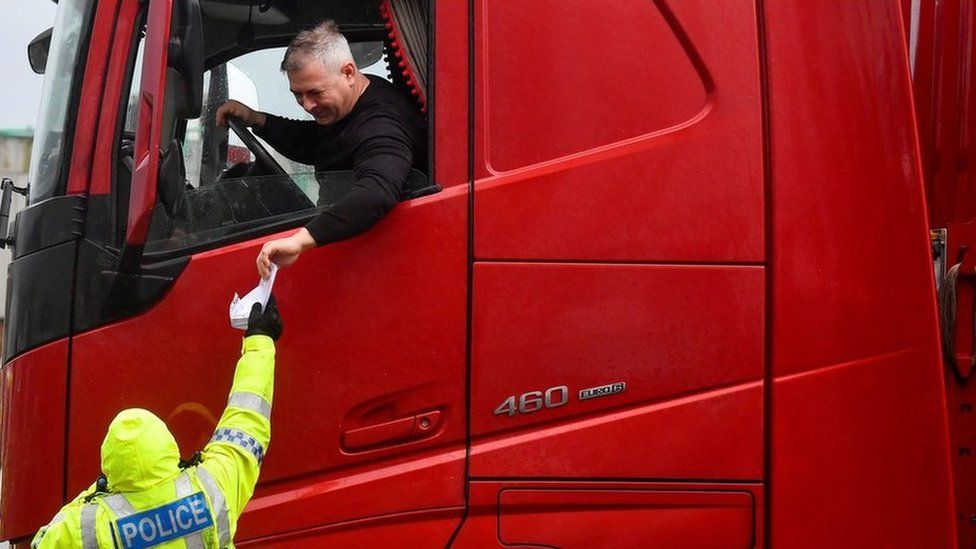 The government carried out a consultation on removing the October deadline in May and June, and as a result both houses of Parliament will debate the issue in September.
A Department for Transport spokesman said: "While Operation Brock was created to deal with disruption caused by EU exit and in response to the Covid-19 pandemic, removing the sunset clauses will mean the Kent Resilience Forum is better prepared to respond to any type of traffic disruption in the area, including strikes and severe weather."
Meanwhile, research by BBC Radio Kent has revealed Kent County Council handed out 4,528 parking fines to lorry drivers in the first six months of 2021, with 1,223 in the borough of Ashford.
It follows an introduction of parking bans for lorries in the wake of Brexit.
Source: BBC