More than 75% of UK adults have now received two Covid jabs, the government has said.
A total of 39,688,566 people have now received both doses, while another 7 million have only had a single dose, according to the latest figures.
Boris Johnson described the milestone in the vaccine rollout as a "huge national achievement".
But Oxford Vaccine Group director Prof Sir Andrew Pollard has warned that herd immunity is "not a possibility".
Margaret Keenan became the first person to be vaccinated as part of the UK rollout on 8 December.
Since then more there have been more than 86.7 million vaccinations delivered, with people receiving their jabs everywhere from sports stadiums to circuses.
At the peak of the rollout more than 752,000 jabs were given in a day on 20 March, although the rate has since slowed.
The UK reached the milestone of getting 50% of adults double jabbed on 3 June and 25% of adults had received both doses by 27 April.
A further 32,250 first doses and 137,028 second doses were given across the UK on Monday.
The latest data also shows there were 23,510 new cases of Covid as well as a further 146 deaths within 28 days of a positive Covid test.
The prime minister hailed the "incredible vaccine rollout" and said it had provided vital protection against the virus for three-quarters of adults.
"It's so important that those who haven't been vaccinated come forward as soon as possible to book their jab – to protect themselves, protect their loved ones and allow us all to enjoy our freedoms safely," he said.
Health Secretary Sajid Javid said the vaccines were "allowing us to reconnect with the things we love", while vaccines minister Nadhim Zahawi said it had been "phenomenal to see first-hand the enthusiasm of the British public for the vaccines".
But Sir Andrew told MPs the idea of herd immunity was "mythical" with the Delta variant, now dominant in the UK, still infecting people who had been vaccinated.
He said while vaccines might "slow the process" of transmission down, they currently cannot stop the spread completely.
Earlier Mr Javid said that plans are in place to give the most vulnerable groups a third or booster Covid jab in September.
This has been criticised, with Sir Andrew telling the All Party Parliamentary Group on coronavirus that any spare jabs should "go where they can have the greatest impact" to protect unvaccinated people abroad.
The latest data from Public Health England and Cambridge University suggests that around 60,000 UK deaths and 22 million infections had been prevented by vaccines so far, the Department of Health and Social Care (DHSC) said.
The government said two doses of either the Pfizer or AstraZeneca vaccines provided over 90% protection against hospitalisation from the Delta variant, which is now dominant in the UK.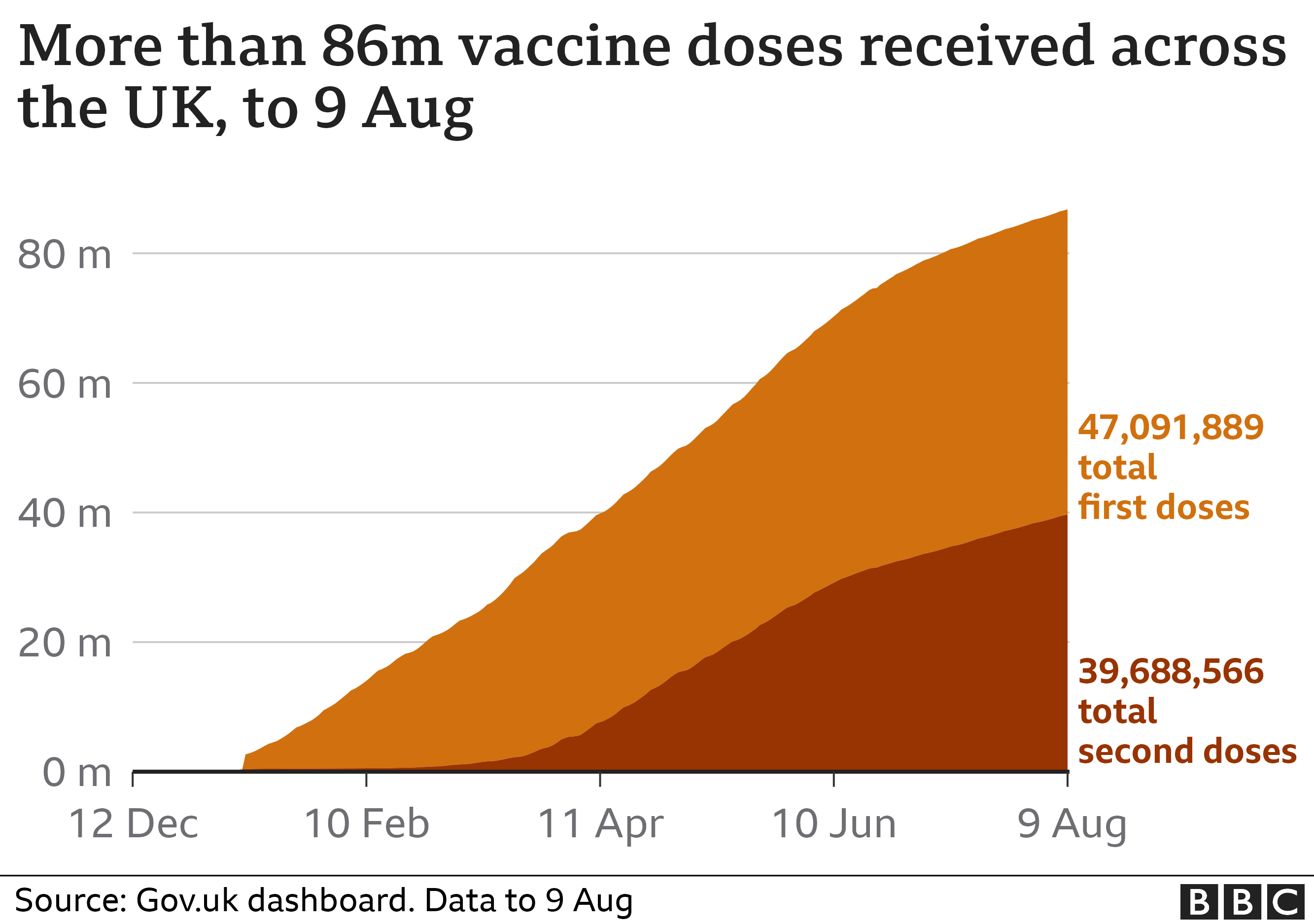 All adults in the UK will have been offered the chance to have both doses by mid-September, the DHSC said.
Ministers will be watching the second dose figure to see how close it edges to 100% in the weeks ahead.
The government has already announced that by the end of September, people in England will require full vaccination status to go to nightclubs and some other events with large crowds.
And from next Monday double vaccinated people will no longer be required to self-isolate if they are identified as a close contact of a positive Covid case.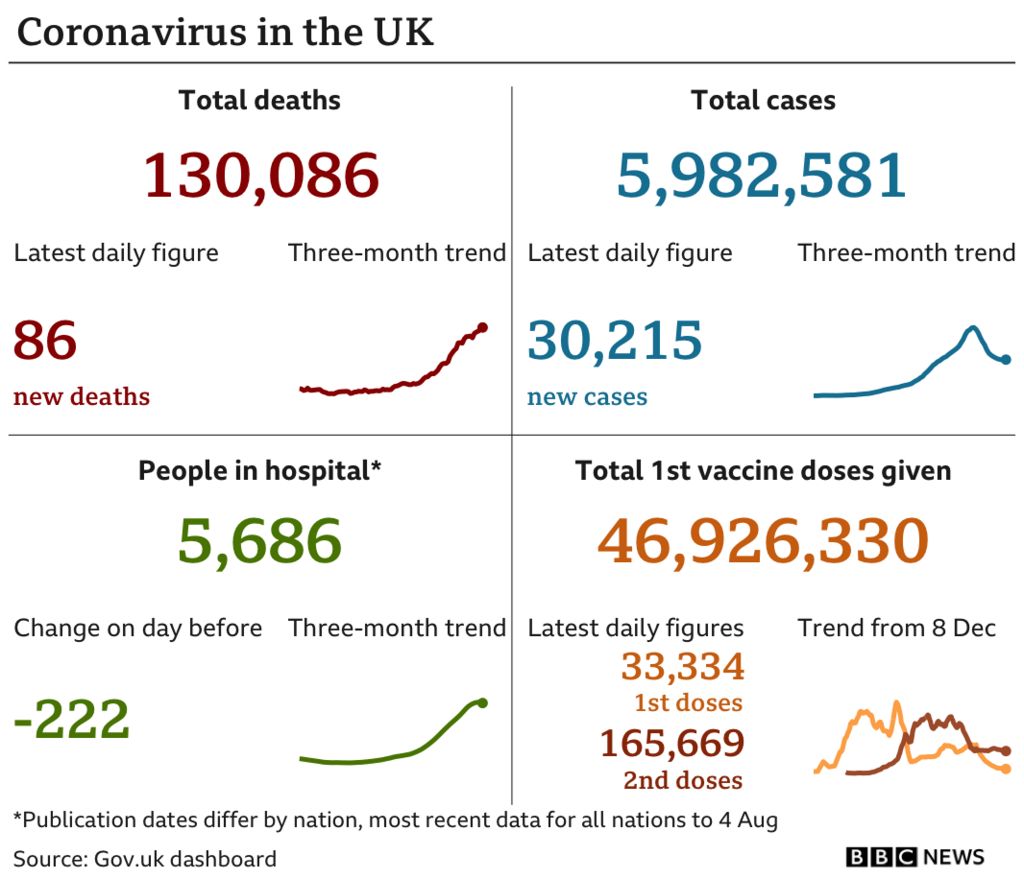 The UK vaccine rollout began with people aged 80 and over as well as some health and care staff before moving to those at higher risk of illness from Covid and down through age groups.
Last week children aged 16 and 17 began to be invited for their jabs following a change in advice from the Joint Committee on Vaccination and Immunisation.
NHS England said nearly 16,000 16 and 17-year-olds had already received their vaccine over the weekend.
Some children aged 12 and over who are at a higher risk of serious illness from Covid, or live with immunosuppressed adults, will be contacted about vaccines in coming weeks.
Source: BBC