All 16 and 17-year-olds in the UK will start being offered a first dose of the Covid jab within weeks, after a recommendation from vaccine experts.
They will not need parental consent and will receive the Pfizer-BioNTech jab, the Joint Committee on Vaccine and Immunisation said on Wednesday.
Advice on when to offer the second dose will come later, the JCVI added.
The change in guidance means around 1.4 million teenagers will be eligible.
Prof Jonathan Van-Tam, England's deputy chief medical officer, said there were plenty of vaccines available, adding: "We have the supply and I'm expecting this to start in a very short number of weeks indeed."
"There is no time to waste in getting on with this," he said, highlighting that children will start going back to sixth forms and colleges soon. "I want us to proceed as fast as is practically possible."
The JCVI is a group of independent experts and their advice is a recommendation upon which governments then act. England, Scotland, Wales and Northern Ireland have all confirmed they will follow it.
Until now, children over 12 have been able to get a jab if they have certain health conditions, live with others who are at a high risk or are nearing their 18th birthday.
The only vaccine currently approved for under-18s in the UK is Pfizer-BioNTech.
Some other countries have already been routinely vaccinating children over 12. The US has been doing so from May, as well as some European countries, such as France and Italy, after EU regulators gave them the go-ahead. Other countries that are vaccinating children include Brazil, Japan, Israel and Hong Kong.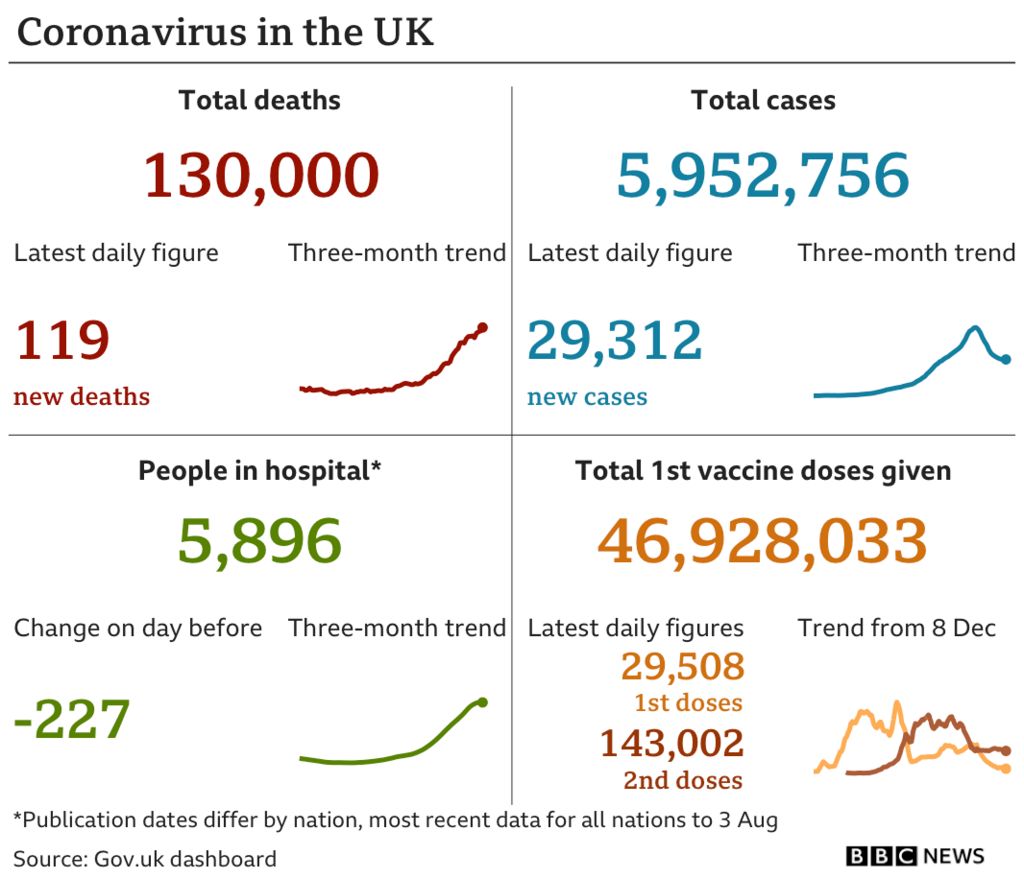 Last month, the JCVI stopped short of opening up jabs to 16 and 17-year-olds as it wanted time to examine the risks and benefits, as well as reports of rare adverse effects such as inflammation of heart muscles.
But on Wednesday it said these events were "extremely rare" and usually occurred within a few days of a second dose, typically more in young men.
Data from the US suggests that in males aged 12 to 17 years 9.8 cases of myocarditis were reported per million first doses given.
This rises to 67 per million after the second dose. Most people recovered quickly.
The JCVI said it expected one dose of the vaccine would give the 16 and 17-year-old age group good protection against severe illness and around 80% protection against hospitalisation.
Prof Wei Shen Lim, who chairs the Covid part of the JCVI, said the change in advice was not just for the benefit of wider society, but for teenagers themselves.
"While Covid-19 is typically mild or asymptomatic in most young people, it can be very unpleasant for some," he said.
On whether to roll out jabs to over-12s, he said the JCVI will review the data but it is a decision they "prefer not to make at this point".
After the announcement, Prime Minister Boris Johnson urged people to "listen to the JCVI" and get the jab. "They are extremely expert, they're amongst the best, if not the best in the world – they know what's safe and I think we should listen to them and take our lead from them," he said.

Why just one dose for now?
The ambition is still two, but the route to getting there is fuzzy.
The advice today is to give 16 and 17-year-olds their first dose and then wait for more details.
One reason is the risk of inflamed heart tissue (myocarditis or pericarditis) is higher after the second dose of the Pfizer vaccine.
The JCVI says one dose will still give children significant protection against Covid, especially if they have already caught the virus.
And that the high uptake in vulnerable older adults means it can afford to go more slowly, and wait for more evidence on the risks, in the young.
A longer gap between the two doses would lead to more protection in the end.
However, it looks unlikely they will be fully immunised before the return to school in September.

Almost all children and young people are at a very low risk of being seriously ill with Covid. New research suggests most children who become ill with coronavirus recover within less than a week.
But they can act as a reservoir of virus and pass it on to their friends, classmates, families and other vulnerable adults.
The move to vaccinate children is likely to have its critics, as much of the world is far behind in their vaccine rollouts, with millions of adults still at risk of serious illness or death.
Some argue that the doses given to children would save more lives if they were given to health workers and vulnerable adults in poorer countries.
The World Health Organization has urged wealthy countries to share more of its vaccines, and sooner. The UK has pledged to donate more than 100 million leftover doses via the Covax scheme and through direct country-to-country donations.
It sent a first batch of nine million doses last week.

How have scientists reacted?
"Vaccination of teenagers may have a major effect on the return of Covid next winter, assuming that the rates will drop this summer. Full vaccination takes time, so the sooner we start the sooner this age group will be protected." – Prof Peter Openshaw, Imperial College London
Dr Peter English, former chair of the BMA public health medicine committee, queried why they had not gone further, sooner: "Why they did not recommend vaccinating 12 plus-year-olds outside risk groups in mid-July, and why it seems they will restrict their recommendation to people aged 16 plus today, are questions that remain unanswered to my satisfaction."
"This step is particularly useful now as high vaccination levels are concentrating infection amongst the unvaccinated children and teenagers." – Prof Russell Viner, University College London
"The moral failure… is to allow people to die around the world, whilst we vaccinate people who are at extremely low risk of of serious disease or death or even zero risk." – Prof Andrew Pollard, director of the Oxford Vaccine Group, who says teenagers should not be a priority when there are "plenty of other people who are at serious risk of death".

A further 29,312 cases of people testing positive for coronavirus were recorded in the UK on Wednesday and 119 deaths within 28 days of a positive test.
So far, 73% of adults in the UK have received two jabs, and more than 88% have had a first dose. All over-18s have now been offered the vaccine.
NHS data for England shows 223,755 under-18s have received a first vaccine dose since the rules were changed last month.
Last month, there were suggestions that vaccines could become compulsory for university students moving to halls of residence, but ministers have since shelved that idea.
There are also plans to offer booster jabs for those aged 50 and over later this year.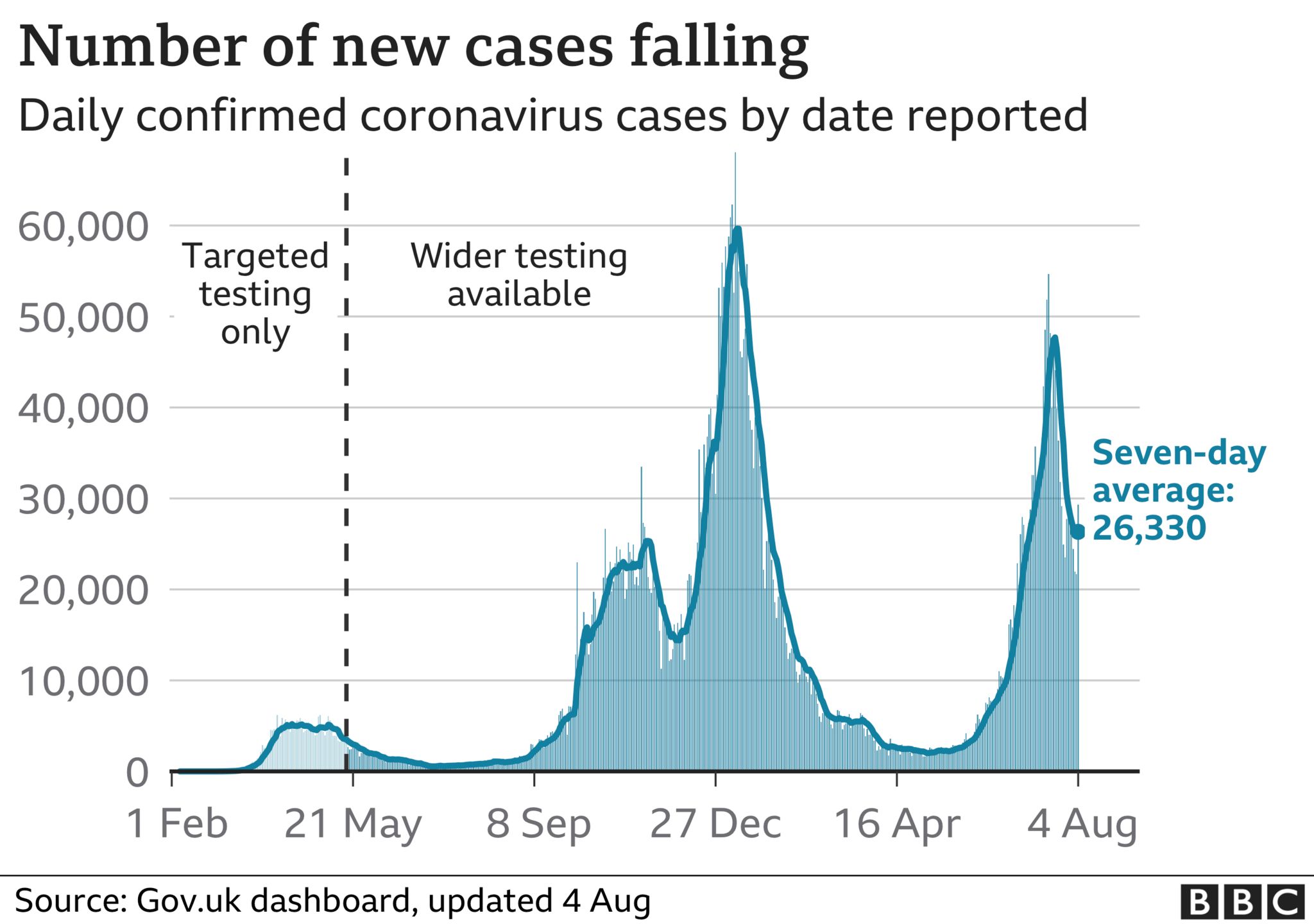 Source: BBC