(CNN) -The issue of doping reared its head at Tokyo 2020 on Friday as the Russian Olympic Committee (ROC) hit back at comments from American swimmer Ryan Murphy which questioned whether Evgeny Rylov's 200m backstroke gold medal was "100% clean." Murphy, who was the reigning Olympic champion in both the 100m and 200m backstroke disciplines, earned a bronze in the 100m and silver in the 200m, while Rylov won gold in both. Shortly after Friday's 200m final, Murphy was asked by a reporter whether he had any concerns about doping in relation to his races.
"I've got 15 thoughts, 13 of them would get me into a lot of trouble," said Murphy.
"It is what it is. I try not to get caught up in that. It is a huge mental drain on me to go throughout the year, that I am swimming in a race that's probably not clean and that is what it is," the American added.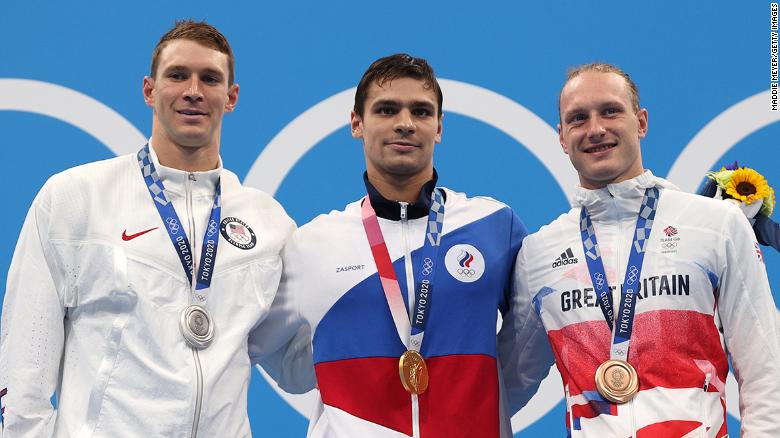 Murphy (left), Rylov (middle) and Greenbank (right) pose on the podium during the medal ceremony for the men's 200m backstroke final. The International Testing Agency (ITA) told CNN on Friday that it has so far collected over 3,000 samples from over 2,000 athletes as part of Tokyo 2020's anti-doping program. So far, they have been no 'adverse findings," according to the ITA.
Russian athletes aren't competing under their national name at the Olympics due to continuing sanctions over doping. Those sanctions are still in place for the widespread use of a state sponsored doping program which was uncovered in 2016.That means Russian athletes are officially recognized as members of ROC. Rylov is one of 335 ROC athletes competing at the Games. At a later news conference, sitting alongside Rylov and Great Britain's bronze medalist Luke Greenbank, Murphy clarified his comments saying that he was speaking more broadly about doping in swimming. When asked whether he believed the race was clean, the 26-year-old said: "I think the thing that is frustrating is that you can't answer that question with 100% certainty and I think over the years that's, I mean that's kind of come out … I don't know if it was 100% clean and that's because of things that have happened over the past."
Rylov reacts after winning the gold medal in the men's 100m backstroke." I need to be clear …
My intention is not to make any allegations here. Congratulations to Luke and Evgeny. They did an incredible job, they're both very talented swimmers," he said." At the end of the day … I do believe doping in swimming. That it is what it is.
"Greenbank echoed Murphy's sentiments." It's obviously a very difficult situation not knowing whether who you are racing against is clean, but I think it's something that's part of the sport, it's a frustrating situation but I've just got to keep my mind on my race and the things I can control. "Obviously there's a lot of media around certain nations in this Olympics, and obviously it's frustrating seeing that as an athlete, knowing that there was a state-sponsored doping program going on and that more could have been done to tackle it, but it's not for me to make those decisions.
"Asked by a reporter to comment on Murphy's response, Rylov said he had always trumpeted fairness in sport." I have always been for fair sports and for fair competitions, so I have always taken drug tests, I always fill the ADAMS forms (World Anti-Doping Agency doing control database)."I have devoted my whole life to this, so I could never forgive myself if I had taken anything. So, I don't know how to react to this. Ryan hasn't accused me of anything.
Therefore, I don't want to answer anything on this," Rylov added. The Russian Olympic Committee wasn't nearly as diplomatic. It released a strongly-worded statement on Twitter rebuking Murphy's allegations. "How unnerving our victories are for [some]. Yes, we are here at the Olympics. Absolutely right. Whether people like it or not," it read in part. USA Swimming was not immediately available to comment when contacted by CNN. In December 2020, asked how clean he thinks the Tokyo Games would be, 23-time Olympic gold medalist Michael Phelps bluntly told CNN Sport's Don Riddell: "Four or five" out of 10."I can honestly say that throughout my whole entire career, I don't know if I ever competed in a clean field," added Phelps.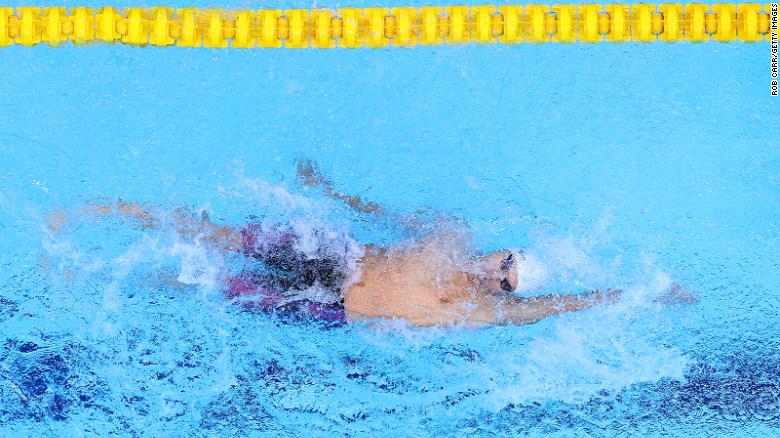 Rylov competes in the men's 200m backstroke final. Visit CNN.com/sport for more news, features, and videos
The ITA is a non-profit agency set up to "manage anti-doping programs, independent from sporting or political bodies, for International Federations, major event organizers and all other organizations requesting support."
In an infographic sent to CNN, detailing it's Tokyo 2020 anti-doping program, the ITA said some of the most tested sports so far have been aquatics, rowing, athletics, cycling and weightlifting while some of the most tested teams are those of the United States, Australia, China, Great Britain and the ROC." Laboratory analysis are ongoing. Any adverse finding constituting an Anti-Doping Rule Violation (ADRVs) will be brought forward by the ITA before the Court of Arbitration for Sport's Anti-Doping Division," the ITA told CNN in statement. "Any such proceedings will be reported publicly. No ADRVs have been reported to date."
Source: CNN