UK Covid cases fall below 25,000, latest daily data shows
The number of new Covid cases reported in the UK has now fallen below 25,000.
The UK recorded 24,950 new infections on Monday – a drop of 15,000 on 39,950 cases a week ago.
The number of new cases fell for a sixth day in a row – the first time since November, during England's second national lockdown.
But immunologist Prof Peter Openshaw said while he was "cautiously pleased," further daily data would show if it was a sustained fall or a "just a blip".
Prof Openshaw, who sits on the government's New and Emerging Respiratory Virus Threats Advisory Group (Nervtag), told BBC Radio 4's PM programme: "It is exciting to see those rather encouraging figures, but there have been some delays in reporting the figures and we're still waiting for the full data to be released by the Office for National Statistics.
"So let's not get overexcited."
Downing Street said earlier that while the fall in infections was "encouraging," the prime minister believed the nation is "not out of the woods yet".
The PM's spokesman said the pandemic was "not over" and that "we should still expect to see a rise in case numbers" after the government lifted almost all legal restrictions on social contact in England a week ago.
The final relaxation of Covid rules included the removal of limits on the number of people who can meet or attend events and the reopening of nightclubs.
Prof Paul Hunter from the University of East Anglia previously told the BBC's Jim Reed that "it [would] not be until about next Friday before the data includes the impact" of the 19 July unlocking.
The first few days after unlocking also saw a sustained period of sunny weather across the UK. Scientists advising the government have consistently said that the virus is less likely to spread when people are meeting outdoors.
The scale of the fall has come as a surprise to even the most optimistic scientists – and is why many are interpreting it with a little caution.
One suggestion is the decrease could look better than it actually is because of a growing reluctance of people to come forward for tests.
It will be crucial to see if the drop translates into a similar fall in hospitalisations in a week's time.
Saying that, it's been clear for the past few weeks that the rate of increase in infections had begun to slow.
Fears of 100,000 cases a day or more look unlikely now. But it's also important to be realistic about what's likely to happen.
Government scientists believe we are entering an extended peak where infection levels are going to bobble around for a while.
The impact of the 19 July easing has yet to be felt for one thing. That could tip the trend back upwards.
But the hope is the levels of immunity built up along with a degree of cautious behaviour will mean any rise will be short-lived.

It is the first time since the start of the pandemic that a sustained drop in cases has not coincided with a national lockdown.
In November, there was a sustained drop in new infections after Prime Minister Boris Johnson announced a four-week national lockdown in England to prevent a "medical and moral disaster" for the NHS.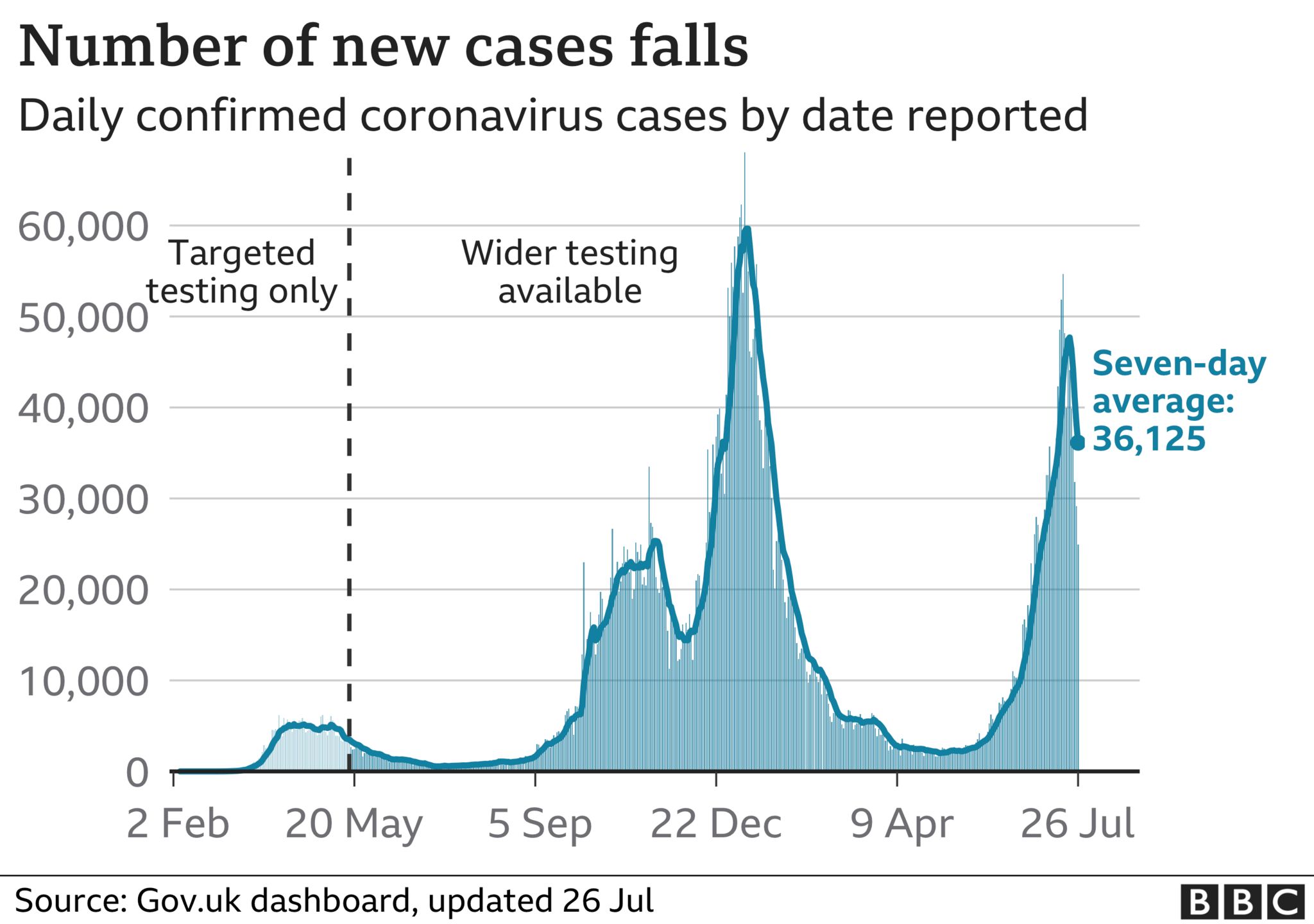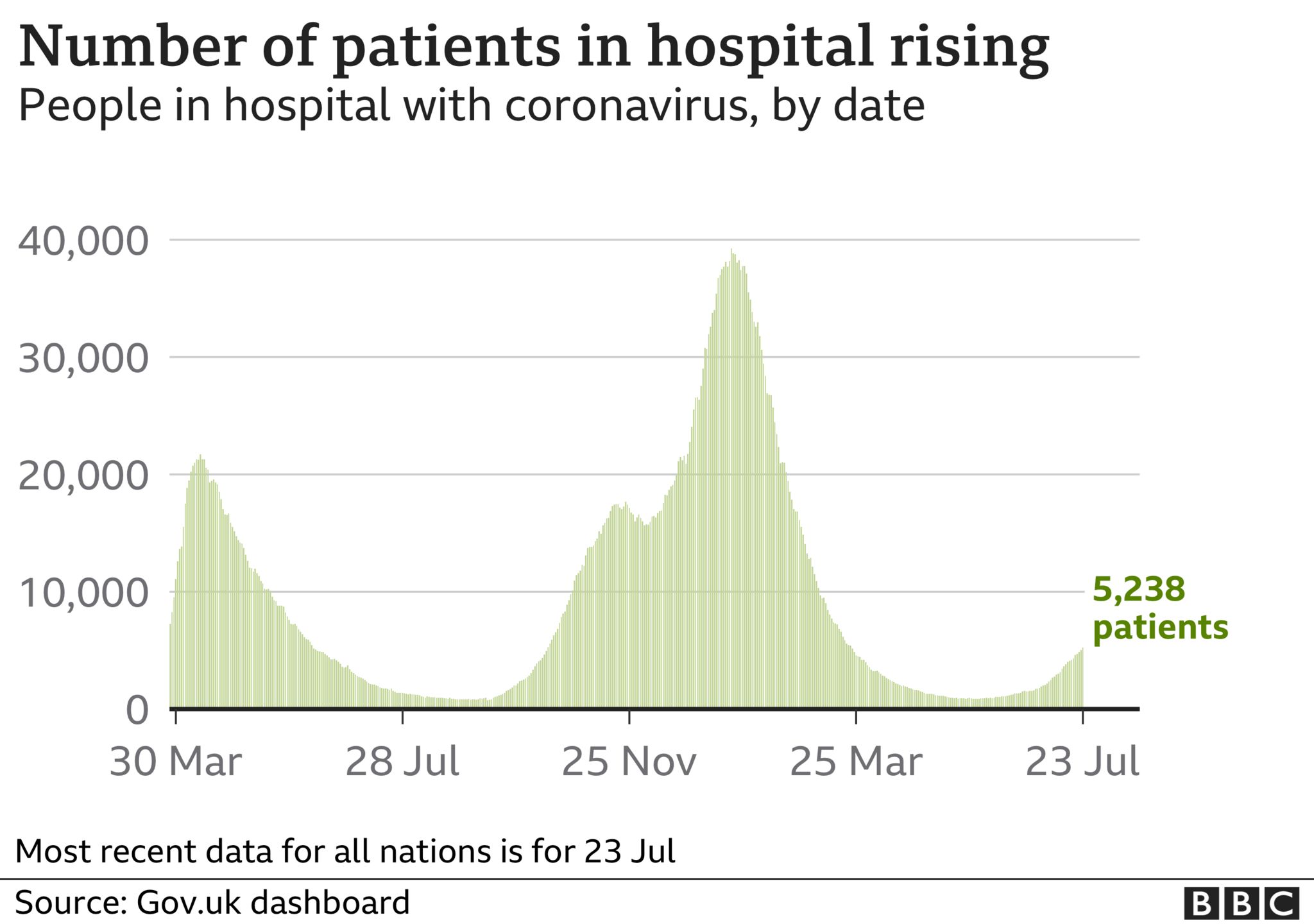 Although the numbers of cases have fallen quickly over the past week, they are still more than 10 times higher than the levels seen in early May.
While the number of cases is falling, the number of patients in hospital with Covid-19 is still rising – although at a slower rate than during previous waves because of the impact of vaccinations.
The latest data shows there were 5,238 in-patients on 23 July, compared with 4,612 a week ago. There were also another 14 deaths within 28 days of a positive Covid test.
The dashboard also shows 46,589,211 people have now received a first dose of a Covid vaccine, an increase of 24,551. This means that so far, more than 88% of UK adults have had a first jab.
A total of 37,287,384 people have received both vaccines – a rise of 117,956 – equating to 70.5% of adults.
Meanwhile, Northern Ireland's executive has agreed to to ease some Covid restrictions, including allowing theatres and concert venues to reopen from 18:00 BST on Tuesday.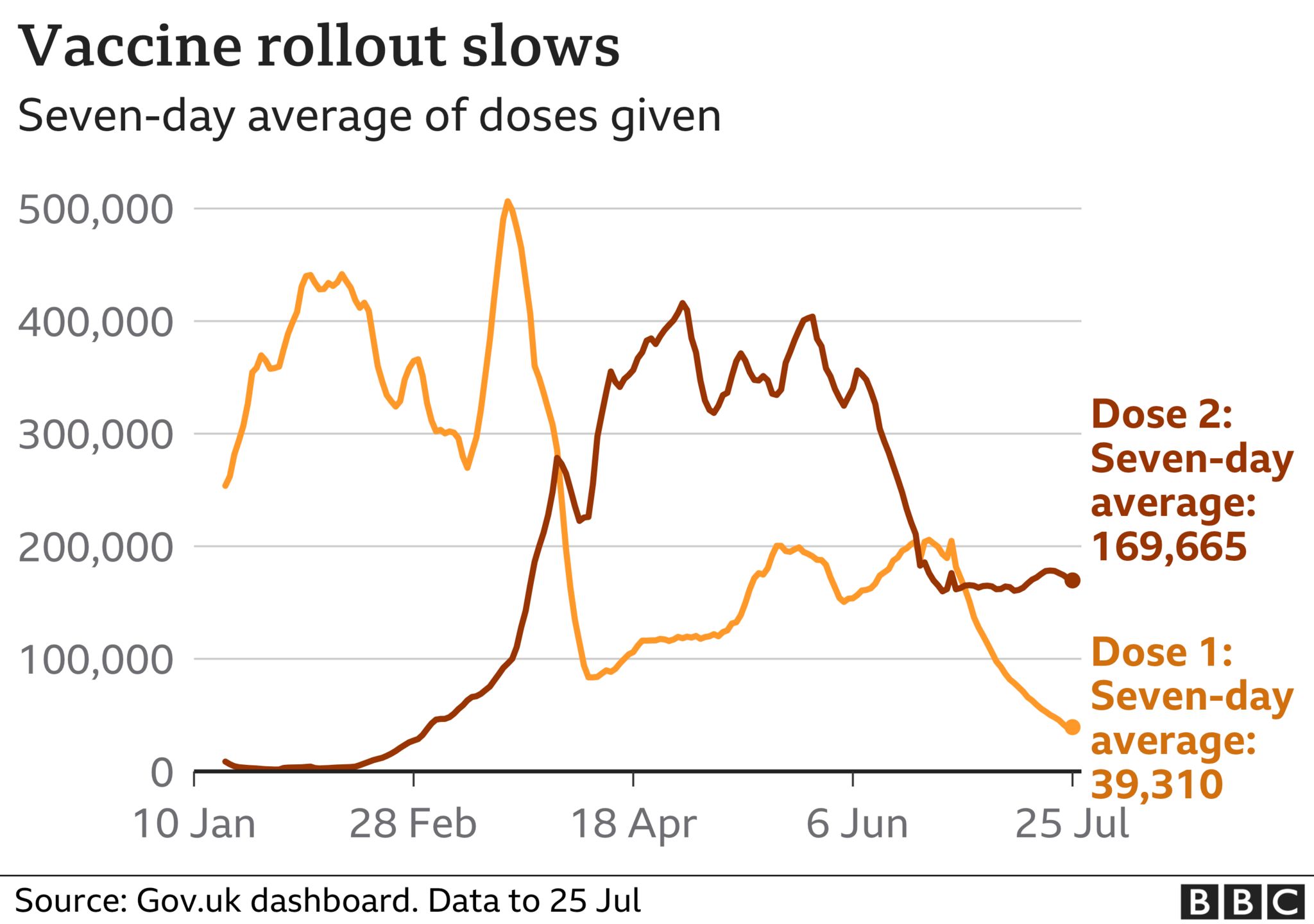 Source: BBC