England heatwave: Giant hail in Leicestershire damages cars
Hail the size of golf balls fell in a thunderstorm damaging cars and smashing windows as extreme heat warnings stayed in place across England.
Katie Jaffar from Kibworth Beauchamp, in Leicestershire, said both of their family cars were a "total write-off" and were "covered in big dents".
Several roads also flooded in the East of England as temperatures of 30C (85F) turned to heavy rain and hail.
The Met Office issued an amber warning for thunderstorms earlier.
The hail storm hit Leicestershire around 18.15 BST, with some car windows obliterated.
"One minute the kids were playing with their friends in the paddling pool and it was gloriously hot," Mrs Jaffar, a journalist, said.
"The next minute huge dollops of rain started falling and then it turned into hail – huge lumps of it thundering down."
She said the force of the hail smashed through a large skylight at her mother's home nearby and water was flooding the corridor.
"Our neighbours' cellars are flooded and there was water up to the front door," Mrs Jaffar said.
"It was just so scary how quickly it happened and the damage it caused."
Several Twitter users posted videos of the torrential showers, pictures of the giant hail and car windows smashed.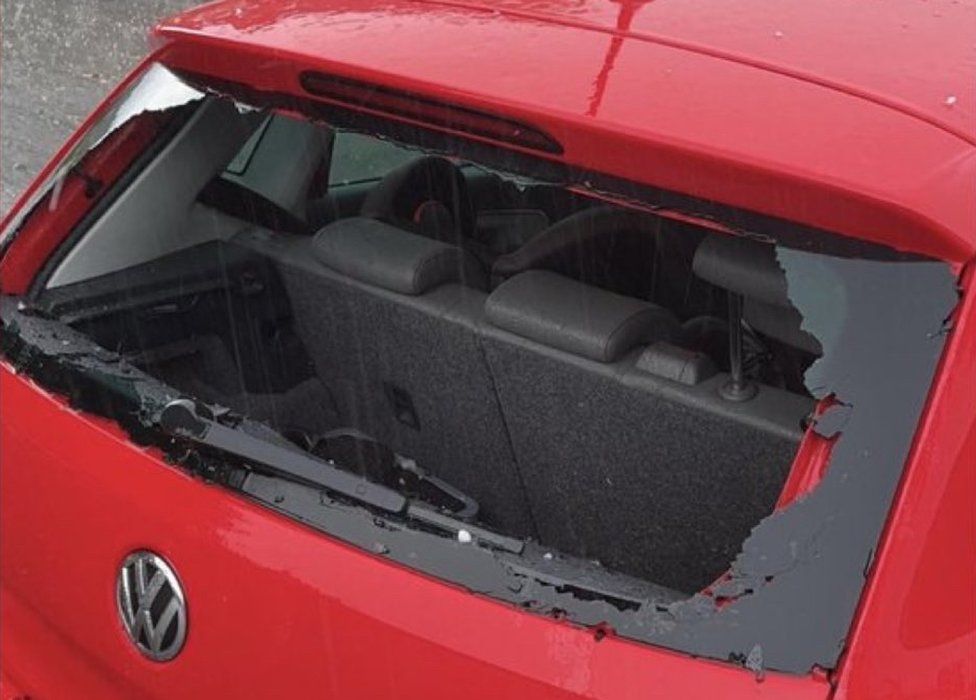 Primary school teacher Phil Morrish, 53, who is an avid weather watcher, said he was sent pictures from friends in Kibworth village.
"People are shocked by it," he said. "There are quite a few cars being damaged by this huge hail.
"It is crazy weather. The hail stones are 3-5cm big."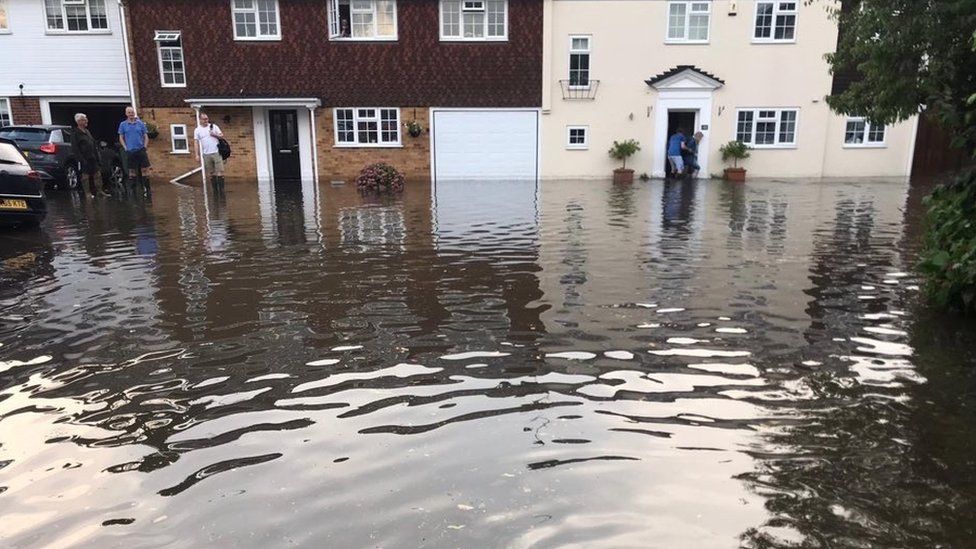 Police have closed the A6 Harborough Road, at Kibworth, in both directions due to flooding.
Leicestershire Police said it was "dealing with an incident" and advised motorists to find alternative routes.
Leicestershire Fire and Rescue Service has warned people not to "attempt to drive through flood water".
Extreme heat warnings, alerting people to the risk of sunburn and heat exhaustion, are in place until Friday.
SOURCE: BBC