There are signs the UK is in the early stages of a third wave of coronavirus infections, a scientist advising the government has said.
Prof Ravi Gupta, from the University of Cambridge, said although new cases were "relatively low" the Indian variant had fuelled "exponential growth".
He said ending Covid restrictions in England on 21 June should be postponed.
Environment Secretary George Eustice said the government could not rule out a delay to the planned lockdown easing.
But business leaders have warned of the harmful impact of any change to the proposed dates.
On Monday, the UK reported more than 3,000 new Covid infections for a sixth day in a row.
Prior to this, the UK had not surpassed that number since 12 April.
No deaths within 28 days of a positive test were reported in England, Wales or Northern Ireland – but one death was reported in Scotland.
Prof Gupta told BBC Radio 4's Today programme the UK was already in a third wave of infections and at least three quarters of cases were the variant identified in India.
He said: "Of course the numbers of cases are relatively low at the moment – all waves start with low numbers of cases that grumble in the background and then become explosive, so the key here is that what we are seeing here is the signs of an early wave."
However, he said the number of people who had been vaccinated in the UK meant this wave would probably take longer to emerge than previous ones.
"There may be a false sense of security for some time, and that's our concern."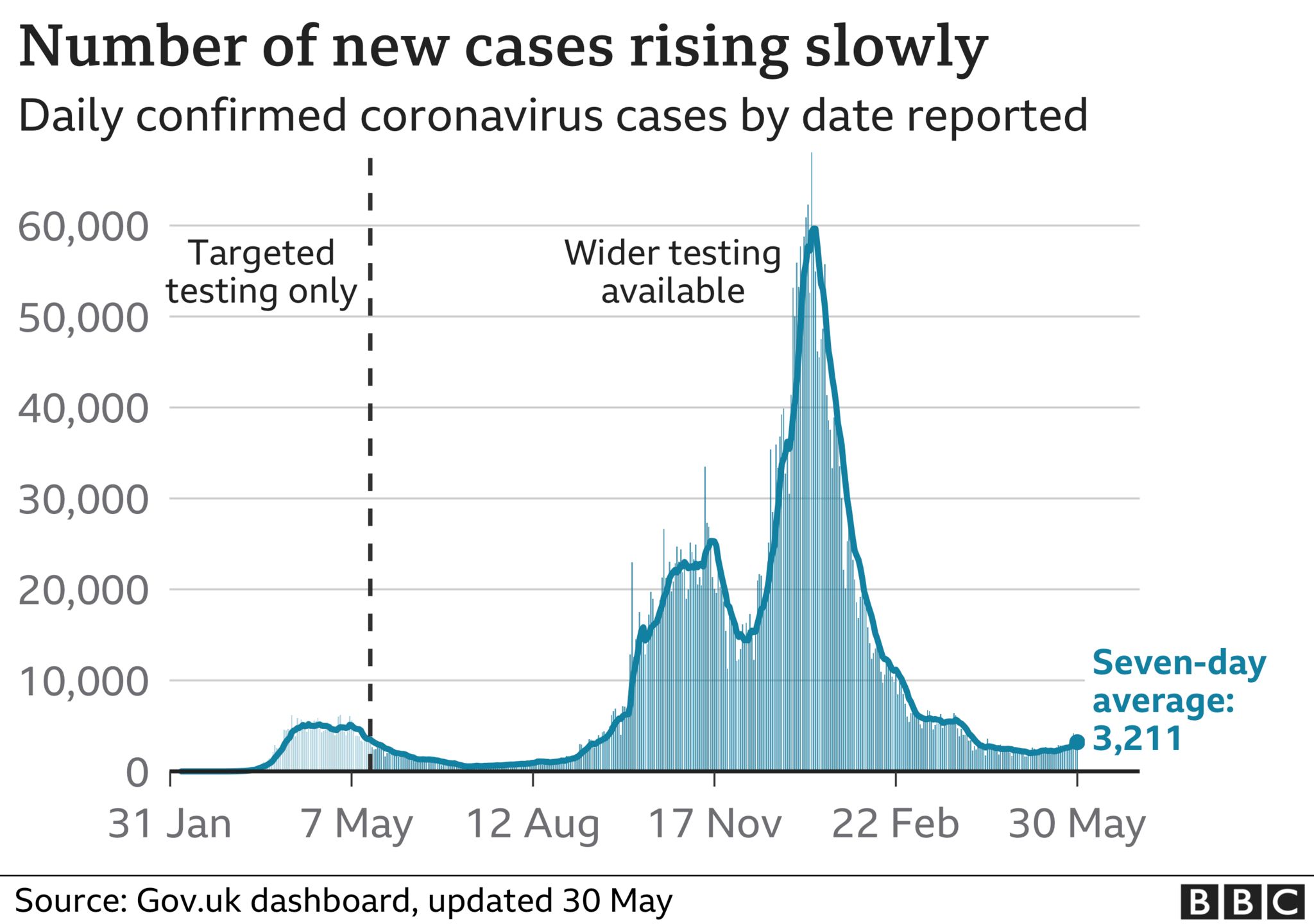 The final stage of the government's roadmap for lifting lockdown would remove all limits on how many people you can meet – either indoors or outdoors.
But Prof Gupta – a member of the government's New and Emerging Respiratory Virus Threats Advisory Group (Nervtag) – said ending restrictions in June should be delayed "by a few weeks whilst we gather more intelligence".
"If you look at the costs and benefits of getting it wrong, I think it is heavily in favour of delay, so I think that's the key thing," he added.
Businesses on 'cliff edge'
Kate Nicholls, chief executive of UK Hospitality, told BBC News it would be "devastating" for the sector if they were not able to fully reopen in June, with many hospitality venues currently operating at 60% capacity because of social distancing rules.
She said some businesses were "haemorrhaging cash" and a delay would "push them closer to the cliff edge of business failure".
Greg Parmley, chief executive of live music trade association Live, said the whole sector – from festivals to small venues – was "completely geared up" for a return from 21 June after being closed for more than a year.
He said the government's series of trial events had shown "music events can be held safely, with almost no Covid impact, so there is no reason to keep us closed any longer".
Mr Eustice told the BBC the government had to take things "one step at a time".
"We can't rule anything out. We know this has been a difficult pandemic, a dynamic situation. We have to make that judgment a couple of weeks before.
"It will only be by then that we will see the impact of the latest easement we made on 17 May."
The timetable for relaxing Covid measures varies across the UK. The Scottish government hopes to lift more restrictions on 7 June, while in Wales there is due to be a review on 3 June. In Northern Ireland some measures were relaxed on 24 May – the next review is due on 10 June.
A final decision on whether restrictions will be lifted in England will be reached on 14 June.
Source: BBC