Behind the scenes of Glastonbury's live-stream concert
The Pyramid Stage is a skeleton, and the fields are empty – but Glastonbury will go ahead on Saturday night, with a one-off live-stream concert.
Coldplay, Jorja Smith, George Ezra and Kano are all set to play in the five-hour event, which organisers say will "help to secure the festival's return in 2022" after two years of Covid-enforced cancellations.
"We're so excited," says Alana Haim of LA rock trio Haim, who flew over specially to play the show.
"Glastonbury is our favourite festival that we've ever played, ever, and to be chosen to be one of the artists to play is incredible."
The band had to "quarantine for days" after landing in the UK a fortnight ago. "There was a lot of Come Dine With Me, a lot of First Dates," she says, but it was worth it to be able to play songs from their latest, Grammy-nominated album "for the first time".
"I'll play to anything," she tells the BBC. "I'll play to cars, I'll play to cows. We're a live band – I just want to play."
Billed as "one continuous wild night" at Somerset's Worthy Farm, the live-streamed show will thread together musical performances and narration by Jarvis Cocker, PJ Harvey, George The Poet and Glastonbury organiser Michael Eavis.
Rock band Wolf Alice will kick proceedings off, playing inside the infamous Stone Circle that overlooks the site.
"Have I been here before?" asks singer Ellie Rowsell as the band set up their gear. "I honestly don't know. I think I have."
"It's so strange to be stood on the stone circle and not be looking over loads of tents and lights and people," adds guitarist Joff Oddie, "but it feels really special.
"We feel lucky to be here, to be honest. We're one of the lucky few."
All the artists waived their fees to appear at the show, which is the first in a series of planned events on the festival site this summer. Families will be able to camp at Worthy Farm over the school holidays; while organisers were recently granted a licence for a one-day concert this September – although no decision has been taken on whether it will go ahead.
Supporting live music jobs
Glastonbury organiser Emily Eavis says the new ventures are a way of recouping the £5 million loss the festival incurred after cancelling in 2020.
"We're obviously not going to get that back," she says, but the live-stream in particular is "a way of giving work to people who've been struggling over the past year".
She calls over Emma Reynolds-Taylor who, in a typical year, would be in charge of Glastonbury's main stage.
"Doing a show like this absolutely means the world to all of us right now," she says. "The events industry has been on complete shutdown since the very very start of the pandemic [and] it's been really challenging.
"To be able to do this, and to employ the number of people we've been able to employ, has meant so much to me personally. To send those emails and make those calls saying, 'We've got a job for you,' that's meant the most to me from this whole thing."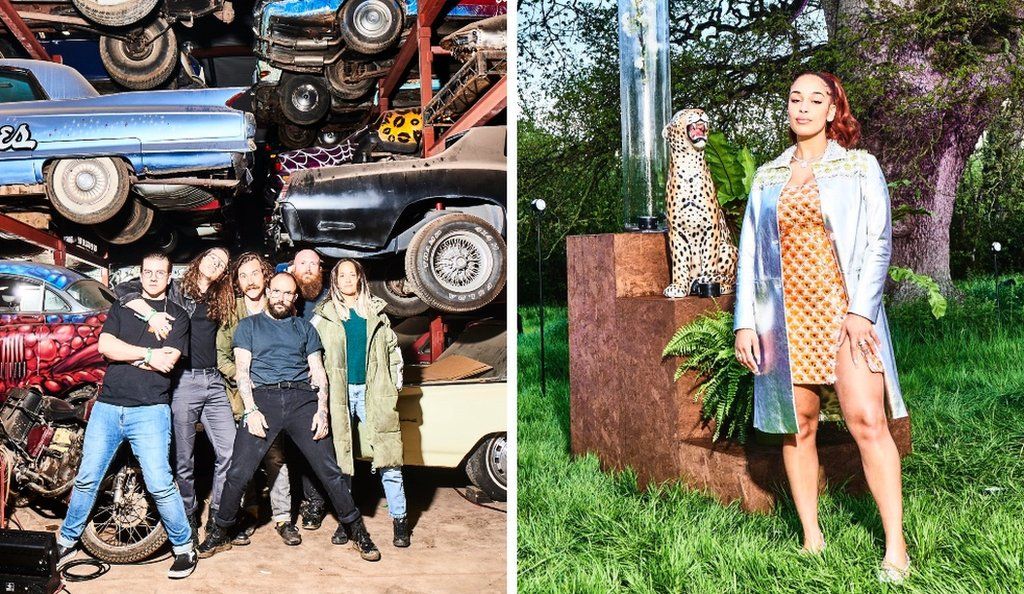 Although it's billed as a live-stream, Saturday's concert has actually been filmed over the course of the last seven days by Paul Dugdale, who previously shot Ariana Grande and Taylor Swift's world tours for Netflix.
"It's obviously not the festival, it's a film but it's going to be as close to what it feels like to be here," says Eavis.
She takes us on a tour of the site – pointing out familiar landmarks like the Beehive, which we're more used to seeing swarming with people, accompanied by the relentless pounding of drum beats and the scent of freshly-baked doughnuts.
Instead, the farm is tranquil and nature is in full bloom.
"It's May so everything is pure, peak life," says Eavis. "The cow parsley is on the railway line, all the wild garlic is out, and it's sunny. It's a beautiful time."
She assures fans who find themselves torn between Glastonbury and Eurovision (yes, they exist) that they will have the option of tuning in for a repeat of the live-stream on Sunday.
And while there's a "real buzz" about the concert film, she desperately hopes it's a one-off.
"It feels like [it will be] a really crucial part of our history – making it back after Covid," she says.
"It's going to be joyous when we come back, but this film will really capture a unique time in our history."
Source: BBC