The Duke of Cambridge has blamed BBC failings over its interview with his mother for fuelling her paranoia and worsening his parents' relationship.
After an inquiry found the BBC fell below its standards, Prince William said he was "most saddened" Diana never learned she had been deceived.
He said his mother was failed "not just by a rogue reporter" but also by BBC bosses.
The Duke of Sussex blamed a toxic media culture for his mother's death.
In his separate statement, Prince Harry said that the "ripple effect of a culture of exploitation and unethical practices" ultimately took his mother's life.
He expressed concern such practices "are still widespread today", adding that it was "bigger than one outlet, one network or one publication".
"Our mother lost her life because of this, and nothing has changed. By protecting her legacy, we protect everyone, and uphold the dignity with which she lived her life," he said.
The BBC has written to apologise to Princes William and Harry, as well as the Prince of Wales and Diana's brother Earl Spencer.
Matt Wiessler, the graphic designer who first raised concerns about the fake documents used to secure the interview and who was later denied work by the BBC, told Radio 4's Today programme that an apology sent to him at 22:00 BST on Thursday was "too little, too late".
He criticised Lord Hall, who led an internal investigation at the time, and then BBC director-general Lord Birt for not apologising to him in person.

It's hard to overstate the strength of feeling expressed by William.
Not just about Martin Bashir, but with the whole BBC, whom he thinks entirely failed to investigate the matter and covered up elements that were not to its liking.
Note, there was no talk of drawing a line under this, there was no talk of this being a long time ago.
Instead, he effectively accuses the BBC of driving his parents towards divorce and playing some part in the events that led towards his mother's death.
Harry too, issued a statement, not as angry, not so pointed, instead referring, as he has before, to a "culture of exploitation and unethical practices".
In the past, of course, it's been Harry that's been so angry with the media, William appeared to have made his peace with it, but the second in line to the throne has launched a visceral attack on the BBC, a sign of his deep hurt and deep dismay.

The independent inquiry – by retired judge Lord Dyson – found that interviewer Martin Bashir acted in a "deceitful" way and faked documents to obtain his interview.
The BBC's 1996 probe led by then-head of News and Current Affairs Lord Hall into initial complaints about what happened was "woefully ineffective", it added.
Prince William said the interview made a "major contribution to making my parents' relationship worse", adding it has "since hurt countless others".
"But what saddens me most, is that if the BBC had properly investigated the complaints and concerns first raised in 1995, my mother would have known that she had been deceived," he said.
"She was failed not just by a rogue reporter, but by leaders at the BBC who looked the other way rather than asking the tough questions."
Lord Dyson found that Bashir deceived Earl Spencer into introducing the journalist to his sister by showing him forged bank statements that falsely suggested individuals were being paid for keeping the princess under surveillance.
Prince William said that, in his view, the deceitful way the interview was obtained "substantially influenced what my mother said" in response to Bashir.
He said the original Panorama interview programme had "no legitimacy" and should never be aired again.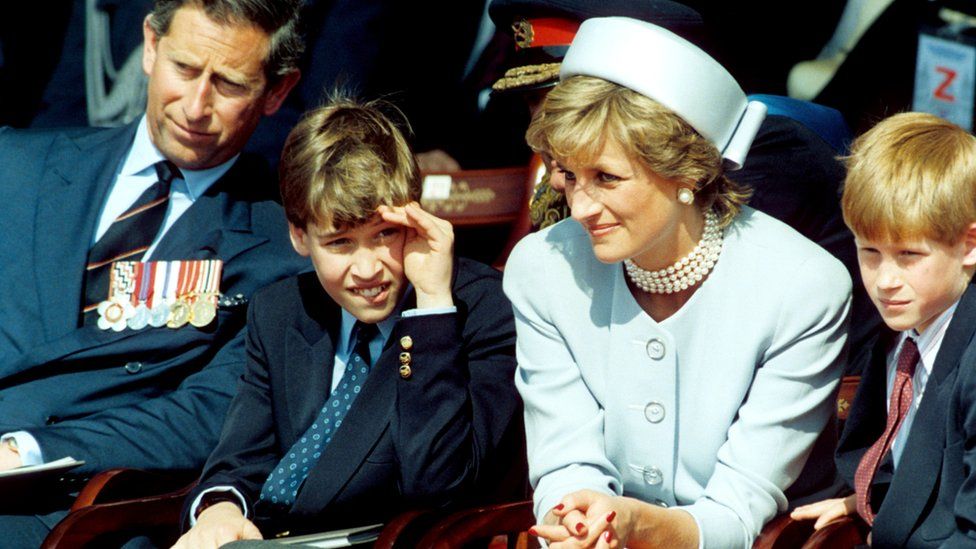 "It effectively established a false narrative which, for over a quarter of a century, has been commercialised by the BBC and others," he said.
Bashir said mocking up the documents "was a stupid thing to do" and he regretted it, but said they had had no bearing on Diana's decision to be interviewed.
A note written by Diana, published in the report for the first time, said she had no regrets about the broadcast and Bashir did not show her the faked documents. It was taken by the BBC as evidence for Bashir's claims.
But Lord Dyson said the BBC should have considered the possibility that the documents were shown to her brother, Earl Spencer, and used indirectly to gain access to the princess.
Justice Secretary Robert Buckland said the inquiry's "devastating" findings into the "unfounded and wrong" actions of senior figures at the BBC meant the government would have to consider whether the corporation's governance should be reformed.
The independent inquiry was commissioned by the BBC last year, after Earl Spencer went public with allegations about how the interview was obtained.
Its findings were published on Thursday.
Lord Dyson found:
Bashir seriously breached BBC rules by mocking up the fake bank statements that helped him gain the trust of Earl Spencer
By gaining access to Diana through her brother, Bashir was able to persuade her to agree to give the interview
And as media interest in the interview increased, the BBC covered up what it had learned about how Bashir secured the interview. Lord Dyson said this "fell short of the high standards of integrity and transparency which are its hallmark"
The earl told a new documentary by BBC Panorama: "Well, the irony is that I met Martin Bashir on the 31st of August 1995 – because exactly two years later she died, and I do draw a line between the two events."
He said it was "quite clear" from when he introduced Bashir to Diana in September 1995 that "everyone was going to be made untrustworthy, and I think that Diana did lose trust in really key people".
Patrick Jephson – Diana's former private secretary – said the interview "destroyed remaining links with Buckingham Palace" and left her vulnerable to "people who didn't have her best interests at heart".
Mr Wiessler said this inquiry should have been held in 1996 when he first raised the alarm and said there was still a culture that "the little people" and whistleblowers did not need to be addressed.
He said it was not a "fitting response for the 25 years I've been waiting for people to stop calling me a forger and a leaker".
Calling for senior BBC figures at time to apologise to him in person, he said: "Nobody has come forward. It's just weak, calculating, and quite honestly after 25 years it's nasty what they are doing – to this day."
Former BBC producer Mark Killick said he was told he was being removed from Panorama after raising concerns about the faked documents because "we only want loyal people on the programme".
He told BBC Breakfast the report was a "good start" but said the BBC had created a "culture of fear" that may have contributed to subsequent scandals. The current leadership must make it clear that staff can "speak truth to power without fear of losing their jobs", he said.
Bashir's interview with Princess Diana for a special edition of Panorama was a huge scoop for the BBC. In it, she famously said: "There were three of us in this marriage," – referring to her husband's affair with Camilla Parker Bowles.
It was the first time a serving royal had spoken so openly about life in the Royal Family – viewers saw her speak about her unhappy marriage to Prince Charles, their affairs, and her bulimia.
Bashir, 58, is one of the UK's best known journalists, and also made headlines for his 2003 interview with pop star Michael Jackson.
Last week he left the BBC, citing ongoing health issues. He had been the corporation's religion correspondent and editor since 2016.
In a statement, Lord Hall said he was wrong to give Bashir the "benefit of the doubt" at the time in the internal investigation which cleared Bashir, Panorama and BBC News of wrongdoing.
He added that throughout his 35-year career at the BBC he "always acted in ways I believe were fair, impartial and with the public interest front and centre".
The BBC's current director general, Tim Davie, said: "Although the report states that Diana, Princess of Wales, was keen on the idea of an interview with the BBC, it is clear that the process for securing the interview fell far short of what audiences have a right to expect.
"We are very sorry for this. Lord Dyson has identified clear failings."
He added that the BBC should have "made greater effort to get to the bottom of what happened at the time and been more transparent about what it knew".
It is understood that in a letter sent by Mr Davie to Prince Charles, the director-general apologised for Bashir's "lurid and untrue claims" about the prince, members of his staff and other members of the Royal Family.
The letter said the BBC accepts that Bashir made the claims "intending to play on the princess's fears, in order to arouse her interest in him, and without concern for the impact on those he maligned".
Source: BBC