The National Chief Imam, Sheikh Dr Osman Nuhu Sharubutu has admonished Ghanaian Muslims to remain disciplined and desist from any act that will go against the country's peace as they celebrate Eid-ul-Fitr.
He further urged Muslims to observe all Covid-19 protocols during the celebrations.
"….this year's Eidul-Fitr Salat (prayers) should strictly be observed at the Jumu'a level and not in the open spaces as it used to be.
"The National Chief Imam further urges the Muslim youth not to over-indulge in their celebrations. They should remain as disciplined as possible so as not to mar the beauty and purpose of the Eid-ul-Fitr celebration."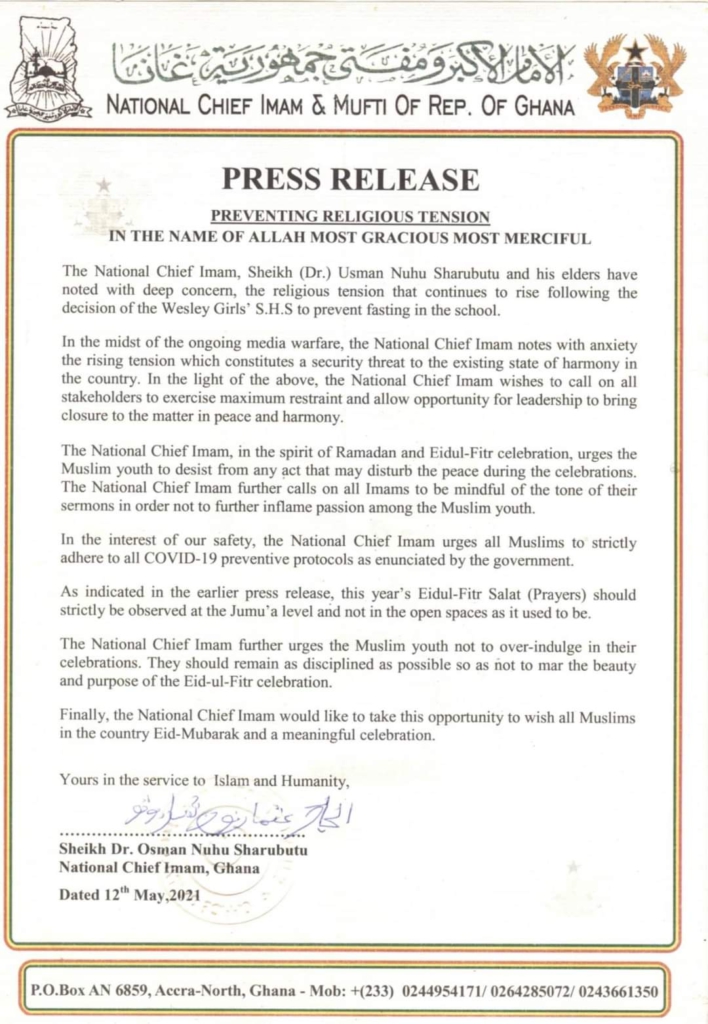 The Chief Imam advised Muslims to be thankful in spite of the difficulties caused by Covid-19 and ask Allah to fulfil their needs.
"The human being out of desperation will be cursing the time. Never do that. Allah says that I am the time, I turn periods from periods and ancient times till now.
"Therefore let us obey the instructions of our leaders and what health professionals have also indicated, let us uphold them. It is bad that we disobey them.
"Allah told us to ask those who possess knowledge of things you don't know but Allah has also said whatever you need, if you invoke him, he will fulfil it for you," he stated.
Sheikh Dr Osman Nuhu Sharubutu also entreated persons in the Muslim Community to lend a helping hand to the needy as stated in the Holy Quran.
Source: Joy News