Torrential rains and flash flooding in Yemen have left several people dead and caused large-scale damage to homes and infrastructure, the UN says.
Thousands of families have been affected by the flooding, which started in mid-April and has worsened as rainfall intensified in recent days.
On Sunday, four people were reportedly killed in Tarim, in the government-held eastern province of Hadramawt.
The homes of 167 families were also either partially or completely damaged.
Tarim is famous for its mud-brick buildings and hundreds of mosques, including al-Muhdhar, which has the tallest minaret in the country.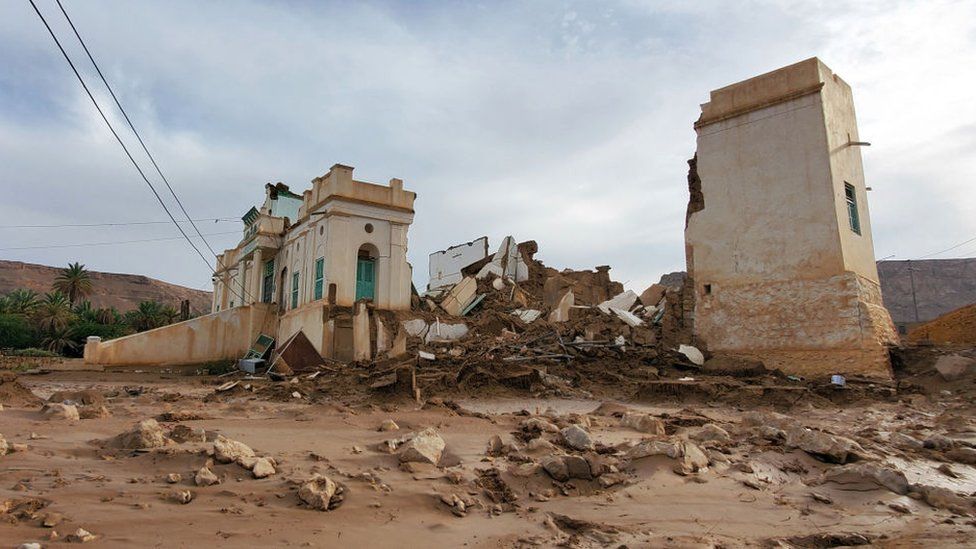 There were also reports that the town of Yarim, in the rebel-held western province of Ibb, was inundated on Monday by heavy rain.
Floodwater was said to have cut off the main north-south road to the capital Sanaa and sparked fears about the spread of water-borne diseases.
The UN said on Tuesday that initial field reports indicated some 3,730 families had been affected since the start of the rainy season last month, the majority of whom had been already been displaced by the six-year war between the government and the rebel Houthi movement.
Almost two-thirds of the families, who require food, shelter, non-food items and water, sanitation and hygiene assistance, live in the southern provinces of Aden, Lahj and Abyan.
In the central province of Marib, where intense fighting has been raging since the start of February because of a Houthi offensive, more than 500 families have been affected by the rains.
In Taiz, a south-western province that has seen one of the war's longest running battles, another 350 families of internally displaced people (IDPs) saw their shelters damaged or require urgent food assistance.
The UN said efforts were under way by humanitarian organisations and local authorities to distribute food and other aid to those affected, and to relocate IDPs to shelters on higher ground.
Yemen has been devastated by a conflict that escalated in 2015, when the Houthis seized control of large parts of the country and a Saudi-led coalition of Arab states launched a military operation to restore President Abdrabbuh Mansour Hadi's rule.
The fighting has reportedly left more than 110,000 people dead and triggered what the UN says is the world's worst humanitarian crisis, with 12 million people reliant on food aid and half of children under five facing malnutrition.
Source: BBC