Some Covid-19 safeguards will need to remain in place beyond June when the roadmap out of lockdown is due to end, the foreign secretary has said.
Dominic Raab told the BBC no decisions have been made, but it could involve some use of social distancing or masks.
Under the government's roadmap, all legal restrictions on social contact in England are due to end on 21 June.
Mr Raab said the UK was "in a good position" to "get life back as close to normal as possible".
The foreign secretary told BBC One's Andrew Marr Show: "But there will still need to be some safeguards in place."
He said the government had not yet made a decision on vaccinating secondary school children.
"That's one of the tools, one of the options that we'll look at. No decisions have been made," he said.
On Sunday, a further 14 deaths within 28 days of a positive Covid test were reported – and 1,671 more cases.
The progress on vaccination means the UK is in "a good position" to end almost all restrictions on 21 June, but the final decision will be based on the evidence, the foreign secretary said.
It comes as the government begins a trial of daily lateral flow tests for people who have come into close contact with someone with Covid, which if successful could spell an end to the requirement to self-isolate.
From 9 May, about 40,000 close contacts of people with Covid in England will be invited to take part in the study.
They will have to test themselves each morning for seven days but will be exempt from the legal requirement to quarantine as long as the result is negative and they do not show any symptoms.
Between May 2020 and April 2021 in England, more than 6.7 million close contacts were reached and told to self-isolate, NHS Test and Trace data shows.
But research found low numbers of people had followed the self-isolation rules in full. Those less likely to self-isolate include men, younger people, parents with young children, working-class backgrounds, people in financial hardship and key workers.
With international travel due to resume in the next stage out of lockdown on 17 May, Mr Raab also said the traffic light system detailing the risk level of travelling to each destination is "coming shortly".
Prof Peter Openshaw, an immunologist who advises the government, said people would be able to go on holiday this summer "within limits".
But he said: "I would absolutely say it is too early to declare victory and to drop our guard.
"We do know that this infection has a tendency to come back again and we need to use this time to be absolutely sure we have got every precaution in place to stop further outbreaks."
He said the use of lateral flow tests was "contentious" among scientists but that he believed they would help to find the people who are "most prone to spreading disease".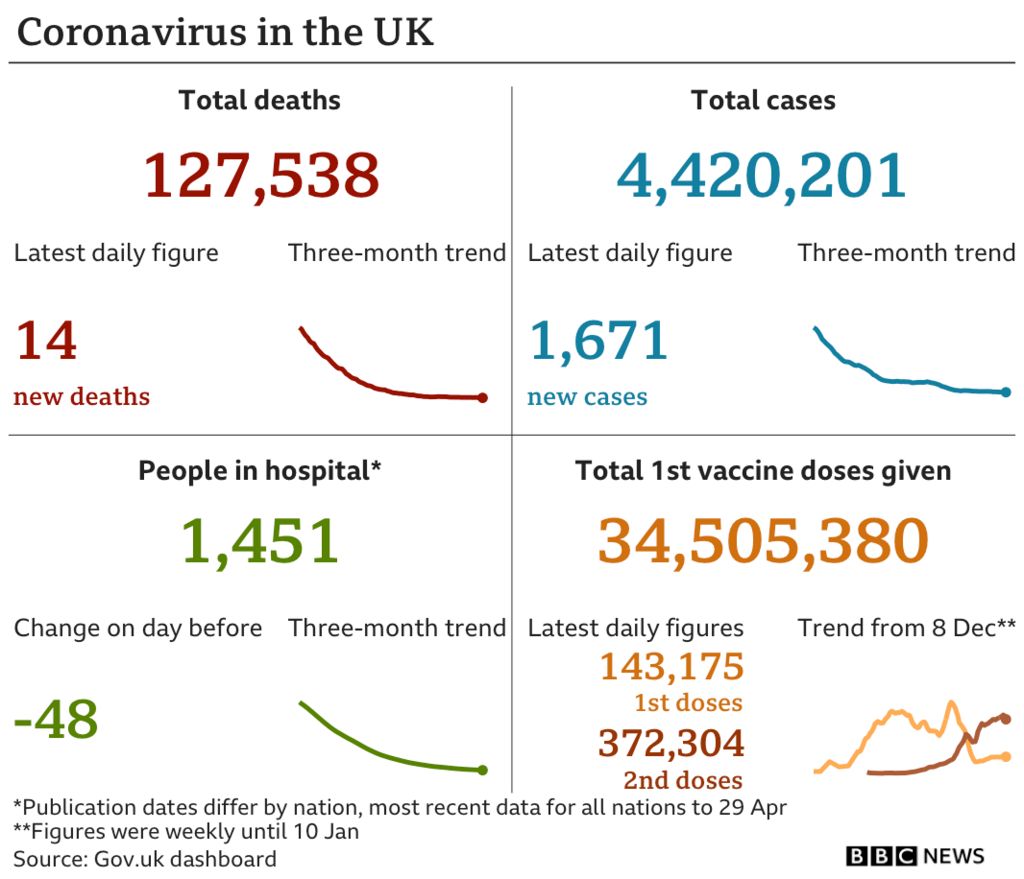 Meanwhile, Mr Raab said he would "always look very carefully at any request" to help as India deals with its record surge of Covid cases, which is overwhelming hospitals.
But asked if the UK should pause the vaccination of younger, less vulnerable people to send doses abroad, the foreign secretary said he has not received any request from India "on that specific issue".
He said the government was supporting vaccination worldwide with the billion doses that the UK is contributing to the World Health Organization's Covax programme. Lisa Nandy: The end of legal restrictions "depends how the next few months play out"
Shadow foreign secretary Lisa Nandy said the issue is "deeply personal" as she has a close family member in hospital with Covid in India, but added the UK should not pause the vaccination of younger people to send vaccines overseas.
"We haven't defeated this virus in Britain yet," she said. She said we should not "pit the people of Britain against the people of India" but should instead "dramatically ramp up vaccination and supply" worldwide.
Source: BBC