All over-50s and those in high-risk groups in the UK have now been offered a first dose of a coronavirus vaccine, the government has announced.
It means ministers have met their target of offering a first dose to the top nine priority groups by 15 April.
The government said it was on track to offer a first dose to all adults by the end of July, with those in their late 40s expected to be next in England.
More than 32 million people in the UK have had their first dose.
And on Saturday a record 475,230 second doses were given out, with more than 7.6 million people now fully vaccinated.
Under-50s in Northern Ireland have already been asked to book appointments, and more people in the age group in other parts of the UK are now set to get their invitations.
Prime Minister Boris Johnson described the news the vaccination target had been reached as "another hugely significant milestone in our vaccine programme".
"We will now move forward with completing essential second doses and making progress towards our target of offering all adults a vaccine by the end of July."
Health Secretary Matt Hancock said: "I'm delighted the team have done such an amazing job to hit yet another target early.
"The tide of this pandemic is turning in every part of the UK, as every day more and more people are being given the safety of a Covid-19 vaccine."

'Supply is a key variable for what happens next'
Given how quickly the vaccination programme has been rolled out in the UK, hitting the target of all priority groups by mid-April is not unexpected.
And remember, there is no published data on the number of people offered jabs, as opposed to those who have actually been vaccinated. However, NHS England has made clear that across the nine groups, 95% have actually had their first doses – that is an average, with take-up rates varying in different groups.
The key question is: where next? Pending the advice of the Joint Committee on Vaccination and Immunisation, ministers seem set to give the all-clear for invitations to go out to people in their late 40s.
But what's not known is to what extent supplies of Pfizer and Moderna vaccines will fill the gap caused this month by supply problems with the AstraZeneca doses.
The government is sticking to the line that the programme is on track to offer every adult a first dose by late July.
But officials qualify it by saying this is "subject to supply" – and that is a key variable.

Urging those who are eligible to come forward for the jab, he added: "Vaccines are safe and effective and have already saved more than 10,000 lives.
"The vaccine programme has had a significant impact on reducing the pressure on hospitals, helping us to gradually ease restrictions."
The announcement came on the day lockdown restrictions were further eased across the UK.
Chris Hopson, chief executive of NHS Providers, representing NHS Trusts, urged people offered a vaccine to take it up, saying: "As we return to pub gardens and sports activities and make our way back to non-essential shops, we must continue do all that we can to prevent the spread of infection and ensure this lockdown will be the last."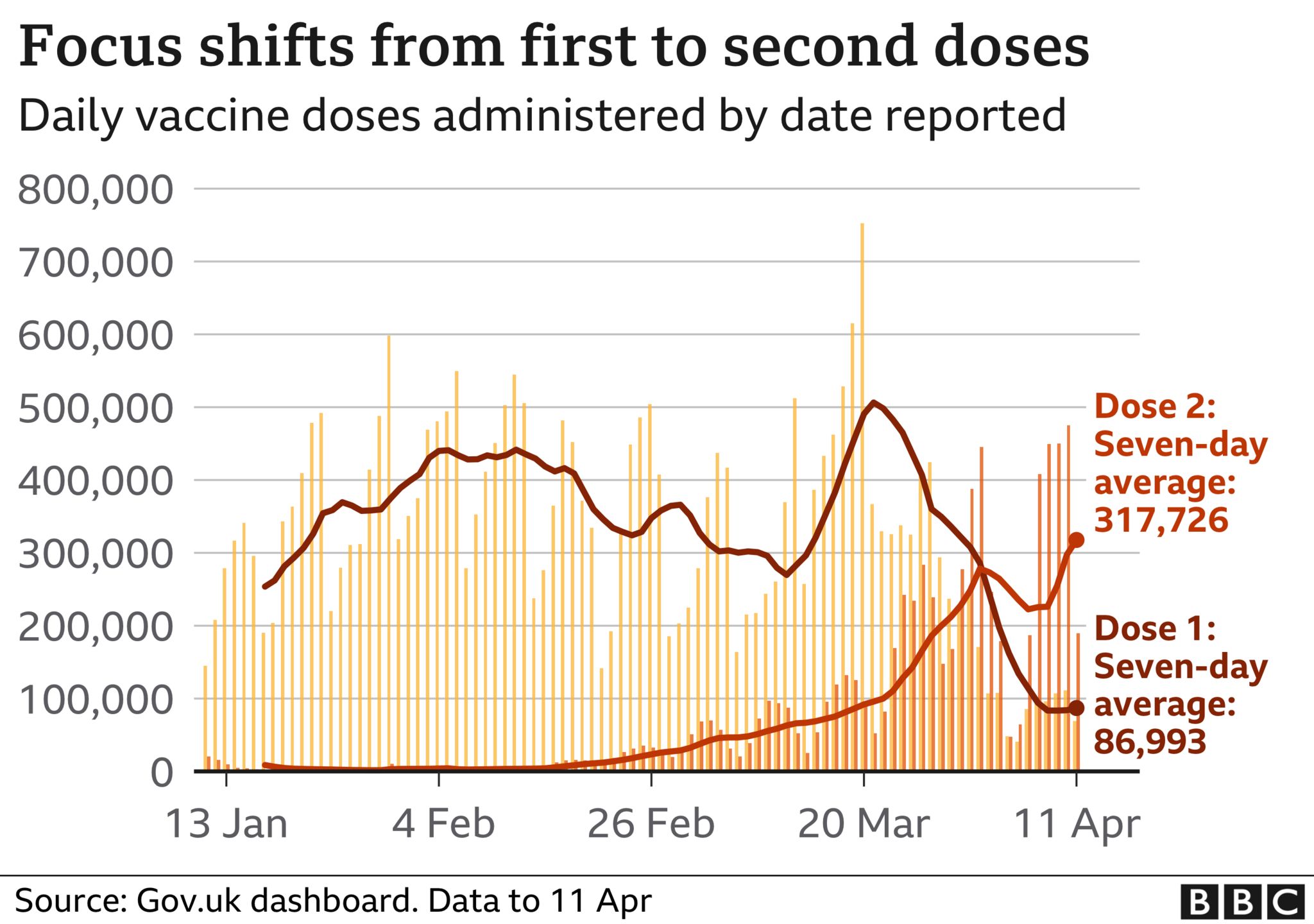 The top nine priority groups include all over-50s, over-16s with underlying health conditions, unpaid carers for the elderly and disabled and health and social care workers. It covers 99% of those at high risk of dying with Covid-19.
The vaccination roll-out will move on to focus on those aged 40-49.
The Joint Committee on Vaccination and Immunisation (JCVI), which advises UK health departments, is expected to publish its final advice on how the government should vaccinate under-50s, and the next phase of the programme is expected to begin this week.
NHS organisations in the four nations, in collaboration with devolved administrations, will decide how to carry out the JCVI advice.
Last week the Moderna vaccine became the third vaccine to be administered in the UK, alongside the Pfizer-BioNTech and the Oxford-AstraZeneca jabs. The roll-out began in Wales, followed by Scotland, and is expected to be delivered in England next.
All under-30s in the UK are to be offered an alternative Covid vaccine to the AstraZeneca jab due to the evidence linking it to rare blood clots.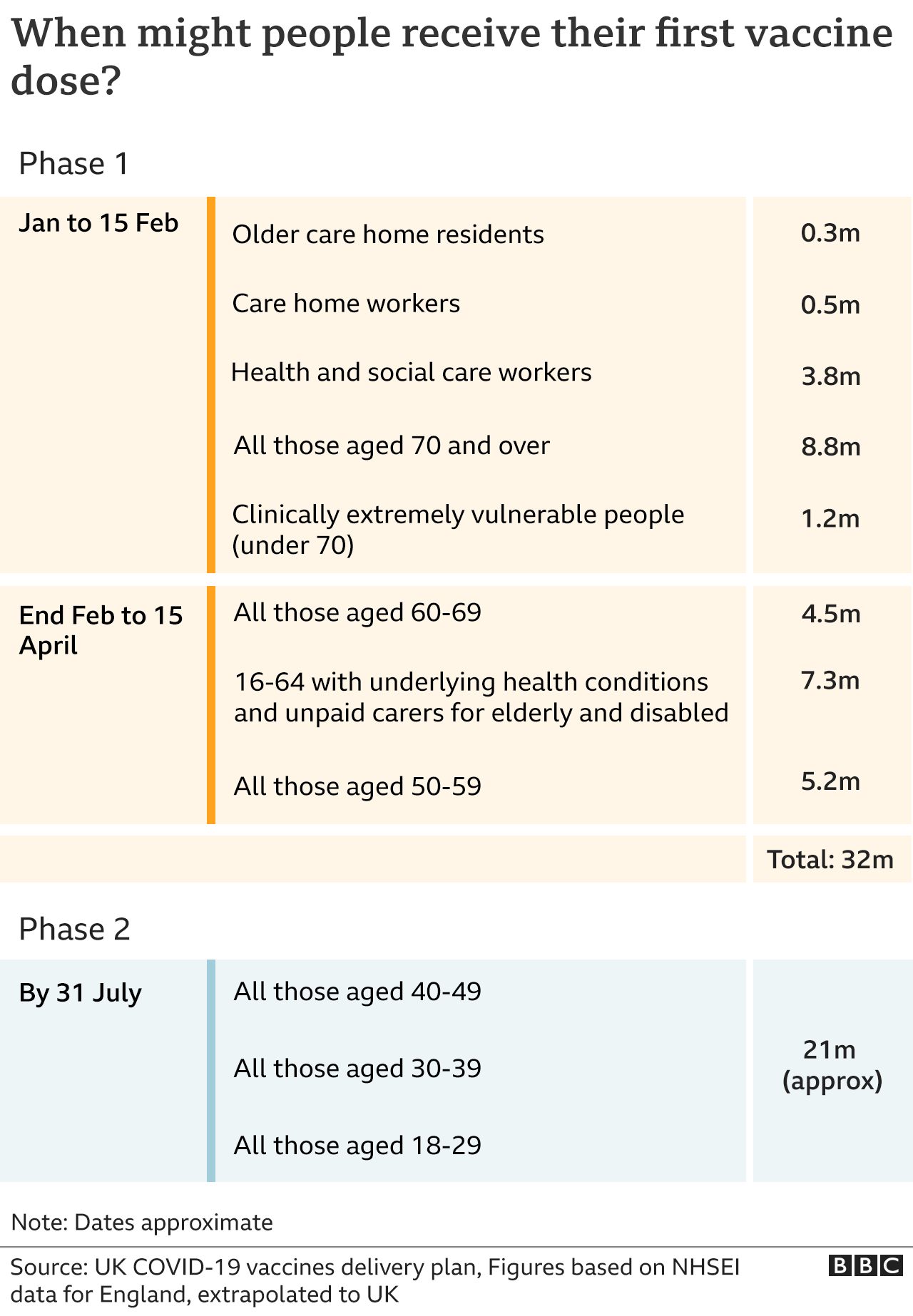 On Monday, the UK recorded 3,568 new coronavirus cases and 13 deaths within 28 days of a positive test.
It comes after pub gardens, non-essential shops and hairdressers reopened in England.
Northern Ireland's "stay at home" order also ended on Monday, while in Wales non-essential shops and close-contact services reopened.
In Scotland, non-essential shops and hospitality are not due to open until 26 April.
Meanwhile, surge testing has been implemented in the Wandsworth and Lambeth areas of south London after a cluster of the South African Covid-19 variant was found.
The Department of Health and Social Care called it the "largest surge testing operation to date" following the identification of 44 confirmed and 30 probable cases.
Source: BBC