Everyone in England is to be given access to two rapid coronavirus tests a week from Friday, under an extension of the government's testing programme.
The lateral flow kits, which can provide results in around 30 minutes, will be available for free at testing sites, pharmacies and through the post.
The tests are already offered to school children and their families plus those who have to leave home for work.
The health secretary said the plan would help squash future outbreaks.
But critics of the programme say it risks becoming a "scandalous" waste of money.
The tests, aimed at those without any Covid symptoms, can be taken at home.
The government introduced lateral flow testing for secondary school children and staff earlier this year, under plans to reopen classes in England by March.
In February, the scheme was extended to the families of all school and college-age children in England.
Kits were also offered to those who cannot work from home in the pandemic, so they can be tested twice a week.
From 9 April, kits will be available through:
Community testing sites operated by local authorities
Collection from a nearby PCR test site during specific time windows
Existing workplace testing programmes
An online home ordering service with kits then delivered through the post
Participating local pharmacies where a box of 7 tests can be collected to be used twice a week at home
Anyone who tests positive using a lateral flow test will be expected to self-isolate along with their household. They can then order a second PCR Covid test, typically used for symptomatic cases, which will be sent off to a laboratory for analysis.
If the confirmatory test comes back negative, their quarantine period is considered over immediately and they can resume normal life.
The schools testing programme, combined with the wider use of workplace testing, has led to a jump in the number of lateral flow tests carried out in England.
There were about 250,000 rapid tests a day taken in mid-February – climbing to more than a million a day by the end of March.
Dr Susan Hopkins, Covid-19 strategic response director at Public Health England, said rapid testing might find cases that would not otherwise be discovered, helping to break chains of transmission and suppress the spread of variants or mutations of coronavirus.
"These tests are effective in detecting people that are infectious and therefore most likely to transmit infection to others. They are another tool we now have to help maintain lower infection rates," she said.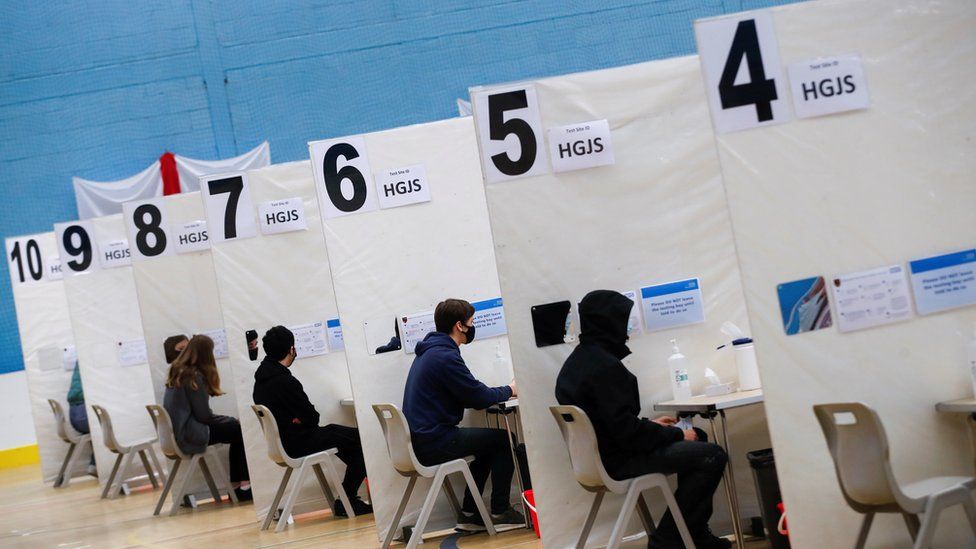 Health Secretary Matt Hancock said: "Around one in three people who have Covid-19 show no symptoms, and as we reopen society and resume parts of life we have missed, regular rapid testing is going to be fundamental in helping us quickly spot positive cases and squash any outbreaks."
Labour's shadow health secretary, Jonathan Ashworth, said any expansion of the testing scheme must be backed by financial support so people could self-isolate.
"People who are sick with Covid are still forced to choose between self-isolation or feeding their families," he said.
"Lack of adequate sick pay and support remains a dangerous hole in our defences against this horrific virus."
'False positives' concern
The latest data show that, of the 4.2 million lateral flow tests taken in schools and colleges in the week from 18 to 24 March, 4,502 returned a positive result.
Critics of the programme say that when rates are at low levels, it makes it hard to distinguish between actual infections and so-called "false positives" – an error where the test registers a positive result incorrectly.
"Mass testing is a scandalous waste of money," said Allyson Pollock, professor of public health at Newcastle University.
"When the prevalence rate of coronavirus falls as low as it is at the moment then an increasing proportion of cases are likely to be false positives meaning that cases and contacts will self isolate unnecessarily."
Prof Pollock added: "It is likely that mass testing is going to do more harm than good. We still haven't seen an evaluation of mass testing programmes by the government and the UK national screening committee should be asked to advise."
The government recently changed its policy in England, reintroducing the requirement for secondary school children to take a second PCR or lab test if their first rapid lateral flow test came back positive in school.
The change came after parents and scientists warned some pupils were self-isolating unnecessarily after just returning to the classroom.
The government said that for every 1,000 lateral flow tests carried out, there was less than one false positive result, and the rapid tests were particularly useful at detecting high levels of virus.
In Northern Ireland, a spokesperson for the department of health said rapid testing was recently extended to private sector firms with more than 50 staff, and "consideration may be provided to other sectors".
The Scottish government said it was expanding rapid testing in hospitals, care homes, schools and in the community to spot asymptomatic cases in high prevalence areas, while also "considering the implications" of the announcement in England.
The Welsh government said 22% of the population already had access to regular rapid testing and this would continue to grow with the expansion of workplace and community testing programmes.
Source: BBC