Lockdown restrictions in England are being eased on Monday.
Wales is lifting some Covid restrictions on Saturday, while Scotland and Northern Ireland have also started relaxing their rules.
So, what can you do now?
How are rules changing on 29 March in England?
People will be allowed to meet outside – including in private gardens – in groups of up to six, or as two households (with social distancing)
The stay-at-home rule is ending, although the government is urging people to stay local as much as possible; holidays away from home are still not allowed
Outdoor sport facilities will reopen, including golf courses, tennis and basketball courts, and outdoor swimming areas
Formally organised outdoor sports can restart
Weddings can take place, attended by up to six people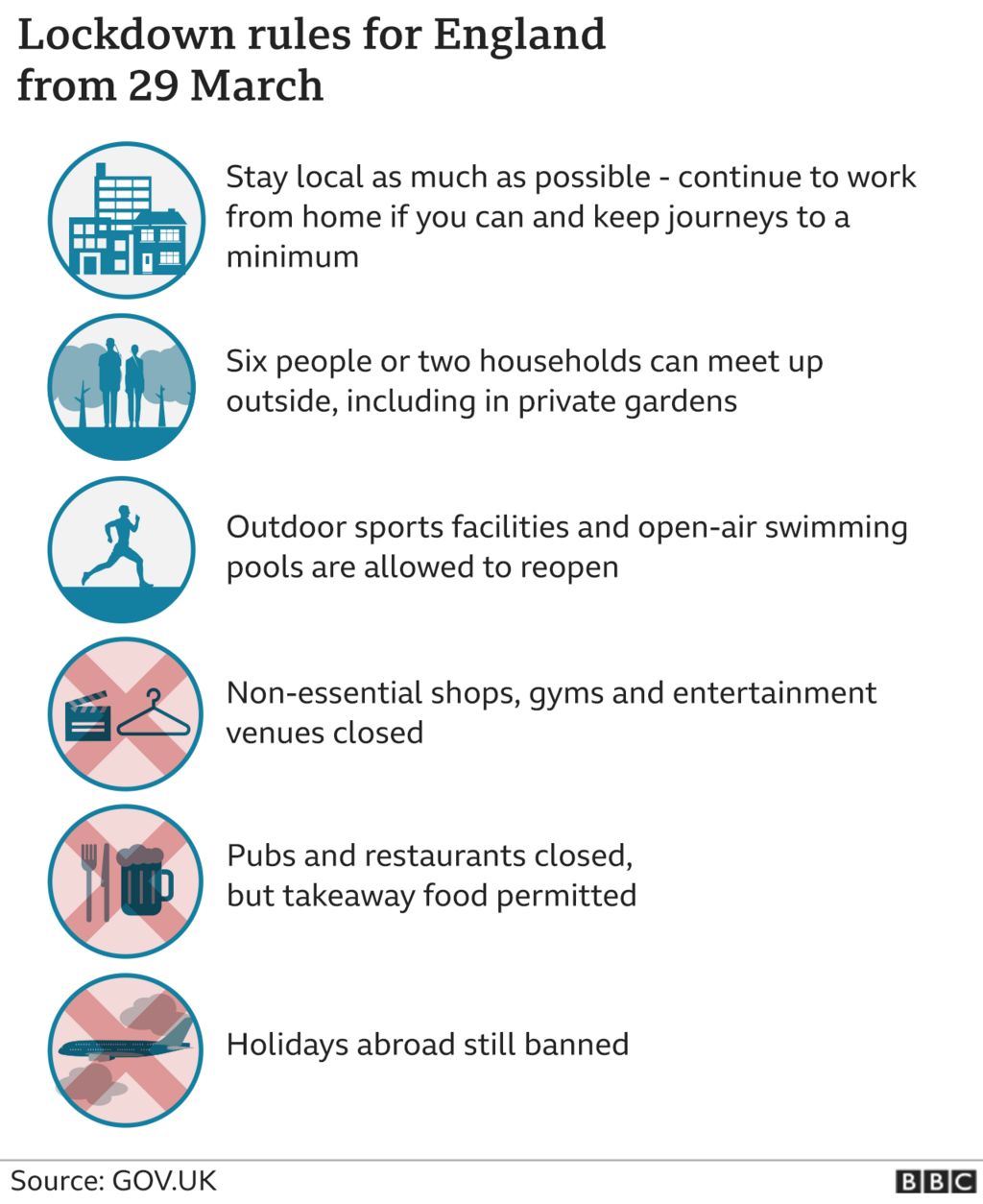 Stage two (no earlier than 12 April):
All shops allowed to open, along with close-contact services, including hairdressers and beauty salons
Restaurants and pubs allowed to serve food and alcohol to customers sitting outdoors
Gyms and spas can reopen, as can zoos, theme parks, libraries and community centres
Members of the same household can take a holiday in England in self-contained accommodation
Weddings attended by up to 15 people can take place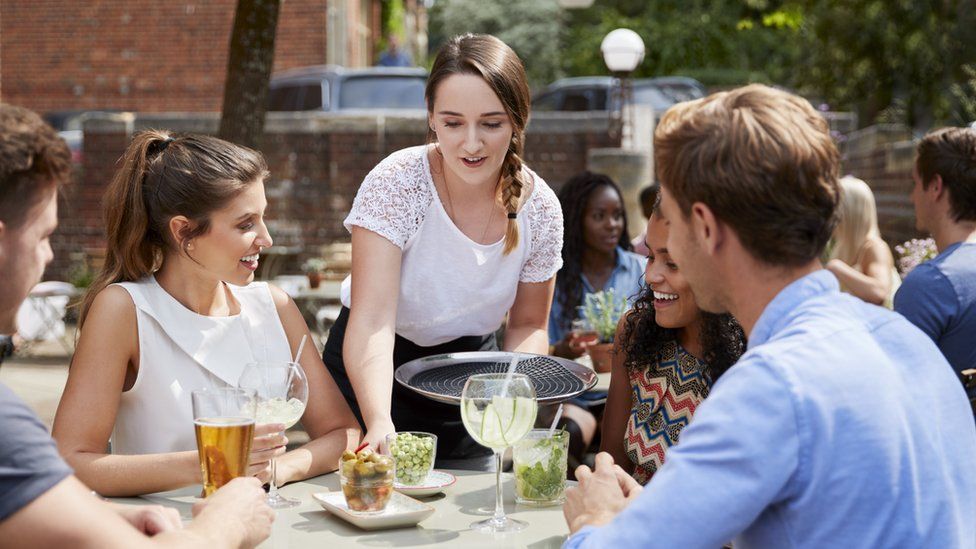 Stage three (no earlier than 17 May):
People can meet in groups of up to 30 outdoors
Six people or two households can meet indoors
Pubs, restaurants and other hospitality venues can seat customers indoors
Up to 30 people can attend weddings or other life events, like christenings
Remaining outdoor entertainment, such as outdoor theatres and cinemas can open
Indoor entertainment such as museums, theatres, cinemas and children's play areas can open
Performances and large events can restart, but with limits on audience numbers
Hotels, hostels and B&Bs can reopen
International leisure travel may resume
Adult indoor group sports and exercise classes can restart
Stage four (no earlier than 21 June):
All legal limits on social contact will be removed
No legal limits on the number of people who can attend weddings, funerals and other life events
Nightclubs will be allowed to reopen
What are the four tests for easing restrictions?
The coronavirus vaccine programme continues to go to plan
Vaccines are sufficiently reducing the number of people dying or needing hospital treatment
Infection rates do not risk a surge in hospital admissions
New coronavirus variants do not fundamentally change the risk of lifting restrictions
What are the latest changes in Wales?
From 27 March:
All travel restrictions are lifted within the country – residents can travel wherever they like within Welsh borders
Six people from two different households (not counting children under 11) can meet and exercise outdoors and in private gardens
Organised outdoor activities and sports for children and under-18s can resume
Limited opening of outdoor areas of some historic places and gardens
Libraries and archives can reopen
Self-contained holiday accommodation, including hotels with en-suite facilities and room service, can open to people from the same household or support bubble. But non-essential travel to and from other UK nations will be banned for at least two weeks
From 12 April at the earliest:
All pupils and students return to school, college and other education
All shops and close-contact services can open
The ban on travelling in and out of Wales ends
On 22 April, ministers will consider whether to reopen gyms and outdoor hospitality. There are no plans as yet to reopen indoor hospitality.
How are lockdown rules changing in Scotland?
Outdoor mixing between four people from up to two households is already allowed, along with outdoor non-contact sports and organised group exercise.
Communal worship is also now allowed with up to 50 attending (if social distancing permits).
More changes are planned in the coming weeks: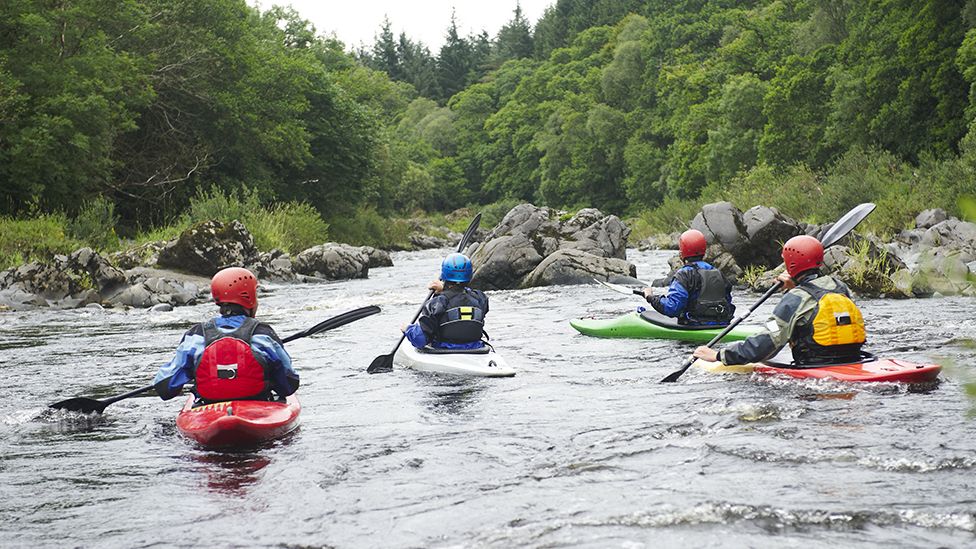 From 2 April:
Stay at home rules become "stay local"
From 5 April:
At least four people from two households can meet outside
Hairdressers and barbers (but not mobile services) can reopen for pre-booked appointments
More shops can reopen and non-essential click-and-collect can resume
Outdoors non-contact group sports for 12 to 17-year-olds can resume
12-19 April:
All pupils back at school full-time
From 26 April:
Scotland will return to the "levels" system of local restrictions, with the whole country in level three "if the data allows"
Travel within mainland Scotland allowed
Up to six people from up to three households can socialise outdoors (six 12 to 17-year-olds can meet socially from six households outdoors)
Up to four people from two households can socialise indoors in a public place, such as a cafe or restaurant, but alcohol can't be served
All shops and close-contact services like nail salons can reopen
Cafes, pubs and restaurants can open until 20:00 indoors (no alcohol) and 22:00 outdoors (alcohol permitted); takeaway food can be collected indoors
Gyms can open for individual exercise
Indoor attractions and public buildings such as galleries, museums and libraries can open
Non-essential work in other people's homes can take place
Driving lessons and tests can take place
Funerals and weddings including post-funeral events and receptions can take place with up to 50 people (no alcohol)
Tourist accommodation can open with restrictions in place
From 17 May:
All areas of Scotland in level three move to level two
Up to four people from two households can socialise indoors in a private home or public space
Hospitality venues return to "greater normality", possibly serving alcohol indoors until 22:30. Customers may be asked to book two-hour slots. Alcohol can be served outdoors until 22:00
Outdoor adult contact sport and indoor group exercise can restart
Cinemas, amusement arcades and bingo halls can reopen
Small outdoor and indoor events can resume, with restrictions
Face-to-face support services can resume
Early June:
All areas of Scotland in level two move to level one
Up to six people from up to three households can socialise indoors
Up to eight people from three households can socialise outdoors. Eight 12 to 17-year-olds from eight households can meet socially outdoors
Hospitality can remain open until 23:00
Indoor non-contact sport can take place
Late June:
All areas of Scotland in level one move to level zero
How are lockdown rules changing in Northern Ireland?
Northern Ireland is currently under lockdown, but restrictions will begin to ease next month.
From 1 April:
People can meet for exercise in groups of up to 10 from two households
Golf and other outdoor sporting activities can resume (although clubhouses and sports facilities must stay closed)
Six people from two households can meet in a private garden
Garden centres can operate click-and-collect services
From 12 April:
Remaining school year groups 8-11 return (Years 1-3, 4-7 and 12-14 have already returned)
Stay-at-home message relaxed
All other non-essential retail can operate click-and-collect
Sports training with up to 15 people can resume
Up to 10 people from two households can meet in a private garden
Read the current lockdown rules:
Source: BBC