A new study indicates that only a third of children in Bradford had sufficient exercise in the first lockdown, last spring – and that a similar proportion were rarely leaving the home. Dr John Wright, of Bradford Royal Infirmary, says this is contributing to a different kind of health crisis, one that began long before the pandemic, but risks becoming worse because of it.
The Born in Bradford research project, monitoring the health of 13,500 children born in the city between 2007 and 2010, provides a great opportunity to track changes in their behaviour.
Last spring nearly 1,000 of them, aged nine to 13, took part in a survey, telling researchers how much exercise they were getting in lockdown, and the data (a summary of which can be seen here) is alarming.
About two-thirds of the children had taken part in an earlier survey, enabling us to compare their behaviour before and after lockdown. Of this sub-group, 69% had been getting the recommended daily average of at least 60 minutes of moderate-to-vigorous physical activity before lockdown, but once it began, only 29% – less than half – met that target. And when people fill in questionnaires, they are likely to overestimate physical activity rather than underestimate it.
Children from poorer and ethnic minority backgrounds (and there is a big overlap between the two groups in Bradford) were particularly likely to be getting insufficient exercise.
In fact, the survey shows that far too many children were rarely leaving the house. Overall, 30% of the nearly 1,000 participants reported that they had normally stayed at home, or in their garden or yard, in the previous seven days, but there were significant differences depending on ethnic background: among children of Pakistani heritage the figure was 40%, while among White British children it was 16%. (Most children in Bradford belong to one of these two groups.)
Before lockdown all children were leaving the house to go to school, and would benefit from some physical exercise both in class and during breaks from lessons. During lockdown a surprising number were confined to the space between four walls, and their garden if they had one.

This year of the virus has been a throwback to the infectious giants that bestrode the world before the advent of antibiotics, vaccines and public health measures. It has been a harsh reminder of the ever-present risk of new communicable diseases, and a lesson in the consequences of complacency.
But the Born in Bradford research reminds us that there is another malicious pandemic that we must turn our attention to, one that causes far more deaths than Covid ever will. Less visible than Covid, but hiding in plain sight, non-communicable diseases (NCDs) such as diabetes, heart disease, obesity, cancer and mental ill-health are the modern epidemics. While we have been like children playing Sunday football chasing after the Covid ball, we have left this particular goal wide open.
Covid has been a complicated problem, but with public health measures, testing and vaccines it has been solvable. Luckily, it has an easily identifiable cause, the infamous spiked virus.
Non-communicable diseases, by contrast, are complex problems that arise from multiple and interacting factors that are often unknown. They are shaped by the houses we live in, the neighbourhoods we play in, the food we eat, the shops we visit, the schools we learn in and the jobs we work at.
Physical activity is a good illustration of this complex problem. We all know that it is an important ingredient in keeping our bodies and minds fit. Efforts to promote more active behaviour have generally borne encouraging results, as evidenced by the number of gyms that have sprung up in recent years, sales of fitbits and the popularity of Joe Wicks. The limitation on focusing on individual behaviour, however, is that it potentially widens inequalities. The comfortably off give up smoking, buy fitbits and eat kale. The poorer have less choice.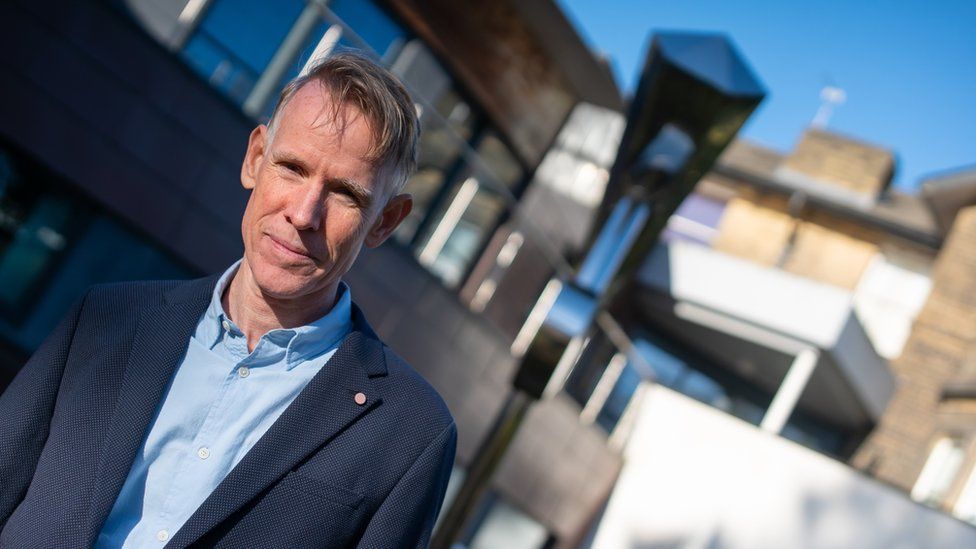 Prof John Wright, a doctor and epidemiologist, is head of the Bradford Institute for Health Research, and a veteran of cholera, HIV and Ebola epidemics in sub-Saharan Africa. He is writing this diary for BBC News and recording from the hospital wards for BBC Radio.
Telling children and families to go out and take more exercise is all well and good if they have a nice garden or live near a park. If you live near busy roads, without a garden or safe place to exercise, then you are going to be reluctant to let your children go out to play, and thus the seeds of NCDs are sown.
Two boys from a Pakistani family, Mehdi and Maseh, aged 11 and nine, say they have rarely been going out to play in the latest lockdown – the only real exception being when it was snowing.
"In the weekends we sometimes play video games together – we love playing computer games – and then we probably will watch TV," says Mehdi.
"We did go to the park at the start of the Covid but both our footballs are busted. There's a park but it's a long walk away, so we don't go. We'd go out and play with friends but because of Covid we don't see them and so we just stay in."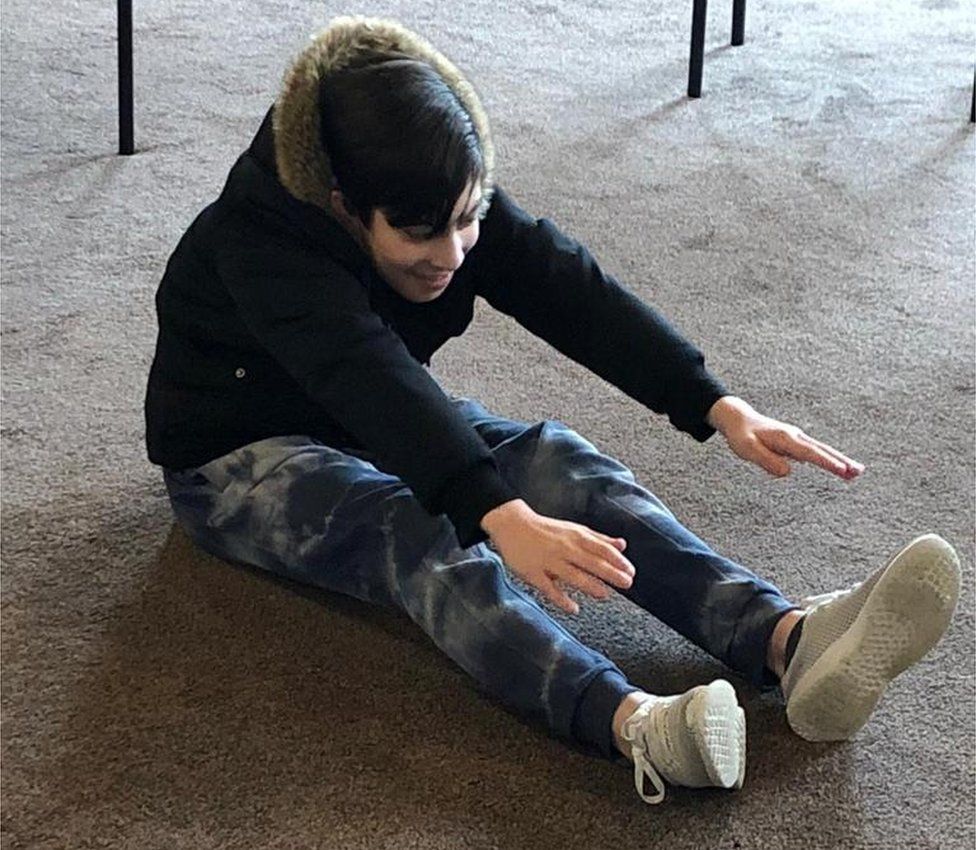 Fortunately, their parents do at least send them to Bradford's Sunday education support group, where learning club tutor Shamsa Aslam organises exercise sessions, as well as educational activities.
Emily, 13, from nearby Leeds, does a lot of sport when she goes to school – football and badminton – but doesn't have the equipment to play at home. She also used to go for runs during her school lunch hour but has now stopped.
"I was doing skateboarding but there have been some attacks and so it's not very safe round here," she says. She does at least get some walks with members of her family.
For those who used to take part in team sports, lockdown has taken away a big part of their lives.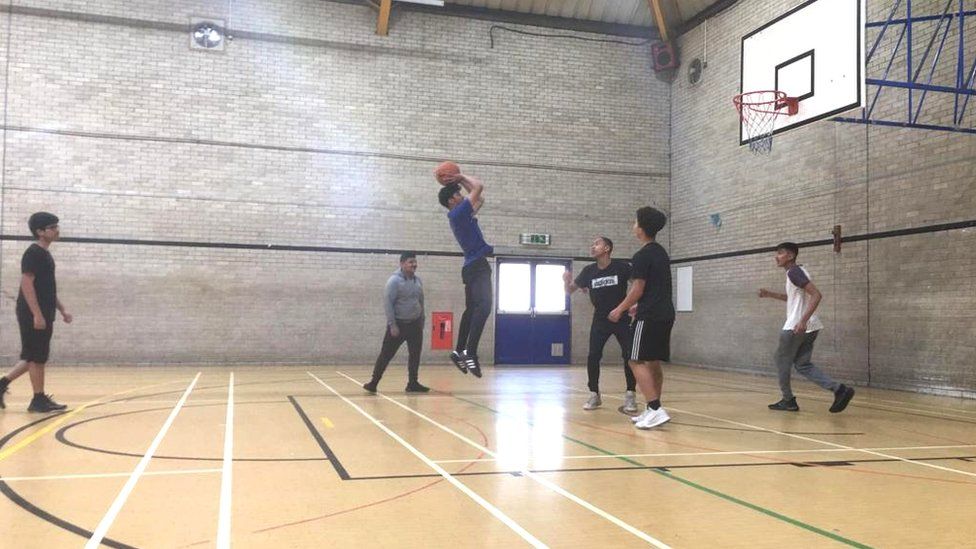 Dawood Nasir used to play 10 hours of basketball a week at the Mandela Centre in Leeds until the pandemic stopped him. For a while he carried alone, but then gave up. "I'd go in my back garden and start dribbling and I'd go to the park but there would be no one there," he says. "I just lost all my motivation."

Daniel Bingham, who led the Born in Bradford research on physical activity, wants to see measures to get young people exercising again once lockdown is over. But he says that by itself is not enough, because even before the pandemic there was a problem. Figures for England as a whole in 2018/19 showed that 53% of children were not getting the recommended daily average of at least 60 minutes of moderate-to-vigorous exercise. (Again, this is likely to be an underestimate, as young people may overstate how active they have been when asked to remember what they have done in the last week.)
"Our research shows that Covid has made a bad problem worse," Daniel says. "But how do we make things better? This should be a wake-up call to really ask how we can change our society to be more active."
And the research has also shone a light on the need to pay particular attention to children from ethnic minorities, he argues.
"If they're starting at a different level from the majority white British children, what extra resource and support do they need to be able to do more physical activity?"
There is a lot to learn from the vigour of how we have tackled Covid that we could replicate for NCDs. In particular, it would be helpful if the urgency of public health policy and legislation that has so effectively tackled the virus were transferred to tackle inequalities, urban planning, overcrowded houses, lack of parks, unsafe roads for active travel, poor education and pressures from industry to consume junk food and alcohol.
Follow @docjohnwright, radio producer @SueM1tchell on Twitter
Listen to My Name is… with Hamza Malik, Dawood Nasir's basketball coach from the Mandela Centre in Leeds, at 11:00 on Monday 1 March on BBC Radio 4 – or catch up later online
The programme also features Claire and Westen, youth and community workers from Youthpoint, at the Leeds Cardigan Centre, who have been delivering fruit to the young people who would normally attend their sport and youth sessions.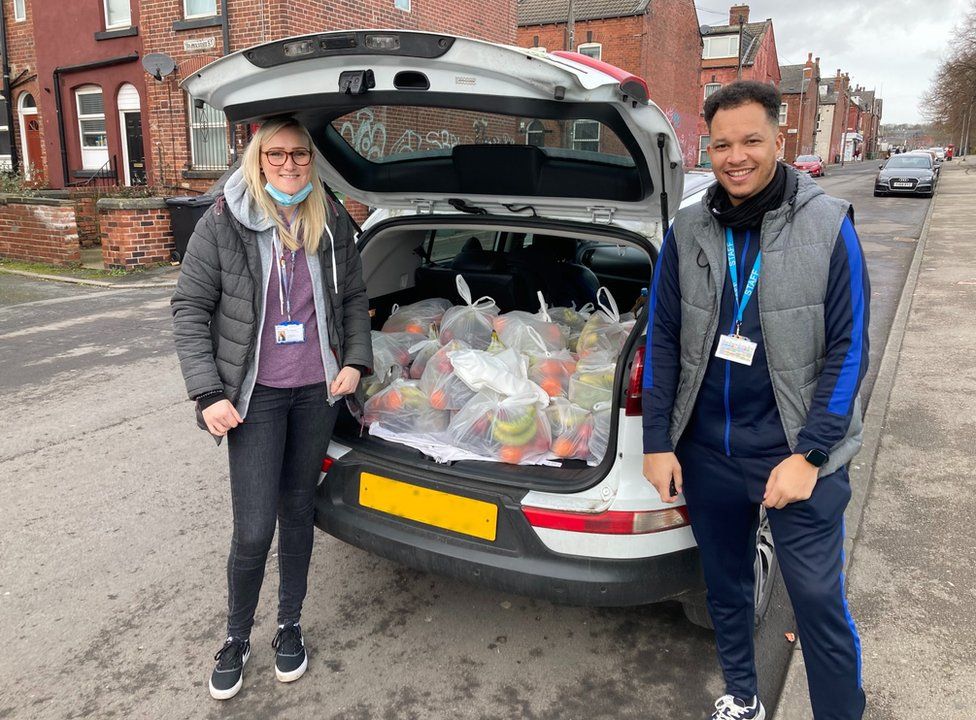 Source: BBC