Covid-19: Military back-up for pupil testing programme
Members of the armed forces are to give remote support to secondary schools and colleges in England setting up mass Covid testing as the new term begins.
Military personnel will hold webinars and give phone support to school staff, the Ministry of Defence said.
Head teachers say they need support on the ground to make the plan workable.
The head of an academy trust that runs 50 schools says the government should delay the start of term, with unions calling for term to begin online.
The majority of secondary school pupils in England are due to start the term – which begins for most on 4 January – studying remotely, to give head teachers time to implement a round of coronavirus testing for students and staff.
Primary school students will return as normal during the same week and will not be tested for Covid-19.
Those in exam years and vulnerable pupils will return in person first, with the rest expected to go back on 11 January, the government has said.
But this entails 5.5 million secondary pupils being tested in schools in the space of a week.
The Ministry of Defence said most of the 1,500 personnel will form local response teams, providing support and phone advice to institutions needing guidance on the testing process and set-up of testing facilities.
Support would be offered "predominantly through webinars and individual meetings", it said, but teams would also be on standby to provide in-person support at short notice.
'Boots on the ground'
However, the Association of School and College Leaders, which represents most secondary school head teachers, said the support on offer was inadequate.
General secretary Geoff Barton said: "We were hoping that there would be boots on the ground in schools and colleges helping to run the testing centres.
"Instead, it appears that there will be 1,500 personnel available for more than 3,400 secondary schools in England, and that the support will be mainly in the form of webinars and meetings.
"This is not remotely sufficient to support schools in the huge task they are being asked to undertake by the government."
And head teacher of Royal Wootton Bassett Academy in Wiltshire, Anita Ellis, reiterated that schools needed "bodies on the ground to help deliver the testing".
"We don't know where we are going to get the volunteers from, we don't know how we are going to get the vetting done in time," she said. "Really what we need is on the ground support."
Students will swab themselves in the vast majority of cases, under the supervision of school staff or a volunteer who has been trained for the role, and teachers are not expected to take a role in the testing process.
Steve Chalke, founder of Oasis, one of the largest multi-academy trusts in England, said schools should remain closed for "a week or two" after the Christmas holidays to enable the effective rollout of testing.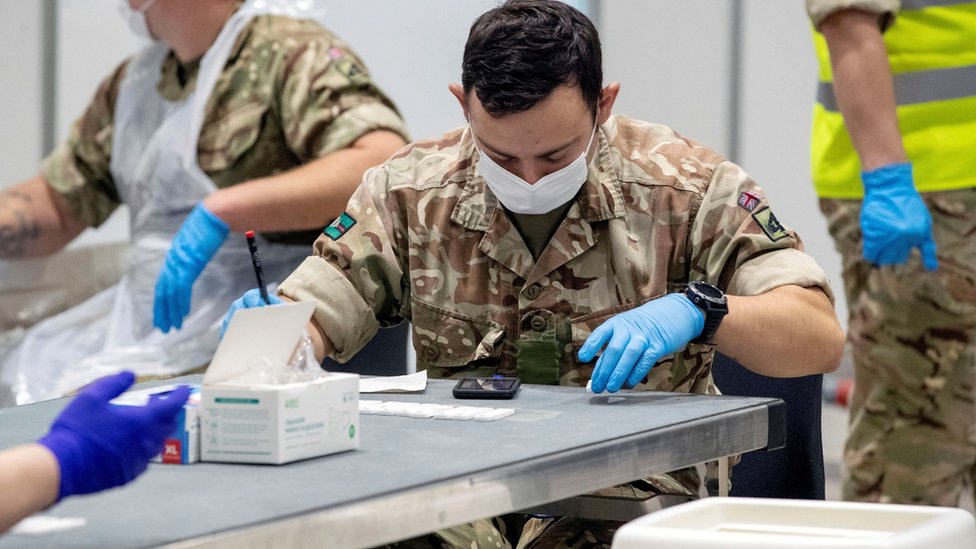 Defence Secretary Ben Wallace said the armed forces would share their "considerable experience" of using rapid mass testing kits – known as lateral flow tests – that do not require lengthy lab work to provide a result.
The military has previously helped organise mass testing in Liverpool and more recently in Kent to clear the backlog of lorries caused by France shutting its UK border.

How are the UK nations returning to school?
England: Secondary school pupils in exam years will return at the start of term while others begin their learning online. Face-to-face learning is expected to resume for everyone by 11 January. Primary schools will return as normal
Scotland: Schools will start term on 11 January with learning taking place online until at least 18 January.
Wales: Term will start with online learning, but the majority of pupils are expected to resume face-to-face lessons by 11 January. A full return to the classroom is expected to be complete by 18 January
Northern Ireland: All schools will initially reopen for face-to-face teaching at the start of term, but years 8 to 10 will move to remote learning from 25 January for at least two weeks
Schools in all the UK nations are remaining open for vulnerable children. England, Wales and Scotland have also committed to maintain face-to-face teaching for children of key workers.

There is growing pressure from teaching unions for schools to move to online learning for all pupils except those deemed vulnerable or children of key workers.
And early research by the London School of Hygiene and Tropical Medicine suggests schools and universities might need to close on top of existing tier four restrictions to bring the new fast-spreading coronavirus variant under control.
However, chairman of the Commons Education Committee, said keeping children in schools must be the government's "priority".
He said: "What needs to happen is volunteers – perhaps the armed forces, perhaps mobile units outside schools or in school playgrounds – making sure pupils and teaching staff are tested and also rolling out vaccinations as a priority for all those in schools."
Source: BBC