Covid-19: Ministers discuss extension of tier 4 curbs to more areas
Ministers are considering whether to place more areas of England under the toughest coronavirus restrictions in an effort to contain the spread of a new variant of Covid-19.
Cabinet minister Robert Jenrick said No 10 would make a judgement on whether the current rules were strong enough.
He said there was no immediate plan to widen curbs on Boxing Day but "the number of cases is rising".
The UK's chief scientific adviser has said extra curbs could be needed.
Sir Patrick Vallance told a Downing Street briefing on Monday that measures could "need to be increased in some places, in due course, not reduced".
The latest restrictions – which placed London and large parts of south-east England under new tier four rules- were due to be reviewed on 30 December.
However, the Covid operations committee, chaired by Prime Minister Boris Johnson, are meeting to discuss the tiered system.
Mr Jenrick said they were "trying to retain the robust tiered system" which takes a "proportionate approach" across the country, but said it had been designed before the new variant became apparent.
He said the new variant – which could be up to 70% more transmissible than previous strains – was now present in other areas of the country, albeit to a "lesser extent" than in London, south-east and the east of England.
He said: "The variant is spreading to other parts of the country, so we will see whether it's necessary to do more and make sure that the tiered system is sufficiently robust for the new circumstances.
"The tiered system was designed before we knew the full ferocity of the new variant, and so we do have to make sure it's sufficiently robust to be able to withstand this and to stop cases just rising at the very worrying levels they are now in parts of the country."
On Tuesday, a further 36,804 people in the UK tested positive for the virus and there were 691 deaths within 28 days of a positive test, according to government figures.
It is the largest daily number of cases recorded yet, though it is thought the infection rate was higher during the first peak in spring when testing was much more limited.
Mr Jenrick said decisions from the committee would be communicated "as soon as we can" and that there was "absolutely no plan" at the moment to change restrictions before Christmas Day.
He added the PM had been "very clear" that even outside of tier four, there was a "strong degree of personal judgment to be exercised here".
He told BBC Radio 4's Today programme: "It's still up to people to come to a conclusion as to how many members of their family or other households they want to bring together on Christmas Day.
"The strong advice is to keep it small, to keep it short and therefore to be safe."
Millions of people across the UK saw their festive plans severely restricted or scrapped, when No 10 abandoned a planned five-day relaxation of the rules for Christmas after scientists said the new Covid variant was spreading more rapidly.
Under the revised Christmas rules for England, only people living in tiers one to three are permitted to socialise in a bubble of three households on 25 December.
Those in tier four areas must only celebrate Christmas with members of their own household and support bubble. They will not be allowed to travel to other tiers to see family and friends.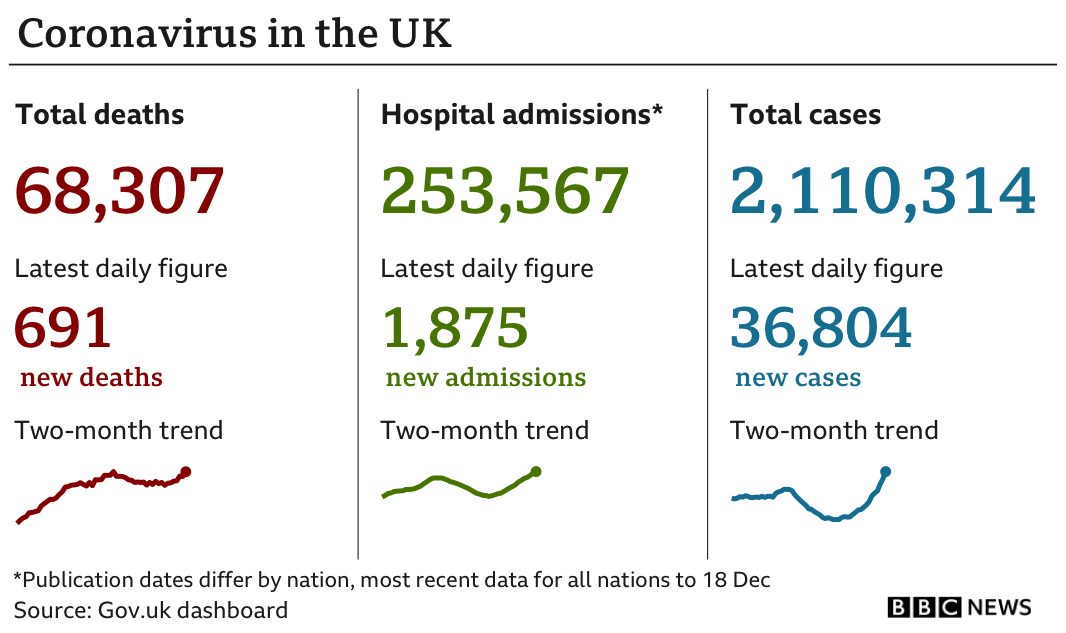 Labour leader Sir Keir Starmer has written to Mr Johnson to say his party will back any government moves to tighten restrictions if that is what scientists recommend.
On Wednesday, Shadow Health Secretary Jonathan Ashworth urged the prime minister to act before it's too late.
He told BBC Breakfast: "What we're saying to Boris Johnson is, last time you received advice from the scientists for tougher restrictions, you sat on it, you dithered, you delayed."
He urged the PM not to "sit on the advice this time", adding "we know delaying has devastating consequences.
"If you're advised to take tougher action, take it, do it, act with speed, don't be behind the curve again."
The Labour leader of Crawley Borough Council, which is currently in tier two but bordering tier four areas, has said the area would be hit hard by a potential tightening of restrictions, and accused the government of failing to provide support.
Cllr Peter Lamb told BBC News that Crawley "might" be placed in a higher tier, adding that case numbers there "would suggest that if it's not going in now, it will be going in at some point in the near future".
He said there had been "no coming back" for Crawley – which includes Gatwick airport – since the March lockdown, and it was "still waiting" for the government to "give us some support to get through this", adding that more businesses would be impacted if the area was placed under the toughest measures.
Source: BBC News