The whole of Wales will be placed under lockdown from midnight with festive plans cancelled for all but Christmas Day.
First Minister Mark Drakeford told people to "stay-at-home" after urgent talks with ministers over a new strain of coronavirus.
Plans to relax rules from 23 to 27 December to allow people to celebrate with loved-ones have been scrapped.
Meeting up is now limited to Christmas Day.
Announcing the new measures, which mean millions will have to stay at home and only go out for essential reasons, Mr Drakeford said hundreds of people had already contracted the new "more aggressive" strain of the virus in Wales.
"While we all want to avoid further disruption to businesses and plans for Christmas, our overriding duty is to protect lives here in Wales," he said.
The changes mean that a Wales-wide lockdown, which was due to come into effect from 28 December, has been brought forward and will begin at midnight tonight.
Boris Johnson has announced similar rules in England as well as tier four restrictions for London and the south east of England.
In Scotland, Covid restrictions will only be relaxed for one day at Christmas and mainland Scotland will be placed under the tightest restrictions from Boxing Day.
All of Wales will be placed into the highest level of lockdown – Level 4 – with all but essential shops closed, and people being told to "stay home" to save lives.
Gyms and beauty salons and non-essential shops will have to close at the end of trading today, while bars and restaurants will only be able to open for takeaways, and people will only be allowed to travel for "essential reasons".
During the level four lockdown period people will not be allowed to mix with anyone they do not live with, with only single person households allowed to form an exclusive support bubble with one other household.
What does it mean for Christmas?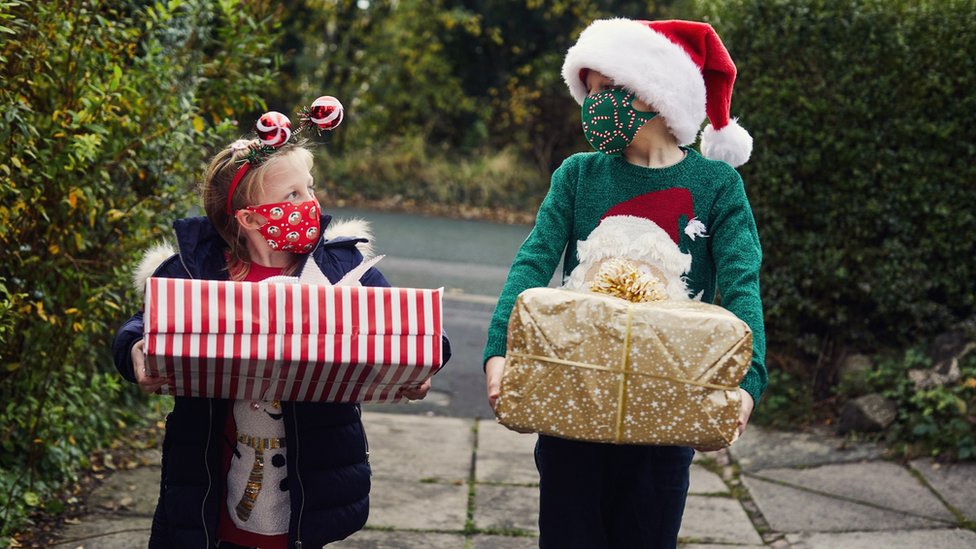 From 23 to 28 December restrictions had been due to be eased to allow people from two households in Wales to meet – plus a single person household.
But now this period of relaxed rules has been cancelled, for all but Christmas Day.
On Christmas Day people will be able meet others to form a so-called "Christmas bubble", but people are being advised not to as cases continue to rise.
Mr Drakeford said people who had already made plans to meet another household on Christmas Day, had to do it "sensibly and in line with the rules".
Leanne Miller, from Swansea, said the news had left her family's Christmas plans in tatters.
"I've got two boys, 12 and 13, and we were supposed to see my husband's mum and dad. But the important thing is keeping them safe," she said.
Why is this happening?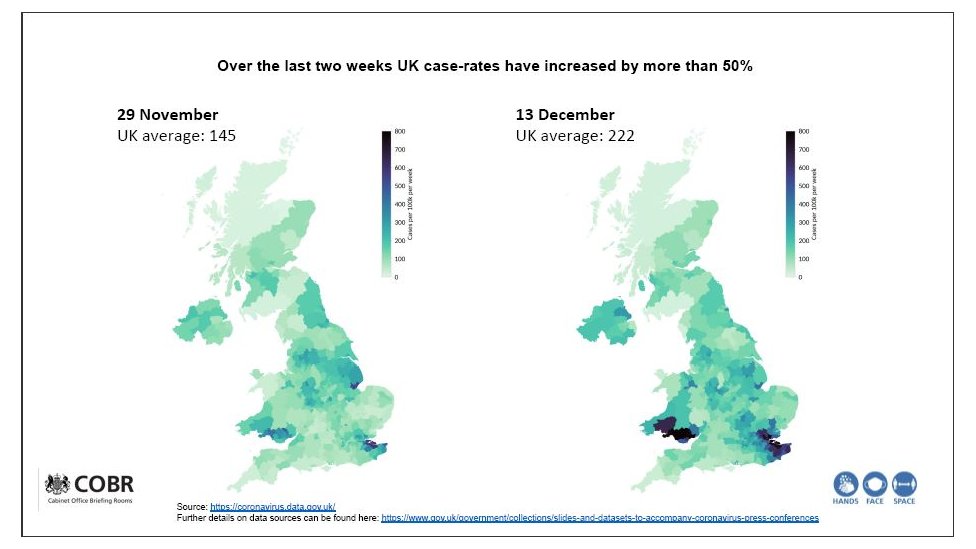 The Welsh Government held an emergency cabinet meeting earlier on Saturday after serious concerns over a new strain of coronavirus, which has been confirmed in Wales.
Prime Minister Boris Johnson has introduced tougher rules for London and south-east England for Christmas, in response to rising cases.
Shortly afterwards, Mr Drakeford announced the changes for Wales, saying: "We now know that this new strain is significantly more infectious and spreads more quickly than the original one.
"Throughout the public health emergency, we have had to respond quickly to the rapid changes, which have been so typical of coronavirus.
"Today has been one of those days when new information has required an immediate response."
He said he was told by UK government chief scientific adviser Sir Patrick Valance that there was no reason to believe the vaccine would be less effective with the new variant.
Paul Davies, leader of the Welsh Conservatives, said it was clear the rules had to change due to the presence of a new strain of the virus.
"By working together and keeping to the rules we can ensure as many people as possible will be around to celebrate Christmas together in the years to come," he said.
Plaid Cymru leader Adam Price MS said people would be disappointed but the country had a "responsibility to keep one another safe".
He added: "No one wanted a Christmas like this. While we are once again asked to make a sacrifice at what is usually a sociable time of year, our collective effort is necessary, particularly as a new variant of Covid-19 has been identified."
Dr David Jones, clinical director in intensive care at the Prince Charles Hospital in Merthyr Tydfil, tweeted: "It's absolutely shameful that it's taken London and the south-east to be affected for the UK government to wake up and act.
"The north of England and south Wales have been in this sinking boat for a few weeks now.
"Leaving it five days before Christmas is a failure of leadership."
What is the case rate in Wales?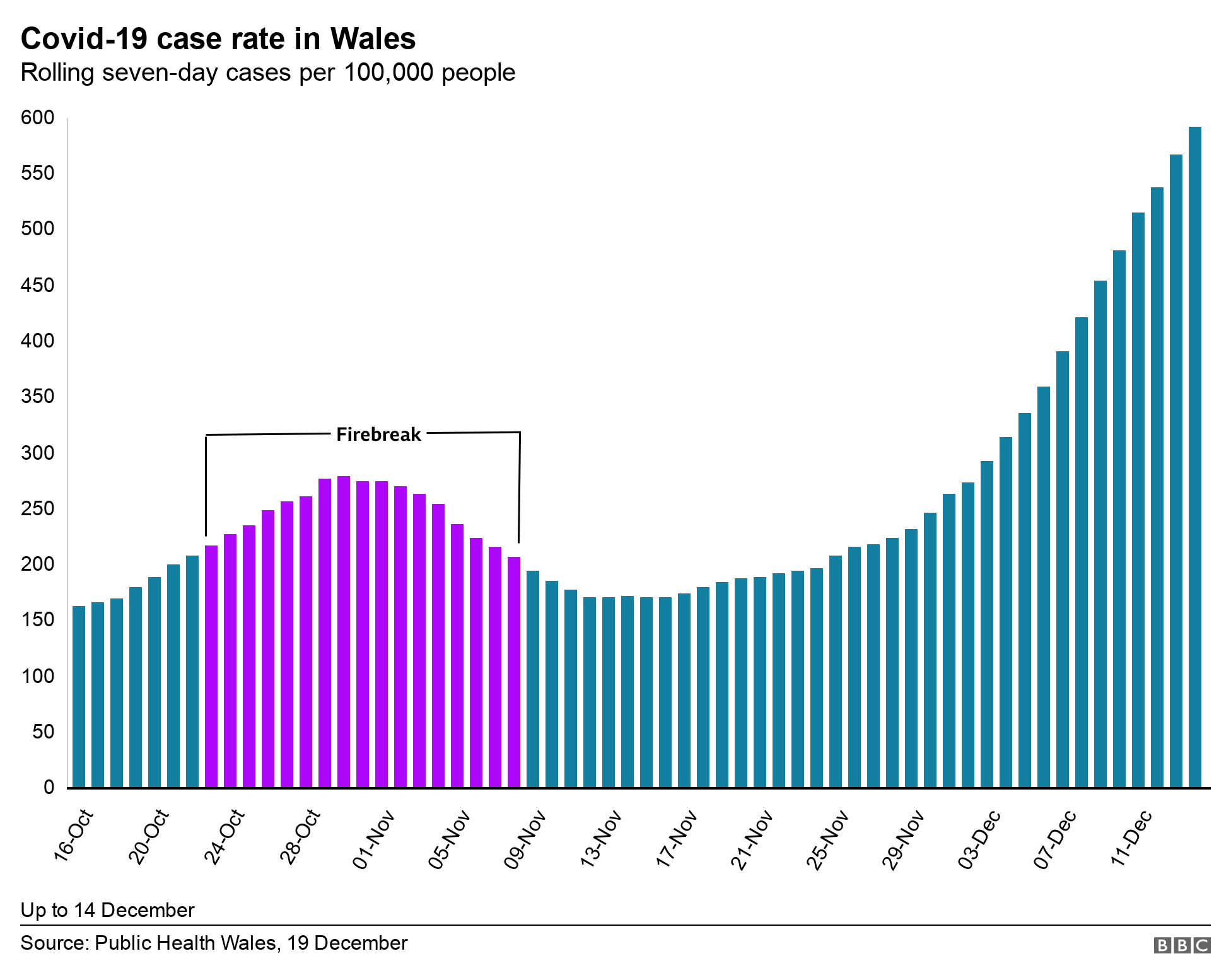 A total of 120,432 positive cases have now been confirmed in Wales since the start of the pandemic, and 3,046 people have died with Covid-19.
The most recent data shows that all of the UK's seven most infected local authorities are in Wales.
Almost all health boards in Wales have now suspended some non-emergency services, as the demand on services increases.
How have businesses reacted?
Belinda O'Donnell, owner of Penny Lane Vintage and The Furniture Shop in Cardiff, said the news was "devastating".
"I'm really shocked. It's disgusting really," she said. "I recently got Christmas stock in – we're not going to recoup the money lost. They should have stuck to the original plans because we were prepared for that.
"We were working so hard to work towards that date. We haven't had the flow of people through, so we're struggling anyway."
Ian Price, CBI Wales director Ian Price said he was not surprised restrictions have been brought forward, "however painful they may be".
"Businesses know infection rates must be controlled to save lives and protect against longer-term economic scarring," he said.
"Nevertheless, invoking what is effectively a full lockdown at such a crucial time for many businesses – particularly those in the hardest-hit hospitality, retail and tourism sectors – will come as a fresh blow after many months of hardship and once again puts further jobs at risk."
Source: BBC