Covid: Areas in England await Covid tier changes
Regions in England will find out later whether they will be moved to a different tier of Covid restrictions.
Health Secretary Matt Hancock is due to announce the outcome of the latest review of the three-tier system, after government officials met on Wednesday.
Leaders in several areas of northern England say they have met the criteria to move from tier three to tier two, after a drop in infection rates.
But NHS bosses have warned against easing restrictions "prematurely".
More than 34 million people – or 61% of England's population – are living under tier three rules, the highest level of restrictions, including large parts of the Midlands, Yorkshire, the North East and the North West.
On Wednesday, London and parts of Essex and Hertfordshire moved to tier three amid a rise in infection rates.
Mr Hancock is expected to make a statement at 11:30 GMT
Greater Manchester mayor Andy Burnham said "the evidence would support" parts of the region being moved from tier three to tier two, but he feels "less and less hopeful".
He previously said there had been "steady decreases" across all of the region's 10 boroughs and its average rate is around 150 cases per 100,000 – below the England-wide average of 194.
In an interview on BBC Breakfast, he said the relaxation of the rules between 23 and 27 December was "a mistake" and ministers could try to "overcompensate with the decisions on the tiers".
He added that requiring hospitality venues to close as part of tier three measures at this time of year creates "a substantial risk of many more gatherings in the home.. and that is where most of the virus spreads".
Meanwhile, the leader of Preston City Council, Cllr Matthew Brown said he believed Lancashire will remain in tier three.
He said he remained "gravely concerned" about the impact of restrictions on the hospitality and culture sectors.
"However, while case numbers in Preston and throughout Lancashire remain high, especially in the over 60s, it is unlikely that we will be placed into tier two before Christmas," he said.

It is understandable those on the front line of the NHS would want tighter restrictions – they see the impact of severe Covid first hand.
But that is just one part of the equation.
Councils in areas where cases are falling are torn – they don't want to see their progress in containing the virus reversed.
But the impact on the economy disproportionately affects young people, who are more likely to work in hospitality, and that widens health inequalities.
What will the government do? It seems very unlikely many areas will move down a tier.
There is certainly a big call to be made about Manchester, which is in tier three but has continued to see progress, after Liverpool was moved down into tier two following lockdown.
In the South East, there are areas around London that have rates below the national average, but they are rising.
Will the government move them into tier three as a preventative measure, or wait and see if the tighter restrictions in London curbs the rising rates in this part of the country?
We are about to find out.

Chris Hopson, chief executive of NHS Providers, which represents hospital trusts in England, said there was "a ring of areas around London – for example, in the home counties – where trusts are alarmed at the rise in infection rates and hospital admissions".
In a statement, he said the government must "urgently consider" adding other areas to tier three, where infection rates are "similarly worrying".
Mr Hopson also said there was "real concern in many trusts in the northern half of the country about leaving tier three prematurely".
"It is good news that infection rates are dropping, in some cases significantly," he said.
"But we can't afford to let up. As soon as infection rates rise, excess death rates rise too."
He warned hospitals in the north of England still had "very high levels" of Covid-19 patients and "even a small increase" would "put those hospitals under significant pressure".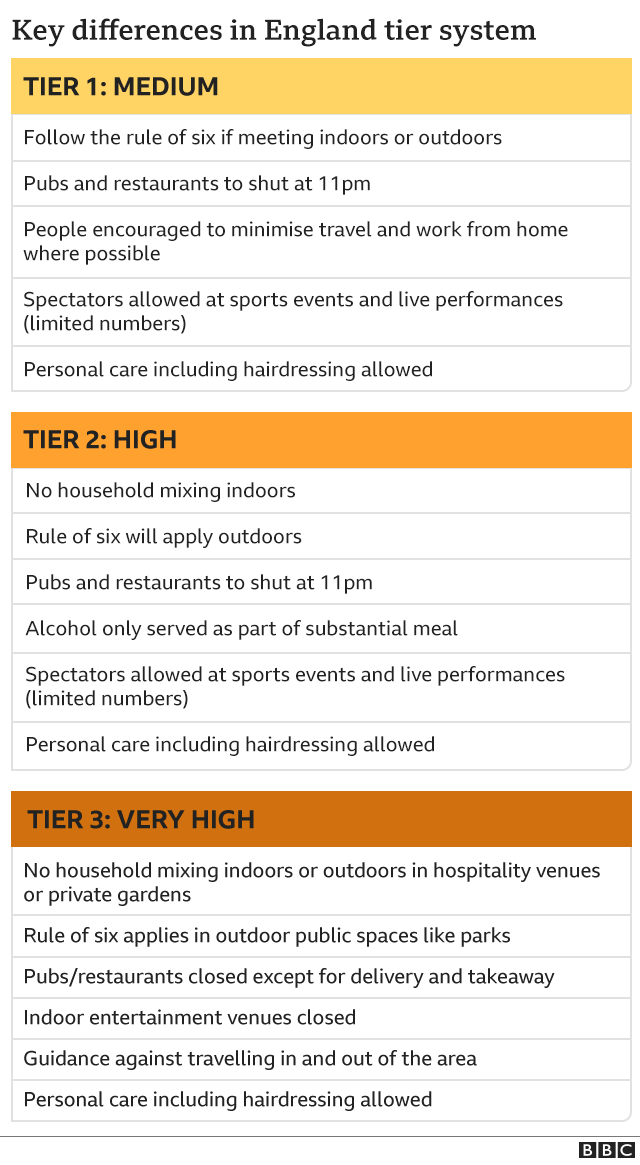 About 99% of England's population are currently in tiers two and three, with only the Isle of Wight, Cornwall and the Isles of Scilly in tier one.
The placing of areas in each tier is reviewed every 14 days. Decisions are based on an examination of coronavirus cases across all age groups and specifically among the over-60s, who are more vulnerable to the virus.
Officials also look at whether infection rates are rising or falling in an area and the positivity rate – meaning the number of positive cases detected as a percentage of tests taken – as well as the pressure on the NHS.
It comes after Prime Minister Boris Johnson urged people to keep Christmas celebrations "short" and "small" to reduce the risk of spreading Covid over the festive period.
Restrictions will still be relaxed between 23 and 27 December, allowing three households to form a "Christmas bubble" and mix indoors and stay overnight.
However, in Wales, the law will change to limit bubbles to two households.
A joint statement by the governments of the UK, Scotland and Wales urged people to think very carefully before forming a bubble and "strongly recommended" people spend Christmas with their own household if possible.
In Northern Ireland, First Minister Arlene Foster said the public must take "all and every precaution" over the festive period and proposals for further restrictions would be brought forward on Thursday.
Home Secretary Priti Patel told BBC Breakfast there would be no changes to the enforcement of measures over Christmas, but that the "public are part of" upholding the law and are "working together" with the police.
The UK recorded a further 25,161 coronavirus cases on Wednesday, along with 612 deaths within 28 days of a positive test.
Public Health Wales said that an extra 11,000 positive Covid tests are missing from its official figures, meaning cases in Wales in the last week could be twice as high as previously thought.
Meanwhile, Minister Nadhim Zahawi, who is in charge of the UK's vaccination rollout, said more than 130,000 people were vaccinated in the first week of the programme.
Sir Ian McKellen is among those who have received it.
In a quote tweeted by NHS England, the actor said: "I really hope that, as more people get vaccinated, we will move further along the path back to a more normal way of life."