BIDEN,DEMOCRAT,253
TRUMP,REPUBLICAN,214
270 to win
After 44 of 50 states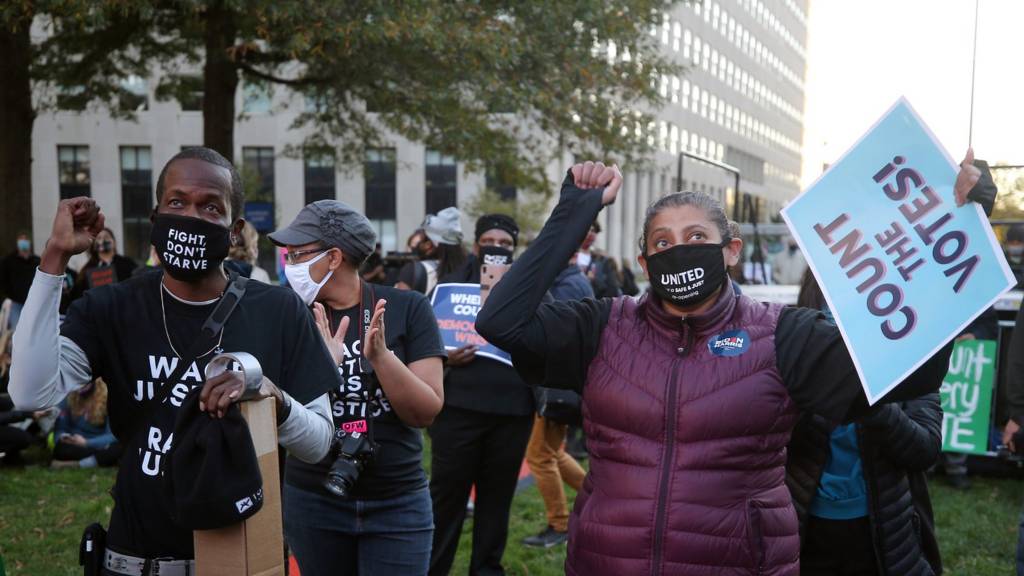 US election hinges on four battleground states
280,057280,057viewing this page
Related Video and Audio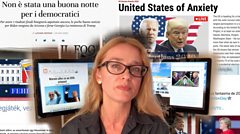 VIDEO 1 MINUTE 34 SECONDSVIDEO 1 MINUTE 34 SECONDS1:34Play video US election: Global media reacts to neck-and-neck race from BBCUS election: Global media reacts to neck-and-neck race
Play video US election: Global media reacts to neck-and-neck race from BBC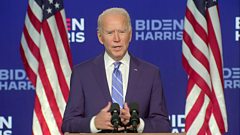 VIDEO 1 MINUTE 29 SECONDSVIDEO 1 MINUTE 29 SECONDS1:29Play video Biden: 'I'm not here to declare we won' from BBCBiden: 'I'm not here to declare we won'
Play video Biden: 'I'm not here to declare we won' from BBC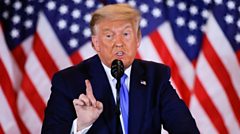 VIDEO 1 MINUTE 13 SECONDSVIDEO 1 MINUTE 13 SECONDS1:13
Play video Trump alleges 'fraud' without offering evidence from BBC Trump alleges 'fraud' without offering evidence
Play video 'People did not want to admit supporting Trump' from BBC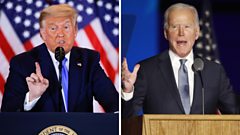 VIDEO 3 MINUTES 31 SECONDSVIDEO 3 MINUTES 31 SECONDS3:31
Play video The story of an extraordinary election night from BBC The story of an extraordinary election night
Summary
The final result of the US presidential vote hinges on the states of Arizona, Georgia, Nevada and Pennsylvania
Updates are expected throughout Thursday but it could be hours before a final winner emerges
Joe Biden has a slender lead in Nevada and Arizona and is chipping away at Trump's advantage in Georgia and Pennsylvania
The Trump campaign has launched legal bids to stop the counts in Pennsylvania, Wisconsin, Georgia and Michigan
Biden has racked up a record 71.5 million votes and has said he will win enough states to become president
Trump has outperformed pollsters' predictions, including in key states, but his path to victory is narrow
Overall turnout is projected to be the highest in 120 years at 66.9%, and we might not have a result for days
Posted at 18:1018:10The US election through Chinese eyes: memes, messages and songVincent NiBBC World ServiceEPACopyright: EPAPolitical drama in America has always been a source of fascination in China – whether it's Netflix series House of Cards or this week's nail-biting presidential election.On China's biggest social media platform, Weibo, the hashtag #USElection had been viewed at least 7.3 billion times as of Thursday evening in Beijing. Users have been sharing memes, videos and comments to express their views on the confusing situation.For example, while the final results have yet to be confirmed, Chinese internet users are creating videos such as this one to imagine the mood in both campaigns.There has also been nostalgia. Chinese internet users have not forgotten the polarising campaign between Donald Trump and Hillary Clinton four years ago. One of the highlights from that contest was a bitterly argued second debate. Chinese creatives used a popular 1990s Cantonese love song and reimagined it into a romantic karaoke session.It starts with Trump singing, "Do you know that my heart—," and Clinton answers, "Desires true love." Have a listen if you understand Cantonese and read Chinese subtitles.Ultimately many Chinese are asking what Trump has meant for China in the past four years and what the next American president – be it Trump or Biden – would mean for Sino-US relations.Beijing had been reticent until this morning, when Vice Foreign Minister Le Yucheng said he hoped the new US administration "will meet China halfway".Article share tools

ShareView more share optionsShare this post

Posted at 17:5817:58Philadelphia resumes count after brief pauseGetty ImagesCopyright: Getty ImagesBallot counting in Philadelphia has resumed amid a legal tug-of-war in Pennsylvania.The tally was paused earlier to accomodate a court order saying that Trump campaign observers must be allowed to stand within six feet of officials counting and reviewing ballots.The race in Pennsylvania, with its 20 electoral college votes, is being closely watched by both campaigns. A win there for Joe Biden would almost certainly delivery the presidency to the Democrat, while a win for Donald Trump would provide a critical boost in electoral votes.There are roughly 120,000 ballots in Philadelphia left to be counted.Article share tools

ShareView more share optionsShare this post

Posted at 17:4317:43Georgia: Ballot counters are 'protecting democracy'Video contenthttps://emp.bbc.co.uk/emp/SMPj/2.36.2/iframe.htmlVideo caption: Georgia election count: 'Prayerful we can get to resolution by end of the day'Georgia election count: 'Prayerful we can get to resolution by end of the day'Frustrated by the wait? So is the man in charge of Georgia's voting system, Gabriel Sterling.Speaking to reporters today, Sterling said he is "prayerful" the state will get a result by the end of the day."This is going to be an extremely close margin," he said. Georgia's election officials are "protecting democracy", he said."These people are not involved in voter fraud, these people are not involved in voter suppression," he said, in an oblique reference to unsupported claims of larger irregularities. "They're doing their jobs everyday. It is hard."Article share tools

ShareView more share optionsShare this post

Posted at 17:3017:30Wisconsin turns blue againOur electoral map has been updated to reflect the BBC's projection that Joe Biden will take Wisconsin.This now gives Biden 253 electoral college votes against Mr Trump's 214.He needs to reach 270 votes to be declared the next US president; ballots are still being counted in the battleground states of Arizona, Georgia, Nevada and Pennsylvania.Here's a quick, helpful map showing which states have been won by Trump and Biden on their quest to win the White House – and which are still to be called.Click here to see the full results map.BBC Copyright

ShareView more share optionsShare this post

Posted at 17:2217:22Key timings to watch forHere are a few important times to be aware of today. Of course, events are still moving and times could quickly change.Georgia – Earlier today, the state's top election officials said all ballots may be counted by 12:00ET (17:00GMT), but that has yet to be completed.Nevada – A new tranche of votes are to be reported around 12:30ET (17:30GMT). Republicans filed a lawsuit against the state today, alleging that 10,000 votes came from people that no longer live in the state.Arizona – No new results are expected to be released until 21:00ET (02:00GMT). Several US outlets have already called the state for Biden, but the BBC is not prepared to do so.Pennsylvania – The state's Republican legislature banned election officials from counting votes before election day, so it has always been expected that counting would take days.North Carolina – No news is expected here until at least 12 November. Postal ballots in the state that were mailed by election day have until 12 Nov to trickle in and still be counted. On Wednesday, the state's top election official said there is no backlog of ballots and they are now counting each ballots as they arrive.Article share tools

ShareView more share optionsShare this post

Posted at 17:1417:14How to read the BBC's resultsThe BBC is now projecting that Joe Biden will take Wisconsin, in line with our US sister network CBS.With 99% of the votes counted, Biden currently has a lead there of just over 20,000 on Donald Trump.The tally above now includes the state's 10 electoral college votes. Our results maps, however, do not show Wisconsin for Biden. This is because they're driven by data, supplied via Reuters, from polling firm Edison Research, which does the field work for the exit polls and works with US networks in the National Election Pool.Edison Research has not projected a result for Wisconsin because the margin between Biden and Trump is less than one percentage point, meaning a candidate can request a recount.Our projection that Joe Biden is the presumptive winner in Wisconsin reflects the situation now. If a recount takes place, we will report that and the result – and if necessary, we'll change our projections accordingly.You may have noticed that some other news sites are also projecting a win in Arizona for Biden, giving him an extra 11 electoral college votes.The BBC, again in line with CBS, considers the state too early to project. With 86% of the vote in Arizona counted, Biden currently has a lead of about 68,000 – or 2.3% – over Trump.Article share tools

ShareView more share optionsShare this post

Posted at 17:0717:07BREAKINGBiden projected to win WisconsinDemocrat Joe Biden is projected to win Wisconsin. It gives the former vice-president 10 electoral college votes and extends his lead over President Trump.BBCCopyright: BBCArticle share tools

ShareView more share optionsShare this post

Posted at 17:0017:00The other US election: Senate runoffs in Georgia?Getty ImagesCopyright: Getty ImagesAs Georgia officials keep tallying up presidential votes, eyes are also on the state for another reason: two Senate races still up in the air – and both could stretch into 2021.Election rules in Georgia mandate a run-off election between the top two finishers on 3 November if no candidate receives 50% of the vote.A special election race for one of the state's US Senate seats looks like it will come down to a runoff in January between Democrat Raphael Warnock and Republican incumbent Kelly Loeffler.The same could happen in the second Senate race, where incumbent Republican David Perdue is currently ahead of Democrat Jon Ossoff, but ballots are still being counted in Democrat-leaning areas. If Perdue can't hold onto 50% of the vote, there will be a runoff.Democrats haven't yet been able to gain a majority in the Senate. They need to flip three seats to do so and have so far only gained one.Article share tools

ShareView more share optionsShare this post

Posted at 16:4516:45Trump lawsuits are 'misinformation campaign', says team BidenBiden campaign spokesman Jen O'Malley Dillon has just held a briefing with reporters, where she accused the Trump team of "continuing to push a failing strategy" of lawsuits.She called the legal challenges "nothing more than an attempt to distract and delay what is now inevitable – Joseph Biden is going to be the next president of the United States".She claimed victory in Michigan, and said Biden was looking good in Pennsylvania."At the end of today, and hopefully it is the end of today, we will win by a sizeable number in Pennsylvania," she said.Bob Bauer, who is directing Biden's legal team, told journalists he would talk them through "some of the silliness behind" the Republican claims."This is part of a broader misinformation campaign," he said, accusing Trump supporters of trying to sabotage confidence in the electoral system.The Trump allegations are based on the "suspicion of wrongdoing" rather than any actual evidence, he says.