Cliff Richard: BBC raid report 'shocking and upsetting'
Sir Cliff Richard has broken down in court as he described the "shocking and upsetting" BBC television coverage of a police raid on his home in 2014.
He is suing the BBC over privacy and said in a witness statement his health suffered "mentally and physically".
South Yorkshire Police searched the singer's Berkshire apartment after a claim of historical sexual assault.
Sir Cliff, 77, was not charged with any offence. The BBC says its coverage was in the public interest.
Lawyers for Sir Cliff said the BBC report – including shots taken from a helicopter showing officers inside his property – caused him "profound and long-lasting damage".
'Forever tainted'
Giving evidence for more than hour at the High Court, Sir Cliff recalled watching the BBC footage of the August 2014 raid from a hotel in Portugal.
He said: "It wasn't a very pleasant feeling and by that time I had heard of the allegation and seeing it made me feel even worse."
In Sir Cliff's written statement, which has been made available online by his lawyers Simkins, he said: "It was shocking and upsetting."
He added: "My health suffered, both mentally and physically…
"At one point… I actually thought I was going to have a heart attack or stroke."
He said: "I felt as though everything I had worked for during my life – trying to live as honestly and honourably as I could – was being torn apart.
"I felt forever tainted. I still do."

In court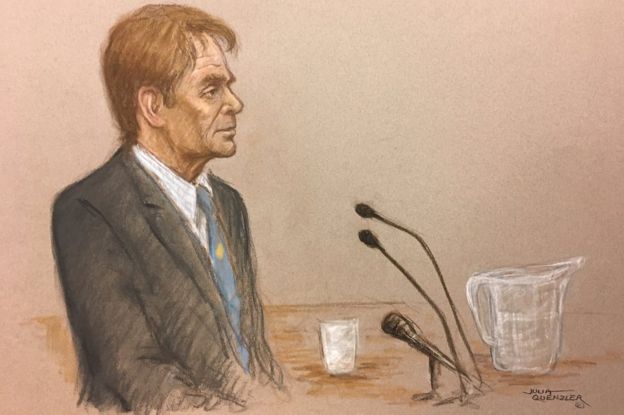 By Lucy Manning, BBC News
Sir Cliff Richard stood in the witness box for what would be an emotional 90 minutes.
He was tearful at the start, composed himself but then broke down at the end when he accused the BBC of smearing his name across the world.
There was the odd moment of humour when he said rock and roll hadn't been good for his ears as he struggled to hear a question.
Listening intently in court were the BBC managers he accuses of invading his privacy. They will give evidence next week.

Sir Cliff added he "never felt right" in the 22 months it took for prosecutors to say they were not going to be taking further action.
"During the day there was an ever-present knot in my stomach," he said.
"I'd wake up in the middle of the night, going over things in my head again and again."
He said he lost a "considerable amount" of weight and felt unable to return to the Sunningdale property "except to pack up my belongings".
"In my mind it had become contaminated," his statement said. "I didn't feel comfortable there any longer.
"I have in fact been burgled before, and this for me was a worse experience."
He said the police search and subsequent publicity "not only seriously disrupted my personal life, but also my charitable work and my plans for my professional work", including an album release and a revised edition of his autobiography.
The BBC's barrister, Gavin Millar QC, started his questioning of Sir Cliff by asking about instances where he had used his "public profile" to talk about his personal beliefs.
While discussing how the coverage had affected his life, Sir Cliff broke down.
He said: "Everywhere I have ever been, I felt my name was smeared. The police didn't do that, the BBC did."
Sir Cliff said to date the case had cost him £3.4m including spending on lawyers and media representatives.
He is suing the BBC for the misuse of private information and breaking data protection rules.
In his statement, Sir Cliff added he had always held a great deal of respect for the BBC which helped him with his career from the start.
However, he said while it was tempting to "just try to forget the whole episode", he decided to take action to "perhaps make it less likely" that anyone has to go through a similar experience.
His lawyers say he is seeking "very substantial" damages or compensation for the breach of his rights.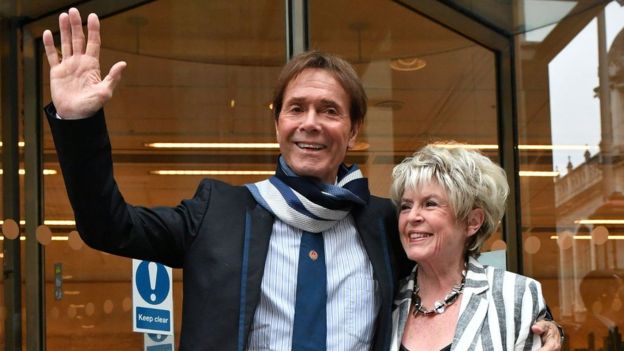 The court has heard BBC journalist Dan Johnson received a tip-off about the investigation from a Metropolitan Police source working in Operation Yewtree, the inquiry into allegations of historical sex offences.
The Met Police later passed the allegation, a claim of an offence against a boy under the age of 16, to South Yorkshire Police.
Jason Beer QC, for South Yorkshire Police, which paid the singer £400,000 to settle a privacy claim, told the court the force had acted unlawfully by confirming Sir Cliff's identity to the BBC and by discussing the search.
But he argued the judge, Mr Justice Mann, should rule the BBC contribute to the money it paid the singer because the broadcaster was "far more causative of the damage suffered".
He also accused Mr Johnson of using "heavy-handed" tactics when dealing with officers from the force ahead of the raid.
Lawyers representing the BBC have told court the police raid was of "legitimate public interest".
They said the BBC had been given information about an investigation into a serious criminal offence and had a duty to pass on the information to the public.
Mr Millar for the BBC said its journalists had respected Sir Cliff's rights as a "suspect" and the "presumption of innocence".
Addressing the court on the first day of the case, he said "you have to focus on that point… at which the BBC publish the information and ask whether Sir Cliff had a reasonable expectation of privacy?
"He may have wanted that. But that would not have been a reasonable expectation for somebody in his position."