By Hannah Richardson
BBC News education reporter
Grammar schools perform no better than non-selective state schools, once their pupils' higher ability and wealth is taken into account, a study suggests.
Academics at Durham University found the "apparent success" of these wholly selective schools was down to their brighter and more advantaged pupils.
They say increasing the number of schools that select pupils by ability would be dangerous for equality.
The government said it was working to widen access to grammar schools.
Grammar schools have a reputation for high academic achievement and dominate the top of the school league tables.
'Social segregation'
But this research, based on the detailed results of nearly 550,000 pupils, suggests once the ability and social background of pupils is taken into account, grammar schools are no more or less effective than other schools.
The research not only looked at the social backgrounds of grammar pupils, but also:
rates of chronic poverty
ethnicity
home language
special educational needs
age in the year group
The findings suggest England's grammars take only a tiny proportion of pupils who are, or have been, eligible for free school meals.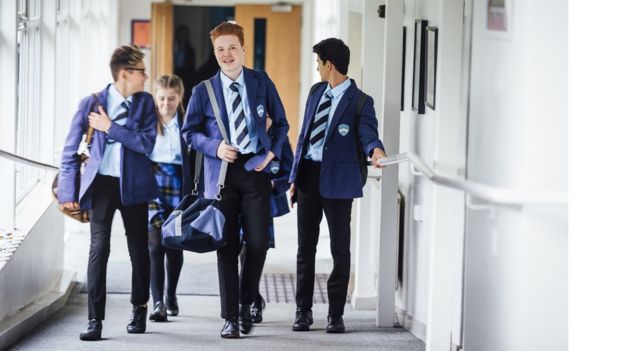 This is important, say the researchers, because such pupils' results tend to decline with every year they are on free meals.
This means that other schools in selective areas are taking more than their fair share of the poorest and chronically poor pupils.
The Conservative government had to abandon plans to allow new grammar schools to open, following its weak position in Parliament after the general election.
But ministers are keen to continue to allow existing grammars to expand.
'No clear gain'
An analysis of pupil numbers by the BBC showed the equivalent of 11 new selective schools had been created since 2010 as existing schools had expanded.
Prof Stephen Gorard, from Durham's School of Education, said: "Dividing children into the most able and the rest from an early age does not appear to lead to better results for either group.
"This means that the kind of social segregation experienced by children in selective areas in England, and the damage to social cohesion that ensues, is for no clear gain.
"This is not to decry the schools that are currently grammars, or the work of their staff.
"However, the findings mean that grammar schools in England endanger social cohesion for no clear improvement in overall results. The policy is a bad one."
A Department for Education official said: "We want every child to receive a world-class education and to give parents greater choice when it comes to picking the school that's right for them – grammar schools are a part of this.
"Around 60% of these schools already prioritise admissions for disadvantaged children, and we are continuing to work closely with the school sector to widen access further.
"Research shows that pupils from disadvantaged backgrounds make better progress across core subjects in selective schools, and attain better results."
Paul Whiteman, general secretary of school leaders' union NAHT, said: "There is a wealth of evidence that selection at 11 works against the government's stated ambition of improving social mobility.
"Creating new grammars schools is not the best way to help children from disadvantaged backgrounds. Instead, greater investment in high quality early years education would have a bigger impact on life chances – 11 is too late to bridge the gap."