Where next for Ant and Dec and ITV?
By Emma Saunders
BBC Entertainment reporter
Ant and Dec – you just can't imagine one without the other. The pair have been inseparable for years both professionally, as Britain's best-known presenting duo, and personally, through their longstanding friendship.
But there's trouble in the camp following Ant's recent arrest on suspicion of drink driving, after he was involved in a collision in south-west London on Sunday.
He also spent a period in rehab last summer for painkiller and alcohol addiction.
And now it's uncertain what the future holds. We look at the implications for the much-loved pair and ITV as Ant seeks further treatment.
What will happen to future shows?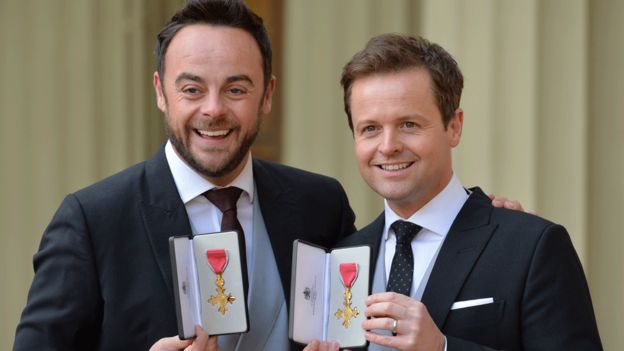 We already know that this week's Saturday Night Takeaway has been cancelled, with a decision yet to be made on the following two shows – one of which is the finale in Orlando, Florida.
Audition episodes of the upcoming series of Britain's Got Talent have already been filmed. But whether Ant will appear to present the live shows is still up in the air.
Ant's publicist said on Monday that his client was taking time off "for the foreseeable future" and would have further treatment.
The next series of the third show they jointly host, I'm a Celebrity… Get Me Out of Here!, isn't due to air until November.
What's the reaction been like?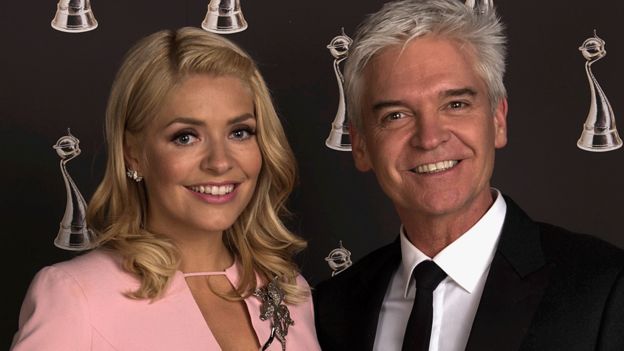 There's been a mixed reaction from both the public and fellow celebs following Ant's arrest.
While there is evidently sympathy for the star, many have tempered their support with warnings about drink driving.
On ITV's This Morning, Holly Willoughby and Philip Schofield addressed the issue saying: "This is difficult for us, we're talking about a friend here… like many people we are shocked and saddened by Sunday's incident.
"We want to wish those shaken and upset by the collision a quick recovery and personally for Ant we hope he gets some time and space to return to full health."
But they added: "The overwhelming feeling has to be that no matter who you are, no matter what you do, if you get into a car having had a drink, the responsibility is entirely yours."
Piers Morgan also spoke about the situation on Good Morning Britain., saying: "Dec's collateral damage. Dec's done nothing wrong. Ant is in control of his own behaviour and is making bad choices.
"I've known Ant a long time, I did Britain's Got Talent with him for four years – he's a great guy, a down-to-earth lad.
"He's definitely changed…. is he surrounded by people protecting the cash cow or surrounded by people who genuinely have his best interests at heart? This Ant McPartlin is not the guy I know."
What could this mean for Ant's career?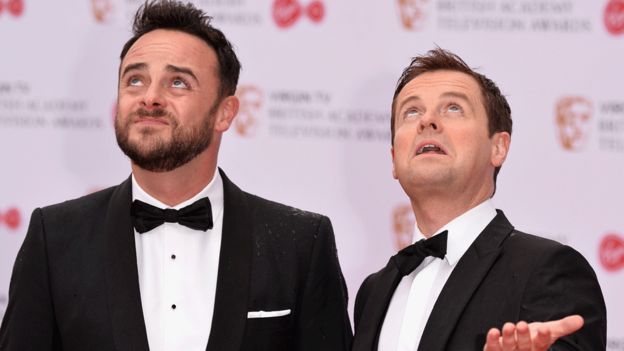 Entertainment commentator Caroline Frost says the situation is becoming more critical.
"Even by the standards of his already tumultuous year, this latest incident has far more serious implications for Ant's career than anything previously," she told the BBC.
"While his self-admitted battle with prescription drugs and other substances elicited a sympathetic response from his many fans, a drink-driving arrest has already garnered a far more mixed response.
"The brand of Ant and Dec – cheeky chappies, boys next door – relies on wholesomeness and reliability, and both of those aspects of their singular appeal have taken a huge battering."
Nevertheless, Ant is one of the UK's most popular stars and many people will be willing him to return to on our screens once he has made a full recovery.
What does it mean for Dec?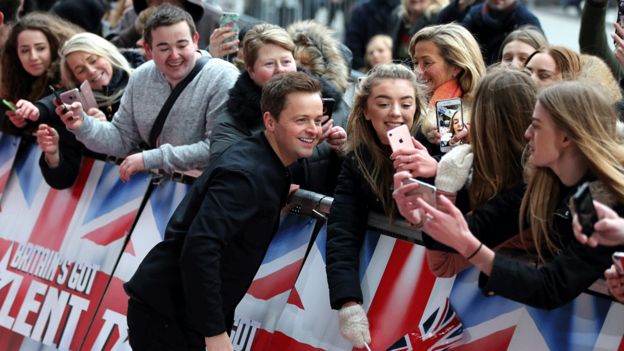 Caroline adds that Dec "will be having as hard a time as anyone".
"In many people's minds, Ant and Dec is one unit – they share awards, social media accounts, 'they' are a single offering.
"Their partnership is their superpower, and Dec will find it very hard to compete on primetime television with the yawning gap where his partner should be. Nor do I think he would want to try."
Strategic PR consultant Mark Borkowski agrees: "Could Morecambe go on without Wise? They are a double act. Would Dec have the same impact? What would that say to his pal who's recovering (if Dec went on alone)? This is a very deep friendship that goes back to childhood."
Mark says there's a lot riding on Ant's recovery.
"It's incredibly difficult. They are proper A-list. It's not dissimilar to the problems with Jeremy Clarkson but look what happened when he overstepped the mark – you lost the potency of the format (the Top gear line-up featuring Clarkson, James May and Richard Hammond)," he explains.
"Now it's about putting some context into these issues, trying to focus on his ill health."
But he cautions that there's much more at stake in the modern age.
"There are some real issues – the commercial pressures of putting people back on the screen. If someone says they're fit enough to go back on screen what are you going to do?"
What are the implications for ITV, financially and creatively?
The channel certainly has some thinking to do after issuing a statement on Monday saying: "We very much hope that he (Ant) gets the help that he needs."
Sponsors and advertisers could be considering their positions. Suzuki, who have a deal with Saturday Night Takeaway, have issued a statement.
"Suzuki GB PLC is aware of a statement issued by ITV. Suzuki will remain in dialogue with ITV and advise media when appropriate regarding the last two episodes of the series," it read.
"Ant and Dec helm not one but three of their very biggest shows, around which so much of ITV's schedule is built," says Caroline.
"While they will be crossing their fingers for Ant's healthy return, I would hope this is a lesson for all broadcasters not to put too many eggs in one basket in future."
Mark adds: "I don't think two people have shouldered the commercial share price of ITV before.
"Ant and Dec are unique, the most valuable property going."