'Immoral sentence': Salvadoran woman jailed for stillbirth set free after 14 years
Supreme court commutes Maira Verónica Figueroa Marroquín's 30-year sentence for murder, calling it immoral and excessive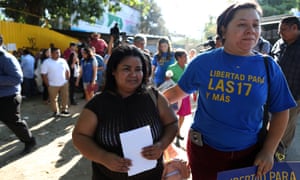 A woman convicted of aggravated murder in El Salvador after suffering a stillbirth has been freed from prison, the second such release in the space of a month.
Maira Verónica Figueroa Marroquín, 34, had her sentence commuted by the ministry of justice and was released on Tuesday after serving almost 15 years of a 30-year sentence.
The court said it considered the sentence to be excessive and immoral.
El Salvador has had a total ban on abortion since 1998. Since then dozens of women have been accused of having illegal terminations after experiencing obstetric emergencies, and later have been convicted of homicide.
Marroquín's release follows that last month of Teodora del Carmen Vásquez, who was jailed on similar charges and served almost 11 years of a 30-year sentence.