The officer injured in the nerve agent attack has been named by police as Det Sgt Nick Bailey.
The officer, 38, who was in intensive care following the incident, is now "stable and conscious", Wiltshire's chief constable Keir Pritchard said.
Ex-Russian spy Sergei Skripal and his daughter, Yulia, are still critically ill after being found collapsed on a bench in Salisbury on Sunday.
Hospital staff saw 21 people after the attack for tests, support and advice.
Mr Pritchard said Det Sgt Bailey was sitting up and was "very anxious" and concerned.
"I very much hope Nick will be on his feet back at work very soon," he told the BBC. "We desperately miss him.
"He's a great character. He's a huge presence in Wiltshire Police, well-liked, well-loved, a massively dedicated officer.
"He's not the Nick that I know, but of course he's receiving a high level of treatment."
A total of 21 people, including officers and staff, had been treated in hospital in the aftermath, he said.
Only Mr Skripal, Ms Skripal and Det Sgt Bailey remain in hospital.
Counter-terrorism officers are still working to find the origin of the nerve agent.
Prime Minister Theresa May said her thoughts were with Det Sgt Bailey.
"The events of Sunday are a stark reminder, if ever one was needed, of the dangerous situations our emergency services face, and the dedication and courage they display every day in order to keep us safe," she added.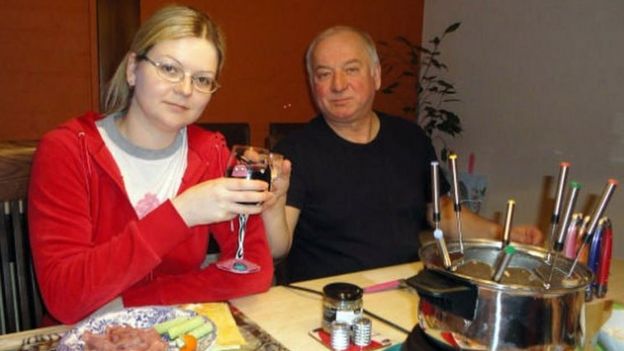 Earlier, Home Secretary Amber Rudd said the attempted murder of Mr Skripal and his daughter was a "brazen and reckless" act.
She refused to speculate on whether the Russian state might have been involved in the attack, saying the police investigation should be based on "facts, not rumour".
Russia has denied it was involved.
Meanwhile, a doctor who was one of the first people on the scene has described how she found Ms Skripal slumped unconscious on a bench, vomiting and fitting. She had also lost control of her bodily functions.